THE new, 5th generation Land Rover Discovery has been on a bit of a diet. Utilising a new aluminium monocoque body in place of the agricultural steel chassis and body of the previous version, it is now up to 480kg lighter.
It looks slimmer too, having much sleeker bodywork with softer, rounded corners – which must be a good thing as sleeker means more aerodynamic which, along with that huge weight-saving, must mean this new Discovery won't be such a strain on the wallet when it comes to fuel bills.
It's certainly not a strain on the eyes when viewed from the front and sides as JLR have brought the Discovery bang up to date with the rest of the Land Rover range and it now has more in common with the stylish Range Rover Velar and less in common with a utility truck.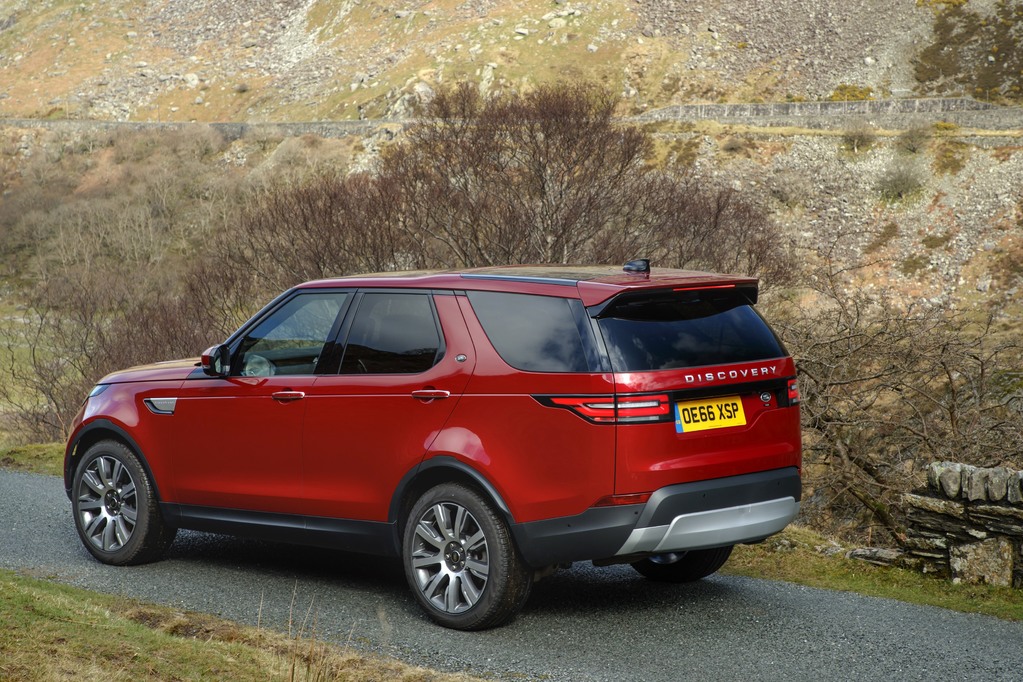 The trouble is that a lot of people liked the Mk.4's squared-off, beefier look and making their favourite SUV look a little softer may lead those people into thinking – mistakenly – that the new version is less capable. However, I'm sure many more potential buyers will now be turned "onto" the new Disco than current owners will be turned "off".
However, there is the rear view and that offset number plate . . .
Okay, with the spare wheel no longer hanging off the rear hatch Land Rover could have made the rear view symmetrical – but as a nod to what has gone before they didn't. Personally, I think it looks a little odd but it certainly wouldn't be a deal-breaker. After all, a little "odd" in our lives can be cause for celebration; "Vive la difference", as our neighbours may say.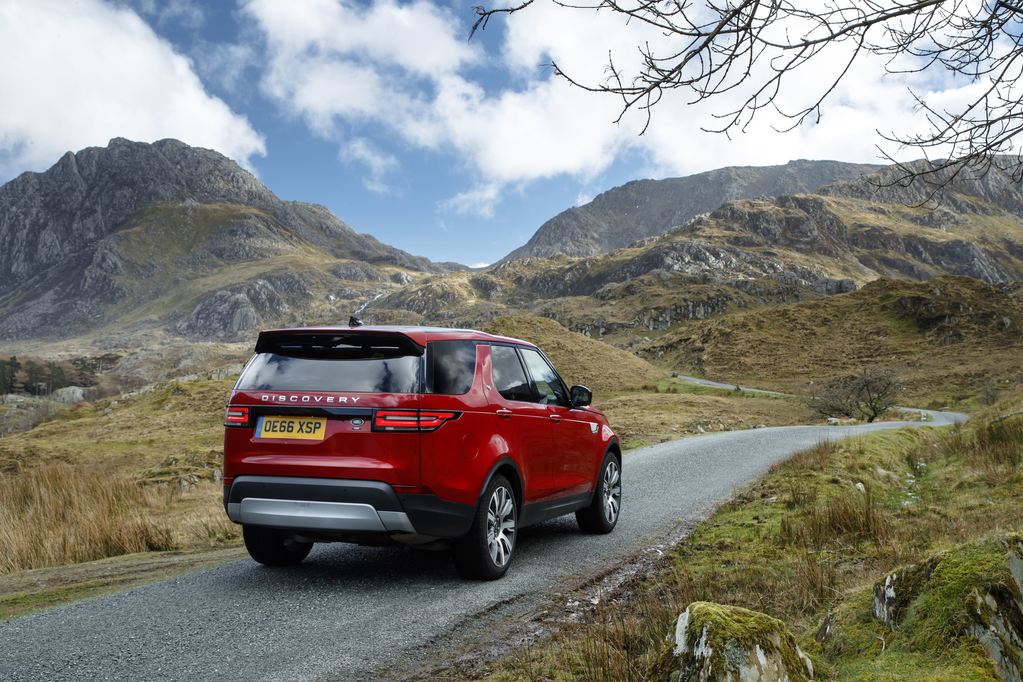 There's no controversy when it comes to price though – you can have a brand new, 7-seater Discovery for as little as £45,895 on-the-road and that is a whole lot of capability and practicality wrapped in a premium product. An entry-level Audi Q7 will cost you more, as will Volvo's XC90.
All Discos come equipped with an 8-speed automatic gearbox, four-wheel-drive, air suspension, powered tailgate, autonomous emergency braking and lane departure warning. However, the base S model is a little sparse on creature comforts and if you want to match the Q7 and XC90 for tech and refinement you will need to push the boat out a little.
The SE model (from £52,295) fitted with the 2.0-litre Ingenium diesel engine (240 bhp) gets grained leather upholstery, LED headlights, enhanced 10-speaker sound system, satellite navigation and front and rear parking aids, while the HSE model (from £59,595) gains Windsor leather seats, 20in alloy wheels (as opposed to 19in), a 380W Meridian sound system, a fixed panoramic roof with powered blinds, Interactive Driver Display, keyless entry, rear-view camera and a powered, gesture tailgate.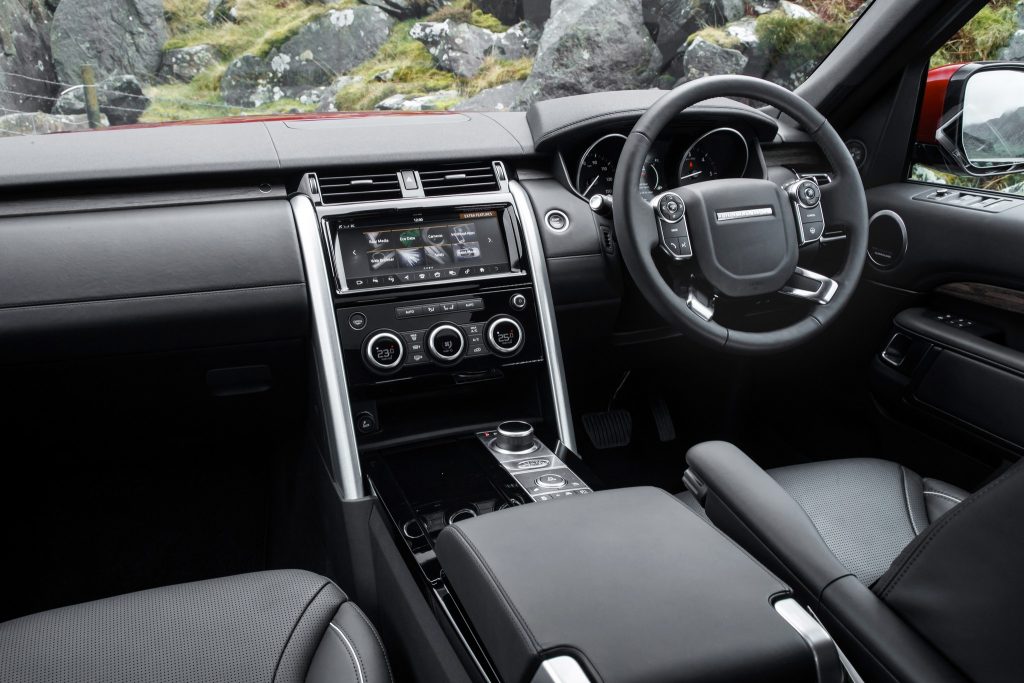 My example is the top-spec HSE Luxury model (from £65,295) which also gains 21in alloy wheels, LED headlights with automatic high-beam, a 14-speaker Meridian Surround Sound system with dual-channel sub-woofer, Rear Seat Entertainment (No smut please, this simply means 2 screens for rear seat passengers to view), Intelligent seat fold, Electric sunroof with front being tilt/slide and rear being fixed, Power blinds and a Surround Camera system giving you a 360-degree view of the vehicle.
My particular vehicle came with a whole raft of options that pushed the price up to a staggering £74,355. These included the Firenze Red paintwork (£830), Massaging seats (£870), Capability Plus Pack (£1,000), Electrically deployable towbar (£985), Park Assist (£935), Television (£880) and Head-up Display (£1,035) amongst others.
The Activity Key (£315) is something you may find useful if you're the sporty type and hate having to carry the car key with you on your jog, swim or bike-ride, etc. It's a waterproof, wireless wristband that allows you to lock and unlock the vehicle but is clever enough to disable the conventional key which can be left inside the vehicle (out of sight, of course).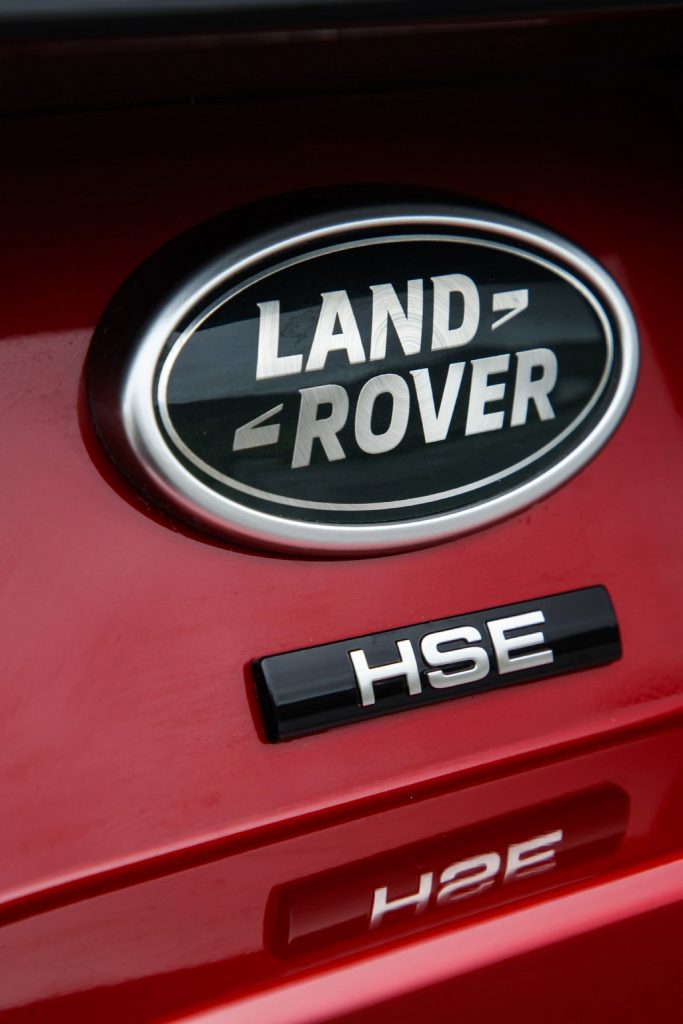 Engine choices include a 3.0-litre Td6 diesel with 258 bhp, which may not sound much more powerful than the 240 bhp Sd4 unit but its torque figure of 600Nm is a full 100Nm extra so this should probably be your choice if you're thinking of towing a large trailer/caravan.
There are also two petrol engines available in the shape of the 300bhp 2.0-litre Si4 and the 3.0-litre Si6 which has 340bhp on tap and can hit 60mph in under 7 seconds. It also sounds wonderful but, of course, you'll pay the penalty of a combined mpg figure of just 26 and CO2 emissions of 254 g/km.
The 2.0-litre diesel fitted to my car makes the most sense for the majority of drivers, managing 43.5 mpg on the combined cycle and 171 g/km of CO2. It still manages 0-60 mph in just 8.0 seconds and has a top speed of over 120 mph.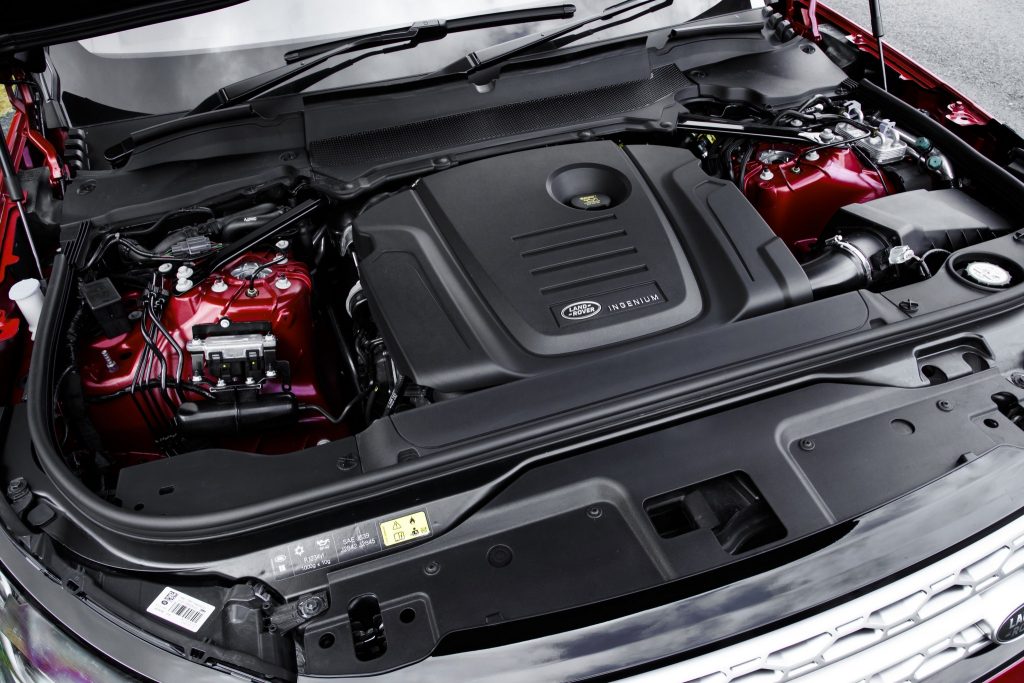 Inside is typically Land Rover, meaning it's impressively stylish as well as feeling incredibly sturdy with no sign of cheap materials anywhere. Everywhere has soft-touch material, from the dash top to door tops and the steering wheel is one of the very best feeling wheels you will ever use.
The comfortable, perforated Windsor leather looks superb in ebony, piped in white and the chrome finishing touches around the cabin really give a top-class premium feel that is only matched – not surpassed – by offerings from Audi, Mercedes or BMW.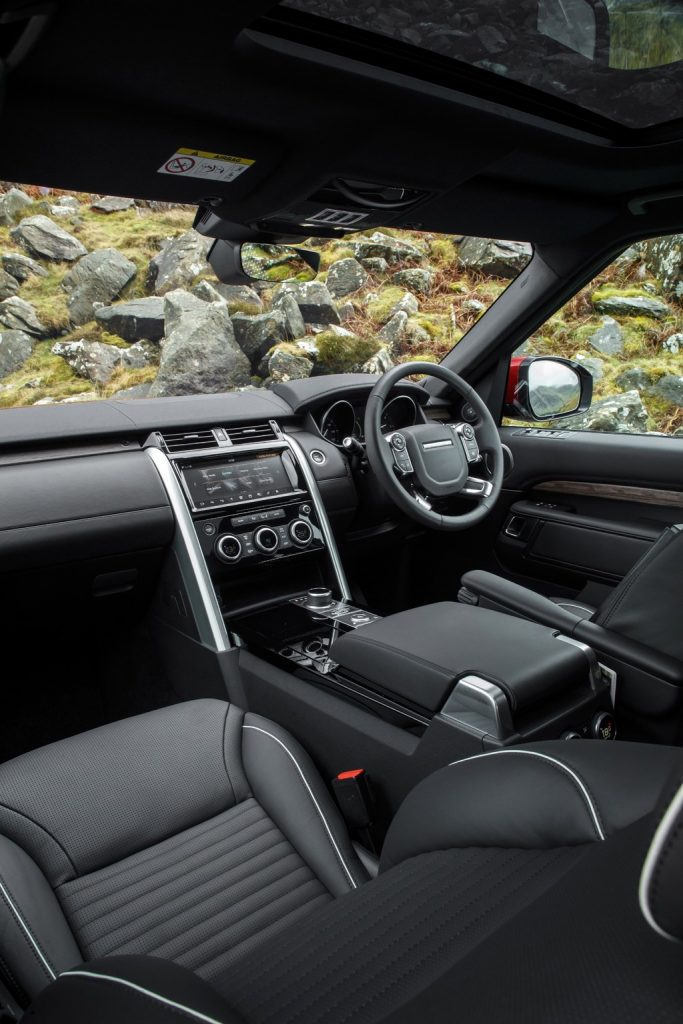 The high driving position gives excellent visibility forward and, in fact, visibility all around is very good even though that rear window does appear to be quite a distance away!
Storage is also very good with deep door bins, a split under-and-over glove box, a hidden area below the central cup-holders and a deep storage bin between the front seats – which was also cooled on my model. Another, smaller cubby is also hidden behind the control panel for the climate.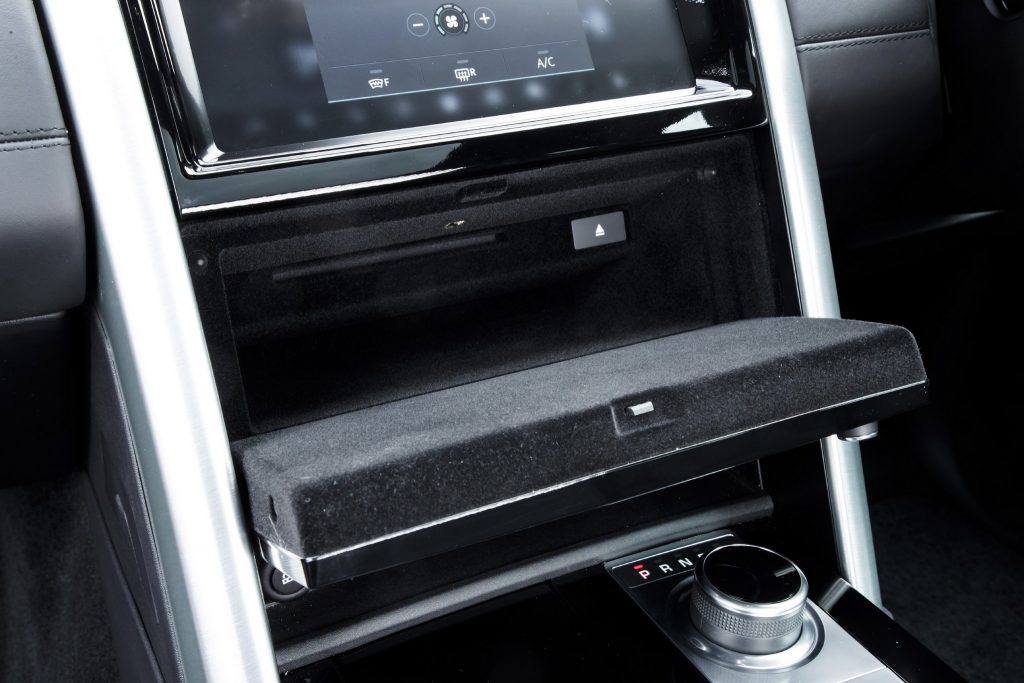 The updated InControl Pro infotainment system is a doddle to use with large icons and a logical layout. It is still a little slow to respond to a selection – the offerings from Audi and BMW have a quicker interface – but it's not going to cause you any problems.
The large, chunky dual-zone climate buttons below the screen are easy to use while on the move and you'll find the likes of heated seats, heated front screen and a sensible volume button are all to hand in this area – which means more time looking where you're going and less time poking around a screen to get warm air where you want it.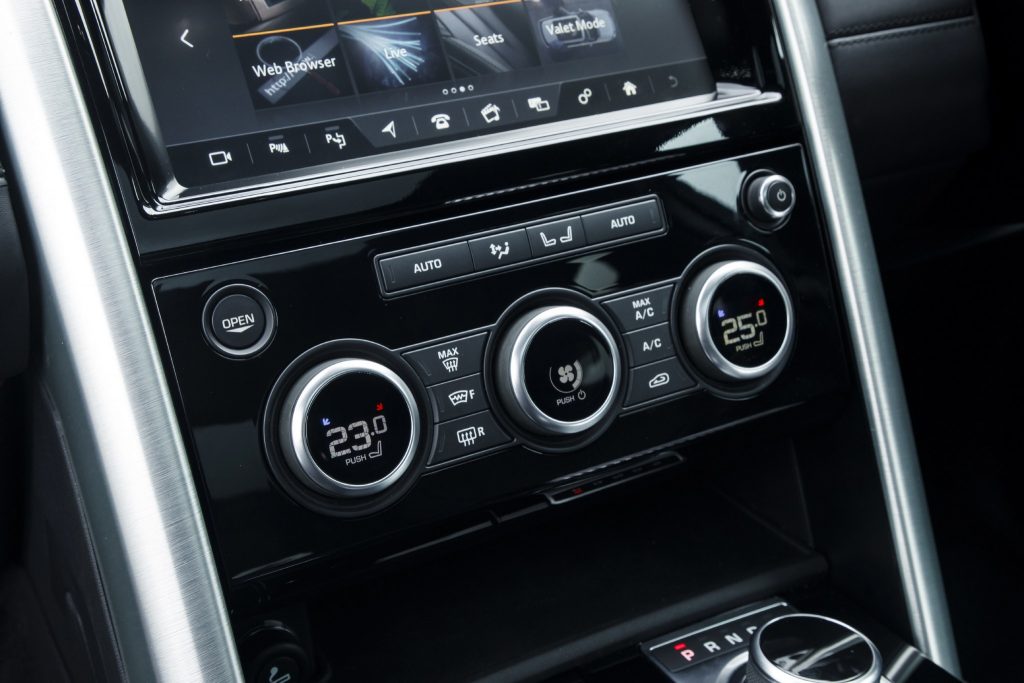 Rear passengers have nothing to complain about either as the contoured seats are very comfortable even on longer journeys and legroom is very good. Taller passengers won't have a problem with headroom either as the Discovery is a tall beast.
There are decent storage areas in the doors as well as separate climate controls and the seats can be reclined or slid forward to suit. The kids will be pleased to see USB charging points as well as those video screens in the back of the front-seat headrests. Oh yes, wireless headphones are also provided.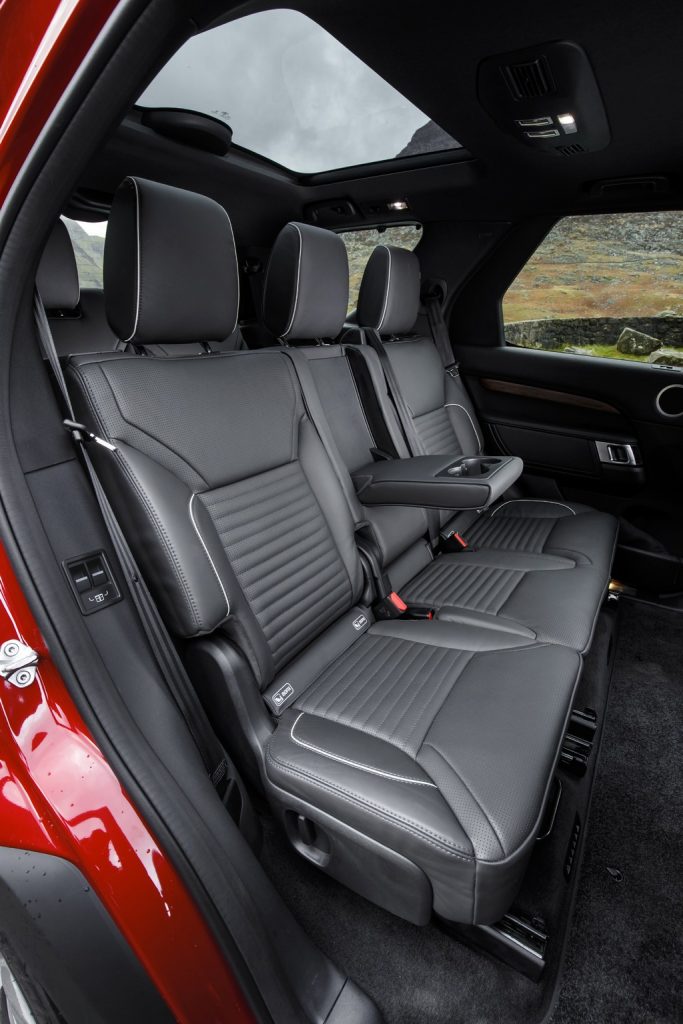 The two seats in the third-row are, unusually, more than adequate for a couple of adults to travel in, never mind children. Access is better than usual too with a nice, wide opening to the rear doors and middle-row seats that tilt and slide easily out of the way. Okay, you won't be asking your octogenarian grandmother to climb into the back but most people won't have a problem at all.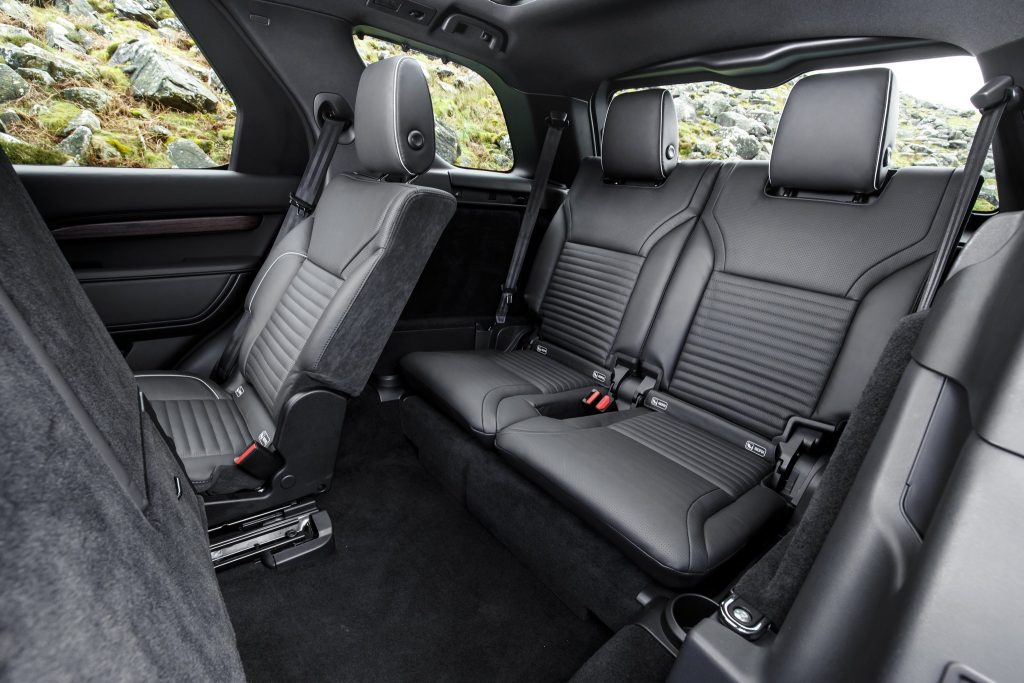 One of the first things you'll notice at the rear is that the tailgate is no longer split. However, lift the large hatch and you'll see that Land Rover have provided an electrically-folding rear "bench" for you to park your backside on – it'll hold 350kg so a couple of friends should be okay to join you.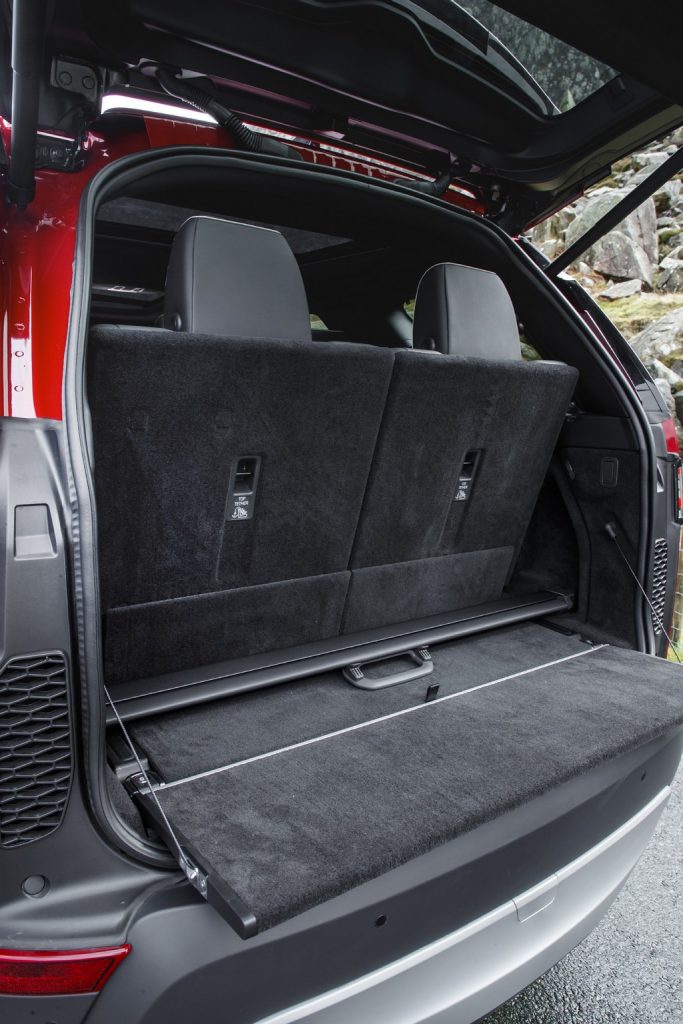 Another thing you'll notice is the large collection of buttons that allow you to easily configure the rear seats. From here you can fold the rear five seats individually, or all at once. You can also lower the rear of the vehicle for easier loading/unloading as well as drop or raise that rear bench. There's even a button to deploy the electronic tow-bar.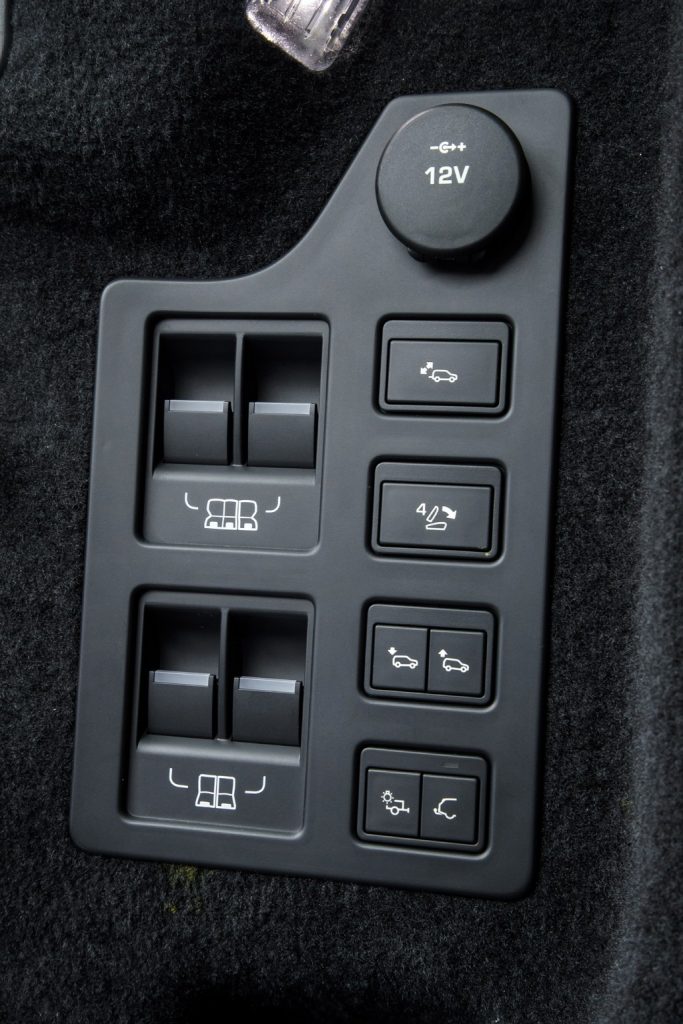 With all the seats folded the rear loadspace is not only huge but it's also entirely flat, making getting that sofa loaded a piece of cake. Okay, maybe a small sofa but that rear space really is van-like.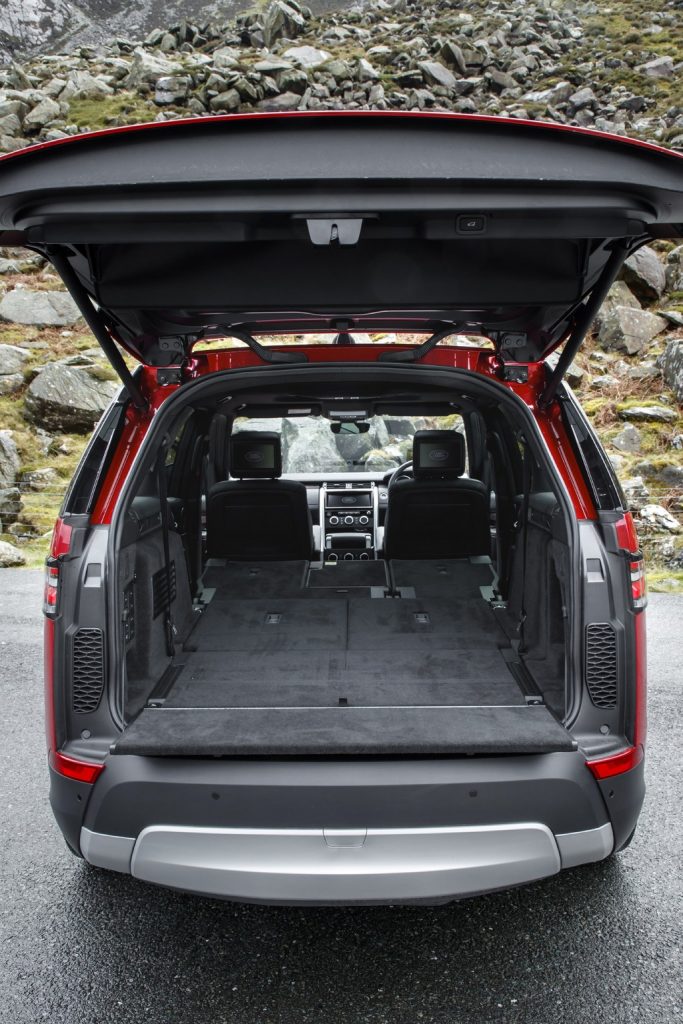 The driving experience is much improved by the fact that the new Discovery is so much lighter and therefore agile than the previous model. It definitely feels more car-like to drive and I found it to be an all-round more relaxing drive.
The 2.0-litre diesel engine is quiet enough once on the move and the 8-speed auto transmission does a great job of selecting the right gear at the right time. You really can breeze along quite happily in the Disco, whether you're on country lanes or on the motorway, the standard air-suspension does a great job of smoothing out road imperfections, while the aerodynamic bodywork reduces wind noise.
It's quick enough too, even in this "lowly" 240bhp version. Motorway cruising is relaxed but I was disappointed to find there was no adaptive cruise control – Just a conventional cruise control which seems a little mean at this price point.
Show the Disco a winding, narrow country road and you'll be reminded just what a large vehicle this is. Body-roll is well controlled but there's more of it than you will find in an Audi Q7 or Porsche Cayenne – which is, perhaps, to be expected; after all the Discovery is less sports focused and more about practicality and off-road ability.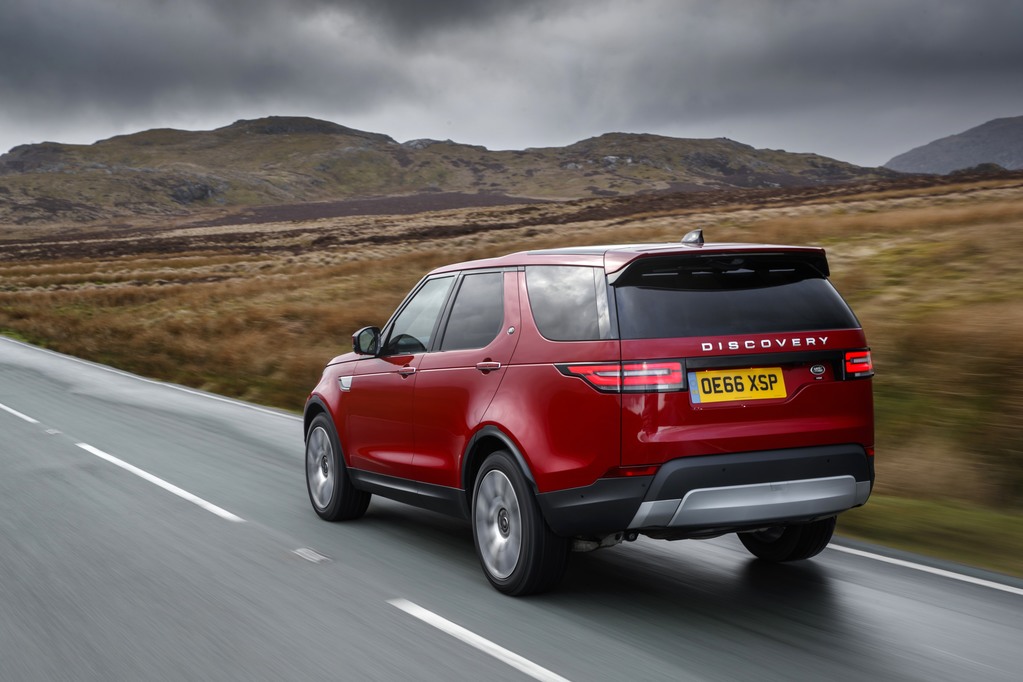 I was lucky enough to drive the new Discovery off-road at the Millbrook Testing Grounds and I must say I was very impressed indeed. Okay, the vast majority of Discovery owners will never try to climb or descend a 60-degree, muddy and rutted embankment or ever need to rely on the Wade Sensing function when trying to cross a Ford or flooded road but it's good to know that the Discovery is the most capable off-roader out there – by quite a margin.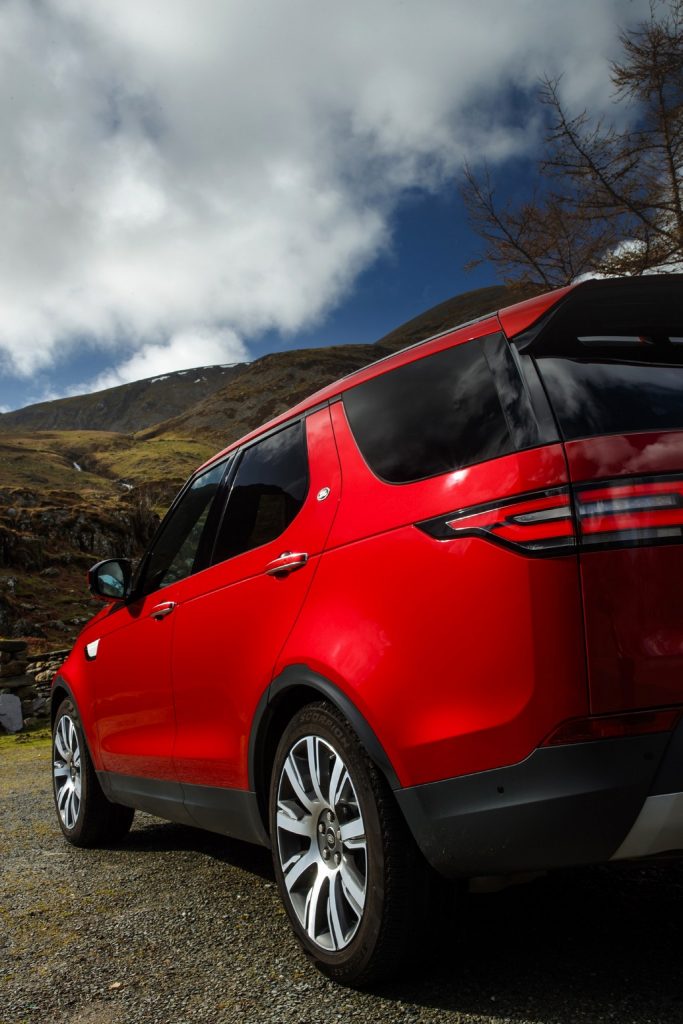 Should you find yourself in a situation where the road conditions are less than ideal; fear not because the Auto Terrain Response function will set the Disco up to suit the conditions without you having to fiddle with any knobs or buttons. It works brilliantly and made even a novice like me look like a hardened, off-road veteran. Off course, if you want to set up suspension, ride-height, etc. before you hit the bog/river/mountainside then you can do so via the rotary selector and buttons in the central console.
So, if you're in the market for a beefy all-rounder that can carry seven adults in comfort, double up as a load-lugger, handle any terrain or weather conditions that may be thrown at it, keep you and your loved ones safe and still have a luxury feel that will make you smile every time you climb aboard, then the new Land Rover Discovery needs to be top of your list. It's definitely still King of the Hill.
---
RATING: *****
---
Land Rover Discovery Sd4 HSE Luxury

OTR Price: £62,695

Engine: 2.0 turbo diesel

Power: 240 bhp

Transmission: 8-speed automatic

0-62mph: 8.0 secs

Top Speed: 120 mph

Combined Economy: 43.5 mpg