New Mercedes E-Class still top of the class for refinement and tech
The E-Class is to Mercedes what the Golf is to Volkswagen or the iPhone is to Apple. It's the beating-heart of the range and, as such, any new model must stack up favourably against the opposition or it will lose ground quickly to them.
Audi have the A6, BMW have the 5-Series and Jaguar have the XF – all excellent choices for the high-flying, gadding-about executive who is willing to pay that little bit more for top-notch quality. Well, quite a bit more actually; these models don't come cheap and the Mercedes E-Class, spec-for-spec can work out the most expensive of all.
But, never fear, if you want the most luxuriously cosseting, technically-advanced set of wheels for around 38 grand then you still need to be saying hello to the man stood beneath the large, 3-pointed star.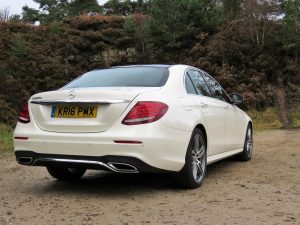 The new Mercedes E-Class is one of those rare beasts that promises so much on paper and then goes on to over-deliver when you actually drive one. I say "over-deliver" with the reservation that you judge the car on comfort, refinement and cutting-edge tech. If sporty driving dynamics is absolute top of your list then I recommend the Jaguar XF.
That's not to say the Mercedes E-Class can't carry you along the road very quickly. It certainly can – it's shed 100 kilos since its last incarnation with more use of lighter materials and a brand new 2-litre diesel aluminium engine that can pump out 194 bhp and propel you to 60mph in just 7.2 seconds.
The silky-smooth, compulsory, 9-speed automatic transmission does its job better than any I have used before with gear-changes being virtually seamless. Step hard on the accelerator and if the car needs to drop a gear you'll hardly notice – you just get wafted along quickly and without fuss.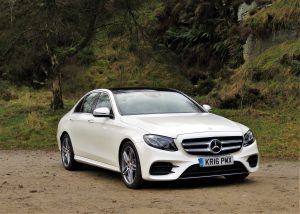 The diesel version is available in 2 trim levels – SE or AMG Line – and 3 levels of power – the 150bhp 200d (from £34,735 OTR), the 194bhp 220d and the 258bhp 350d. There is also the storming 4-wheel-drive AMG E43 with 401bhp if you fancy a speed-awareness course sometime in the not-too-distant future. There are also plans to launch a hybrid version later in the year.
I've been driving the £38,430 220d AMG Line with some options added that saw the price increase to a whopping £46,665 – Yes, you'll need to have an aversion to box-ticking if you want to keep things sensible.
From the outside things look decidedly conservative in a way that emphasises what Mercedes is all about – understated power and technology that goes about its business modestly and (mostly) quietly – the AMG E43 being the obvious exception.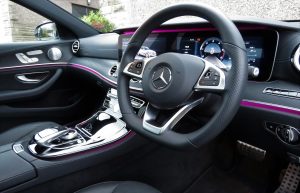 Don't get me wrong though, the new E-Class looks classy and elegant; more smaller S-Class than bigger C-Class but the family resemblance to both siblings is obvious from the large 3-pointed star on the front grille to the sculpted haunches and rear LED lights. The 19in AMG alloy wheels barely mask the massive front brake callipers and dimpled/vented disks while the twin, chromed exhausts in the rear bumper help give the rear view a clean, modern look.
However, it's the interior where you'll find the real wow factors like the swooping, wrap-around dash with 4 circular air-vents mounted centrally, controlled by 2 beautifully engineered knurled aluminium knobs that look for all the world like silver thimbles that Queen Victoria may have owned.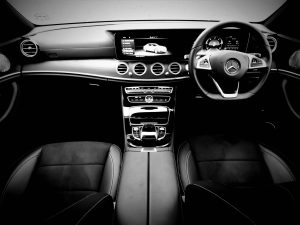 The controls for electrically adjusting the front seats are mounted on the front door panels – not hidden away down the side of the seat – and they too are wonderfully engineered just like the Burmester tweeter cover next to it which is part of the excellent on board audio system.
I could wax lyrical about the quality of fit and finish inside the Merc but I would run out of space. Suffice to say it is better than anything you will find from BMW, Audi and even Jaguar. It exudes quality and if you opt for the 12.3in high-res cockpit display you will find yourself with a very impressive and very configurable display that outshines even the excellent effort from Audi.
Accommodation-wise, 3 adults can sit comfortably in the rear all day long with plenty of knee and head room. For 2 adults only it would feel positively luxurious. The boot is slightly bigger than rivals and I'm glad to report that the boot lid opens up high and wide making it easy to get larger objects in and out.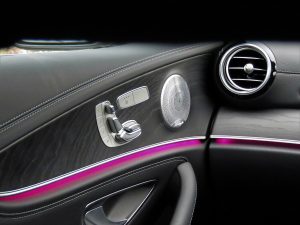 Likewise, I don't have enough space to list all the driver aids and other tech which is standard on the AMG Line model but here's some of the highlights beyond the obvious auto lights/wipers and reversing camera: 64-colour ambient lighting, Active Brake Assist, Parking Pilot – self-parking system, Garmin Map Pilot navigation system, open-pore ash wood for dashboard and door trim, Artico leather with contrasting stitching, Dynamic Select with a choice of driving modes: Eco, Comfort, Sport, Sport+ and Individual, Multi-function Steering Wheel with Paddle-Shift.
Now, that's all well and good but how does it drive? Well I suppose it's no surprise to learn that it drives very well indeed – even without the optional air-suspension. As I alluded to earlier, it's no street racer as the focus is most definitely on comfort but it doesn't disgrace itself through fast, twisty roads either – there is plenty of grip available with body roll being subdued well but not as well as the more sporty-focused Jaguar XF.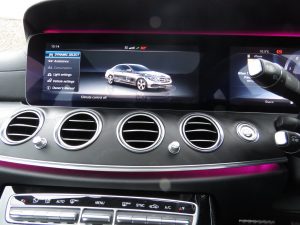 Steering is excellent – on a par with the XF and the BMW 5-Series – with loads of feedback through the front wheels and suitably heavier at lower speeds than most rivals. The Merc feels satisfyingly planted on any surface and excels where you would expect it to – on the motorway where the revs will barely touch 1,200 even at a steady 70mph making the E-Class one of the quietest cars I have ever driven – even with those wide 275/35 rear tyres. Sound insulation is exemplary.
Low points? Erm, there are a tad too many options when navigating the infotainment system and – that's about it.
If, like me, you enjoy a car stacked with tech-toys then the E-Class will entertain and astound you no end with features like Remote Park Pilot whereby you can use an app on your smart phone to remotely manoeuvre the car into and out-of tight parking spaces so you don't have to struggle with the door.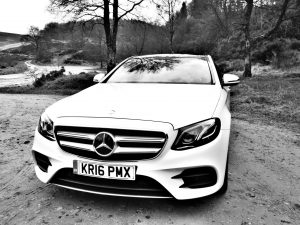 There is even a feature built into the crash-management system that emits something called "pink sound" just before an impact. This triggers a reflex in the middle ear that causes it to contract and thus saves possible damage to the ear from the impending loud bang. I kid you not.
The opposition has its work cut out if it is to compete with the new Mercedes E-Class which, once again, has managed to keep a step ahead when it comes to refinement, efficiency and cutting-edge technology that is both practical and impressive.
VERDICT: *****
AT A GLANCE: Mercedes E-Class 220d AMG Line
OTR Price: £38,430
Engine: 2.0 diesel
Power: 194 bhp
Transmission: 9-speed Automatic
0-62mph: 7.3 secs
Top Speed: 149 mph
Combined Economy: 72.4 mpg
CO2: 112 g/km (19in tyres)