ALTHOUGH larger than the Nissan Cashcow – sorry, Qashqai – you could be forgiven for getting the Nissan X-Trail mixed up with it's smaller, best-selling, sibling as they do look rather similar; especially on the inside where any Qashqai driver would feel right at home sat behind the wheel – which is no bad thing.
Take a look at interior space though and the X-Trail is way ahead – in fact it's way ahead against most of its rivals too – including Ford's Kuga and the Honda CR-V – and for an extra £1,000 you can make the X-Trail a 7-seater with the addition of 2 more-pop-up seats in the boot space which takes it into Hyundai Santa Fe territory when it comes to shifting people and is now the only Nissan SUV which offers 7 seats since the Qashqai+2 is no longer available.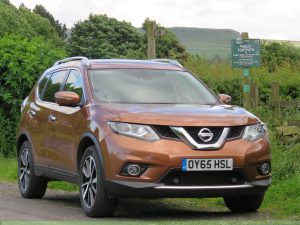 Outside, the new X-Trail is hardly recognizable from the previous version which was much more boxy and upright. The new styling gives the X-Trail a softer, car-like look which should appeal more to those looking for a family-sized SUV rather than an outright 4×4. It's a full 100mm longer than the previous model plus a little wider and taller which gives it class-leading interior space and a huge boot.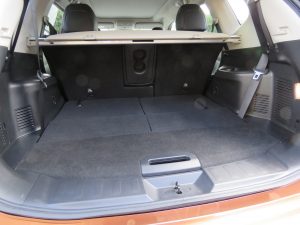 Starting at just £21,995 for the X-Trail Visia and rising to the X-Trail Tekna at £28,735 with Acenta and N-Tec models in the mid-range you have a wide choice of just how much comfort and/or safety gear you want. Personally, I would go for the £26,735 X-Trail N-Tec which includes 19in alloys, one-touch auto power tailgate, Nissan Connect touchscreen Sat Nav and infotainment system, Around View monitor  and most importantly the  the Smart Vision Pack which includes 3 systems which improve on safety– namely Forward Emergency Braking, Lane Departure Warning and Traffic Signal Recognition.
Engine choice is either the 130 bhp DCi diesel or the 163 bhp DIG-T petrol engine. If you want 4WD then you have to go for the diesel – likewise if you want the Xtronic Auto gearbox.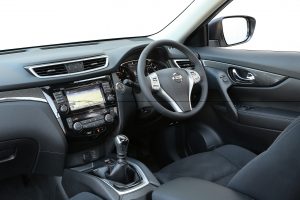 I've been driving the petrol, 2WD X-Trail Tekna for the last week and must say that I've found it rather underwhelming on the power front. Yes, it's a lot quieter than the diesel and you can make good, smooth progress through the gears on the flat. Hit a steepish hill though and you're reaching for a change-down a lot quicker and more frequently than you may expect.
However, I was pleasantly surprised by economy as I averaged 44 mpg in a week of driving which I thought wasn't too bad for such a large, petrol vehicle. I would expect around 55 mpg from the diesel version.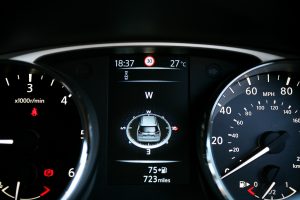 Other than needing a diesel power plant up front though, I've been very impressed with the X-Trail. The interior on this top-range Tekna looks very premium in double-stitched black leather and gloss black trim with metallic accents. There's plenty of light coming in to keep the interior from feeling oppressive and the panoramic sunroof helps even more.
The leather, multi-function steering wheel feels just right and all switchgear is right up there with VW rivals when it comes to sturdiness. The touchscreen infotainment system responds well and is sensibly laid out so finding your way around is no problem. If things get a little chilly then both front seats are heated. Those seats are very comfy too and being power-adjustable it's easy to get a perfect driving position.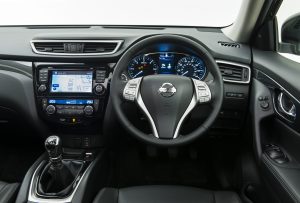 A minor gripe would be the small, square area in front of the USB port which, I assume, is there to hold your smartphone in place while it charges/streams music. It's just too small – and I don't have a large smartphone – with the result that it flew out on a couple of occasions when cornering quickly.
Rear seating is tiered so that passengers get a good view ahead as well as to the side and headroom is no problem, even for 6-footers. Three adults would be quite comfortable in the rear on extended journeys, but the rearmost pair of seats (if fitted) are only really suitable for kids.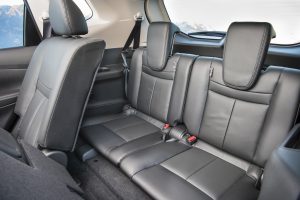 I like the fact that the rear doors open really wide – 77 degrees, actually – which helps when getting in and out as well as making it easier when lifting child seats in and out. However, access to those extra 2 seats in the boot is still awkward even with the folding middle row of seats slid forward and the backs tilted.
The boot space is very good at 550 litres in 5-seater mode and a whopping  1,982 litres with the rear seats folded flat. The X-Trail also has a Luggage Board System which offers 18 different combinations of luggage space with the boot floor capable of being raised to help with loading heavier objects, or lowered for more space.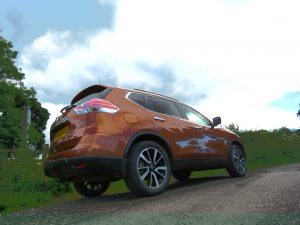 On the road don't expect a thrilling drive. The X-Trail is certainly comfortable and very easy to drive. From behind the wheel it handles much more like a mid-sized hatchback than a large SUV, with little body roll on the corners and a soft, pliant ride that may feel just a little too pliant occasionally. The X-Trail will cosset you and the high driving position adds to the feeling of security but it won't make you smile every time you put your foot down – it's just a little dull dynamically.
The X-Trail is definitely a user-friendly, spacious option for the family but whether you need that extra space over the Qashqai is down to you.
VERDICT: ****
AT A GLANCE:
OTR Price: £27,285
Engine: 1.6 DIG-T petrol
Power: 163 bhp
Transmission: 6-speed Manual
0-62mph: 9.7 secs
Top Speed: 124 mph
Combined Economy: 44.1 mpg
CO2: 149 g/km