THE Kamiq is Skoda's smallest SUV offering – sitting below the Karoq and the 7-seater Kodiaq – but is still surprisingly spacious compared to similarly-priced hatchbacks. It may be everything the smaller family needs in a car. 
The Skoda Kamiq starts at just £18,370 for the base 'S' model, rising to £26,600 for the top-spec Monte Carlo edition fitted with a 1.5 TSI, 150PS petrol engine and DSG auto gearbox – which is the model I have been driving. In between are the SE, SE Drive and the SE L.
The other engine option is a 1.0 TSI with either 95PS or 110PS. All Kamiqs are front-wheel drive only. I suspect the best seller will be the 110PS SE which comes with everything most people would want – including a price-tag of under £20,000.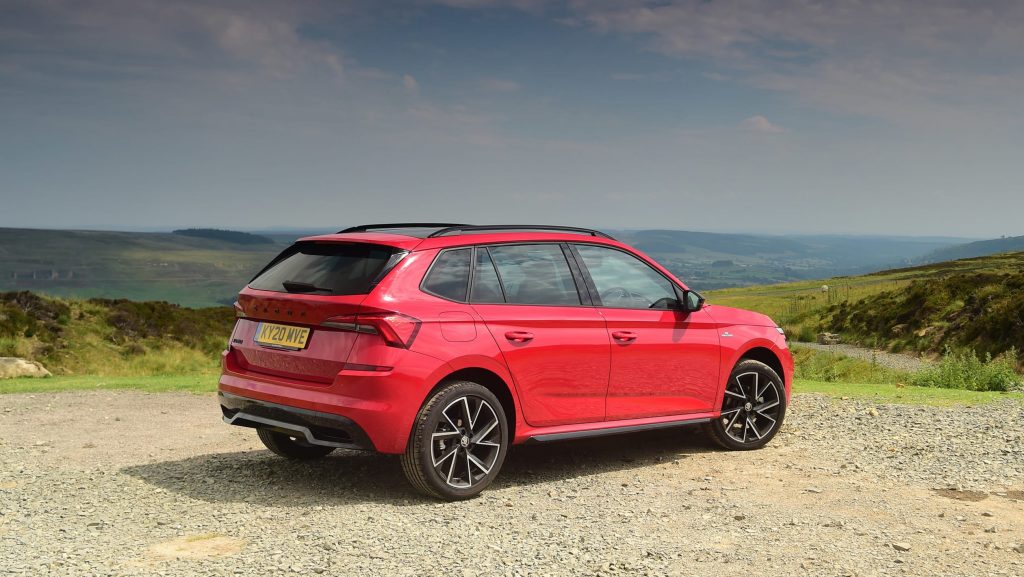 And that's not bad for a stylish, compact SUV that comes with 17in alloys, LED headlights and rear lights, roof rails, air-con, privacy glass, cruise control, lane-assist, rear parking sensors, 6.5inch infotainment screen with DAB and Bluetooth – oh, and an umbrella in the driver's door.
All Kamiqs are pretty cool looking with those split front headlights, privacy glass and a chunky rear diffuser in black or grey, depending on which model you choose. To my eye it looks more stylish than main rivals, including the VW T-Roc, SEAT Ateca and Hyundai Kona. Maybe the Citroen C3 Aircross is more distinctive but it's not quite as practical.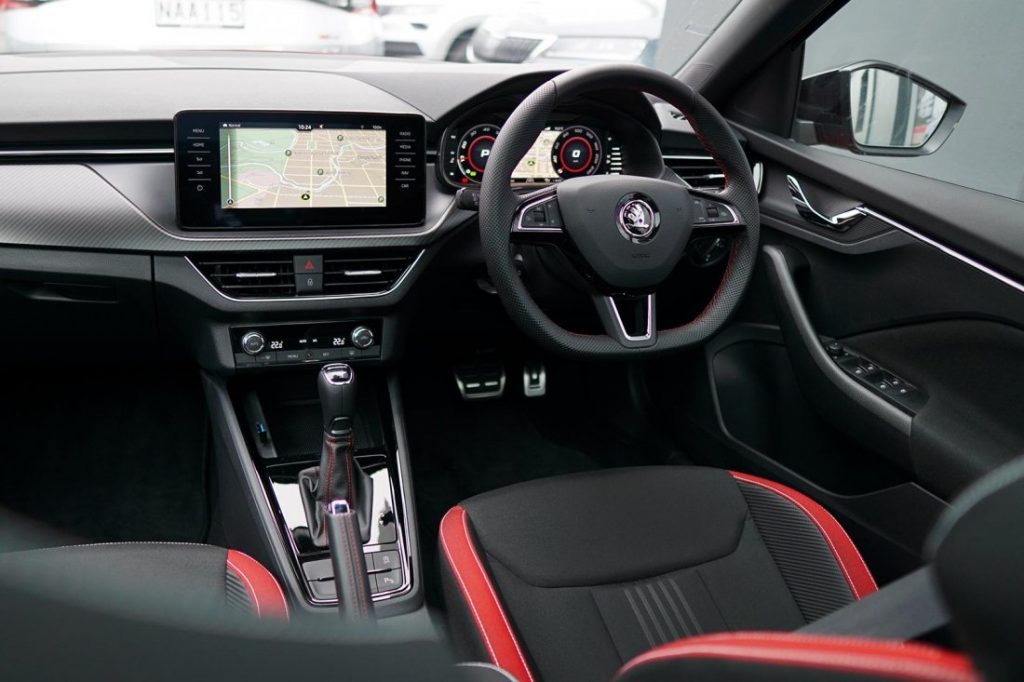 The top-spec Monte Carlo is – unsurprisingly – the best-looking Kamiq of all with 18in diamond-cut alloys, Jet Black radiator grille, body-coloured bumpers, chrome roof rails and a huge panoramic sunroof. My cars optional red metallic paintwork (£595) with piano black roof also added to the cars kerb-appeal.
It's inside the Skoda Kamiq Monte Carlo that really impresses though – and the first thing you notice are the black and silver microsuede sports front seats that look like they're straight from a rally car. A full racing-harness is neither required nor provided though.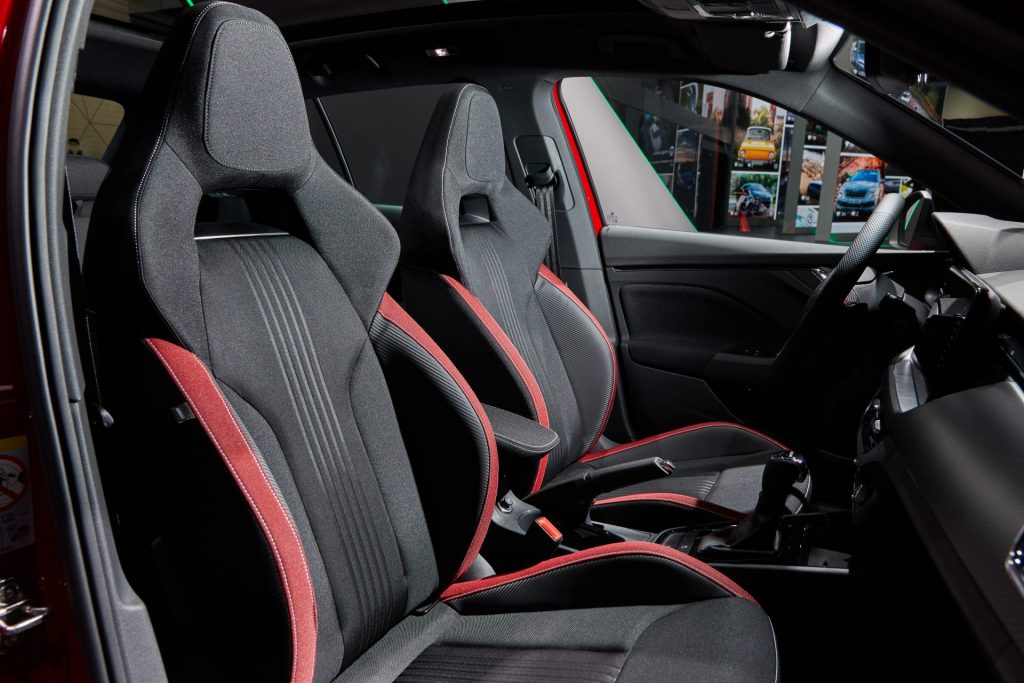 The next thing to impress is the 10.25in Virtual Cockpit that is fully configurable and looks superb whether you're viewing driving data or a full-screen sat nav map.
The Amundsen 9.2in infotainment screen also looks bang up to date with crisp, colourful graphics and is simple enough to navigate around. This includes built-in sat nav as well as DAB radio, Bluetooth and Apple CarPlay and Android Auto.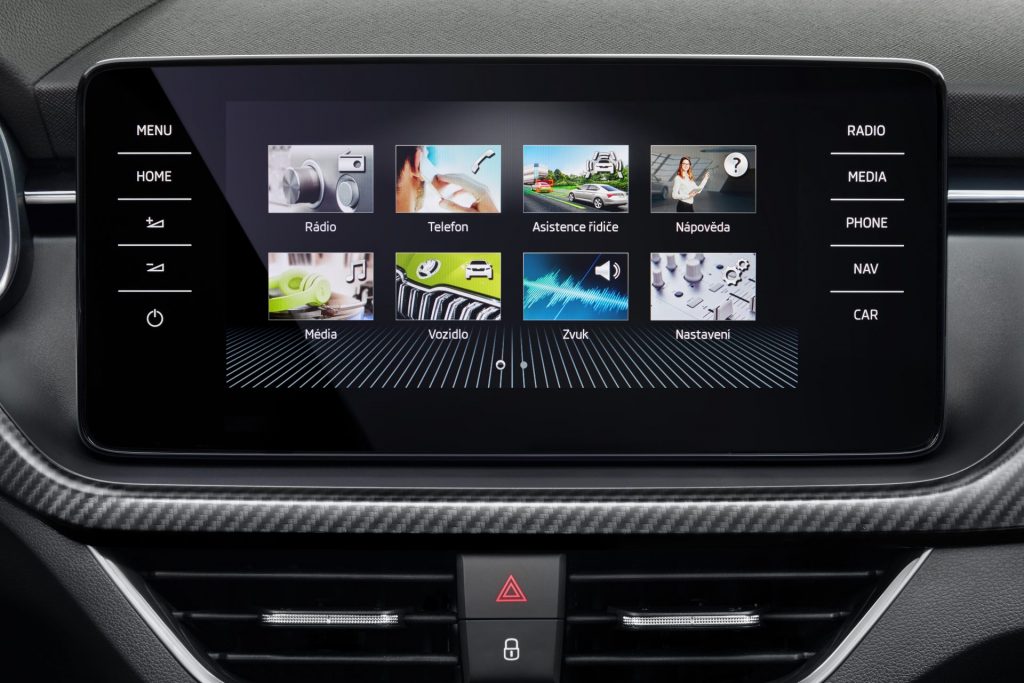 It's good to see that the climate and heating is controlled by separate dials as opposed to fiddling about in the touchscreen but disappointing that dual-zone climate is an option on the Monte Carlo while standard on the SE L. Although some plastics are a little on the hard side, overall, the interior of the Monte Carlo is a pleasant place to be sat although manual-only front seat adjustment seems a bit mean.
Rear space is also good and better than most rivals with enough room for 2 adults – 3 at a pinch – but don't be counting on travelling far with 3-up in the back. There are 2 USB type C connectors in the rear – so be aware you may need cable converters for some of the kids older tech, although one converter is already included.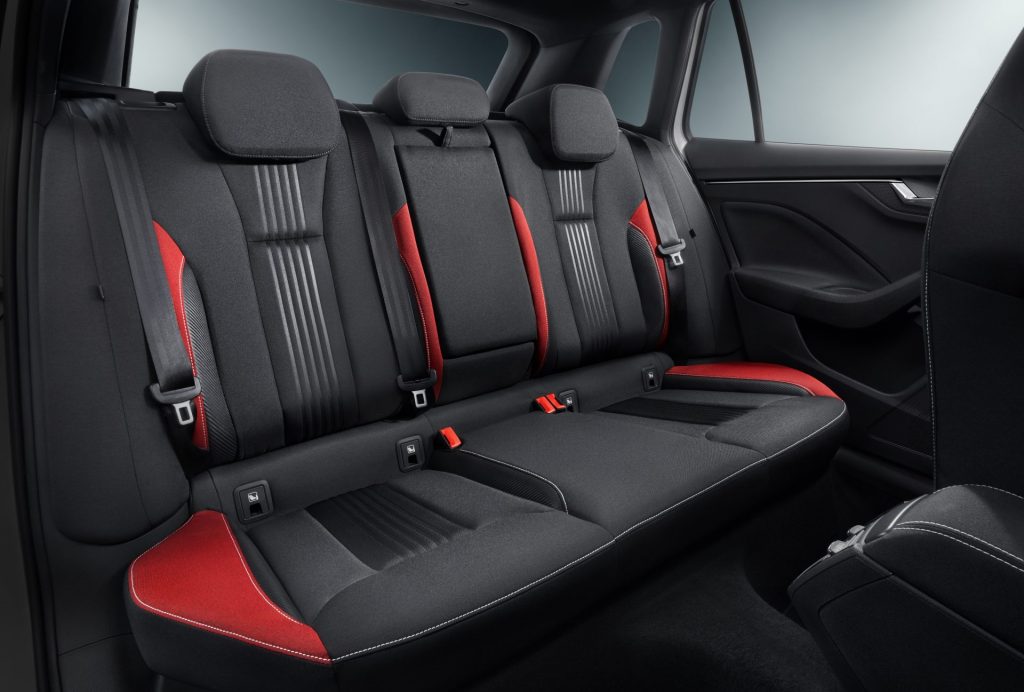 Rear passengers will also appreciate the huge panoramic sunroof which has a dark tint and even an electric blind for those hot, balmy summer days. Thankfully, the sunroof doesn't impede headroom and I had a 6-footer seated in there with no problem at all.
The 400-litre boot is generous at this price point and that can be expanded to 1,395 litres with the rear seats folded – although the seats don't fold completely flat and leave a rather large step that makes pushing longer objects in more difficult.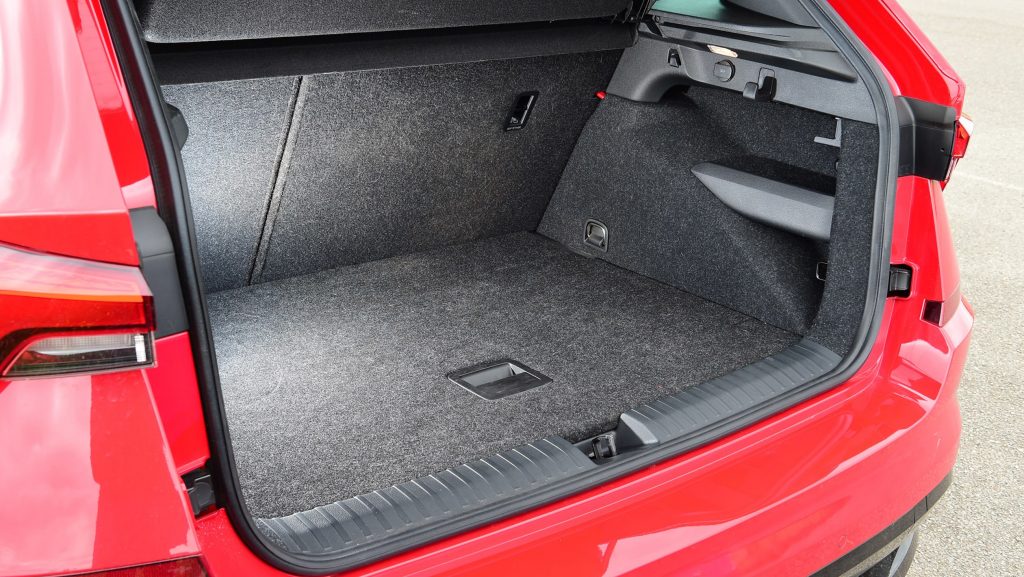 In the boot space you'll find the usual Skoda thoughtfulness with a removable boot light/torch, hanging hooks for shopping, a cargo net, detachable side bins and even a proper spare wheel.
The driving experience matches the interior satisfaction in that it mostly exceeds expectations with just a couple of rough edges.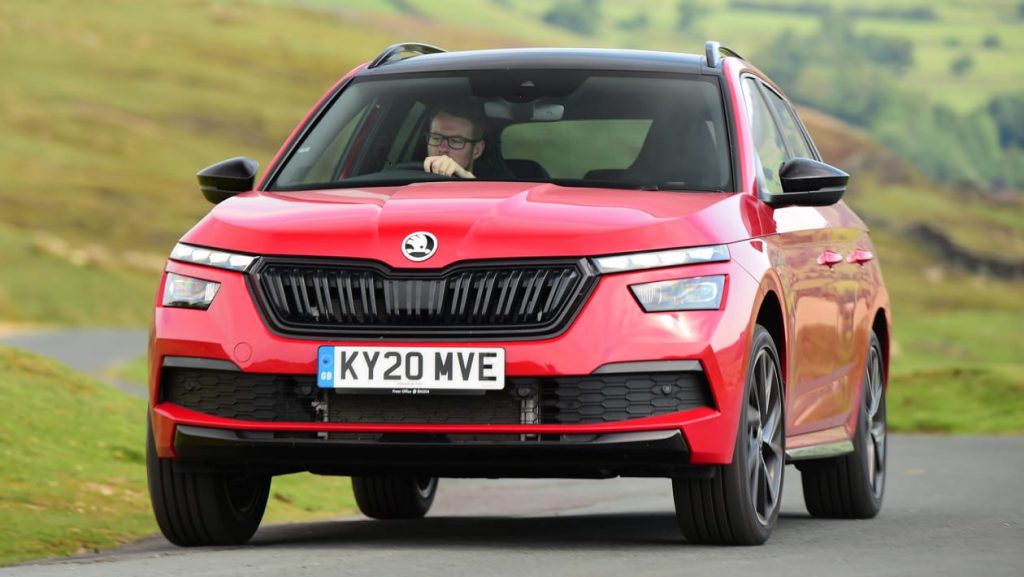 Firstly, I must say the 150PS engine is probably better mated to the 6-speed manual gearbox. The DSG gearbox seems to struggle to get the power down intelligently and I was increasingly frustrated by monumental wheel-spin when trying to pull out at junctions quickly. Whether there is not enough weight over the front axle or it's a tyre problem, I'm not sure, but I just know that it was far too easy to light up the front wheels – and I'm certainly not heavy-footed when driving.
Likewise, the automatic gearbox seemed a bit dim-witted at times – especially when changing down a cog and I couldn't help but wish I had the manual onboard instead. It is possible to put the 7-speed DSG into manual mode but really, what's the point? Just get the manual box instead.
However, 95% of the time, whether dashing along a dual-carriageway or going on an A-road jaunt, the little Kamiq was composed and more fun than I'd imagined it would be. Body-roll is well-controlled and the steering, although light, has some feel to it and is surprisingly quick to change direction too.
With 150PS on tap, overtakes are easy – although I suspect the 110PS unit wouldn't struggle either. The engine is refined enough not to be too shouty even at motorway speeds although I found wind and tyre noise quite pronounced.
There's nothing about the Skoda Kamiq Monte Carlo that would put you off from embarking on a long journey though, the seats are very comfortable – and come into their own on the twisties – visibility is good and the comprehensive list of driver-aids, including autonomous braking and blind-spot detection, make longer journeys a doddle.
Adaptive cruise control would be a worthwhile addition over the standard cruise as this can slow you right down to a stop and then get you going again – if the traffic moves off again within a few seconds. Essential if your commute includes and lot of stop/start traffic.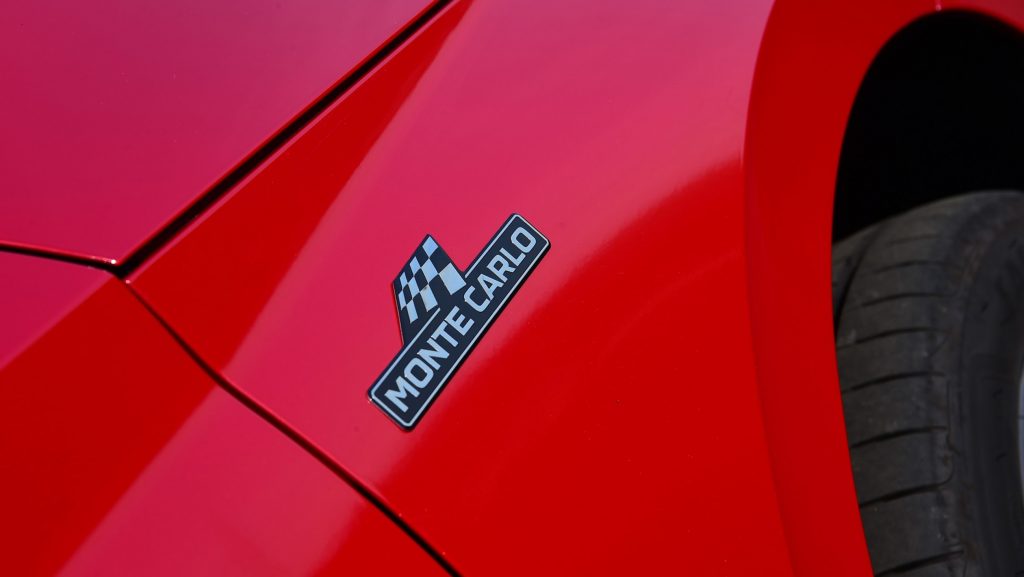 Overall, the Skoda Kamiq Monte Carlo is an enticing small SUV/Crossover because of the very fact that it doesn't feel (or drive) like a small SUV. It feels more grown-up than most rivals and while you will find some cheaper materials in the cabin you can forgive the Kamiq Monte Carlo because it is so well-equipped. Outwardly it's a winner too, looking more prestigious than its price-tag may suggest.
RATING: ****
AT A GLANCE:   

Skoda Kamiq Monte Carlo 150PS DSG 

OTR Price: £26,600 

Engine: 1.5 TSI petrol  

Power: 150PS  

Transmission: 7-speed Automatic  

0-62mph: 8.4 secs   

Top Speed: 131 mph   

Combined Economy: 43.5 mpg   

C02: 116 g/km