I'VE always been a fan of the Skoda Octavia VRS, whether it be the diesel or petrol-driven version, because it's always had a whiff of the underdog about it and we all love an underdog – especially when it goes like this one.
When I say "underdog" I am, of course, only referring to its rather spoilt brat of a sibling, the Golf GTi.
While the Golf receives all the best goodies from Mr. And Mrs. Volkswagen the Octavia has always had to make do without some of the extras, like, for instance, the fancy Haldex electronic diff or the adaptive dampers that are available to its better-loved rival.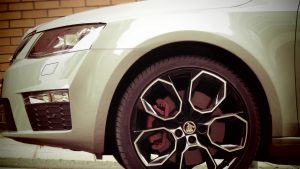 But now we have the Octavia VRS 230 which ups the power by 10bhp to (surprise, surprise) 230bhp and also gets a freer-flowing exhaust and the electronic diff that is capable of feeding 100% of the power to the front wheel with the most grip, thus making exiting corners altogether a more satisfying experience than in the standard VRS. It will make you smile.
So is this a Golf GTi beater then? Well, no not quite. Mr. And Mrs. V would never allow that and anyway although both Octavia and Golf are based on the same MQB platform, the Octavia is bigger and heavier than the Golf so would never beat it in an out-and-out drag race.
It is quick though – Max speed is 155mph and 0 to 60mph takes just 6.7 seconds which is a full 1/10th of a second quicker than the standard VRS. 'Big deal' you may think and at £2,500 more expensive you'd be right to question why you would choose the 230.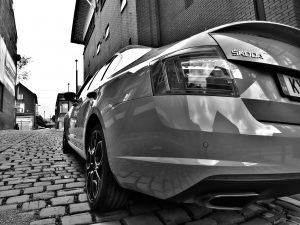 It's the rest of the package though that makes the Octavia VRS 230 worth paying the extra. As well as that wonderful electronic diff and sportier exhaust you get a host of other goodies including 19in Xtreme alloys, red brake callipers, gloss black front grill, door mirrors and tailpipes, full leather sports upholstery with red stitching, Amundsen Sat Nav and of course an electronic lap-timer built into the dash.
My car came in the cost-option special colour of Meteor Grey – or "Primer" as Mrs. B called it. She wasn't a fan and I must say that when compared with other colours available – like the lovely Corrida Red – it's not a choice I would make; but others disagreed and thought the colour was striking. It did get quite a lot of attention though – especially while stopped at the motorway services where many folks took a second glance.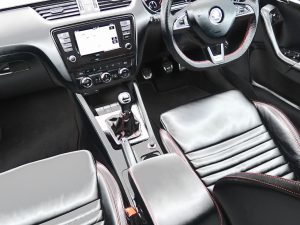 Driving the VRS 230 certainly doesn't disappoint. There is a hat-full of torque available even low down in the rev range and the car always feels responsive even in "Normal" setting. Select "Sport" from the push button in front of the handbrake and the car feels even more eager to get on with it. The throttle response is sharpened and the engine note becomes markedly more sporty with a pleasant rasp to it. Steering is also affected with a weightier feel but if that doesn't appeal you can mix and match preferences if you select the Individual Mode from the same button.
Levels of grip through twisty A-Roads was very good indeed and that e-diff really came into its own convincing me that the Octavia VRS should have had this option all along.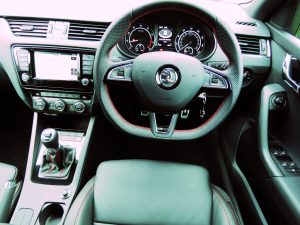 Those 19in wheels don't appear to adversely affect handling either and the suspension setup – unchanged from the standard VRS – copes very well on all but the most rutted of roads. The design of the wheels, however, makes me think they may be quite easy to kerb if you're not paying 100% attention when parking. The wide 225/35 R19 Pirelli tyres do make themselves heard at almost any speed though so motorway cruising isn't quite as relaxing as it should be.
The 6-speed gearbox is quick enough and pleasant to use but you can specify a DSG box if you wish at extra cost.
Inside is . . . well, it's an Octavia so there is plenty of space in the rear as well as the front and the black, red-stitched leather on my model looked superb while the electronically-adjustable, heated front sports seats hold onto you very well through the twisties.
The dash layout is typical VW with everything being easy to hand and logically laid out. Quality of fit and finish is definitely at the premium level and the chunky multi-function, 3-spoke leather steering wheel with its inlaid VRS logo is particularly impressive. The narrow door bins are a little on the plasticky side but other than that everything is good in the cabin.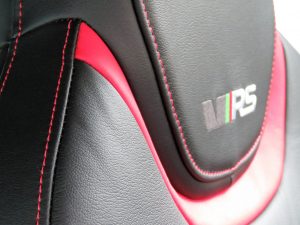 A 400-mile round trip to visit friends in Salisbury gave me a chance to check out the claimed combined mpg figure of 45.4 and I was pleasantly surprised to find that I actually achieved 54.5 mpg with perhaps two-thirds of the journey being at steady motorway speeds – not bad for a 230bhp 2-litre petrol car.
The Octavia VRS 230 is Skoda's fastest-ever VRS model and as a practical family-sized saloon (or estate if you wish) with added spice it is a hard package to beat. Who says having kids means you need to ditch the sports car?
VERDICT: *****
Skoda Octavia VRS 230
OTR Price: £26,580
Engine: 2.0 litre TSI
Power: 230 bhp
Transmission: 6-speed Manual
0-62mph: 6.7 secs
Top Speed: 155 mph
Combined Economy: 45.4 mpg
CO2: 142 g/km