IF you think the SEAT Leon Cupra looks a little understated and crave for something which looks the part, is more practical than an Audi TT and has great performance in a solidly-built German package then the VW Scirocco is the obvious choice – and the GTS version is even more obvious. Or is it?
The Scirocco has always been a bit of a looker – even 8 years on it is still capable of turning heads and although based on the older PQ35 platform is still very capable dynamically. The Volkswagen Golf GTi – which is based on the newer MQB platform – is, however, better to drive and has a more modern feel to it's interior. But it's not a Scirocco is it?
And there lies the dilemma. For around a grand less you can go with your head and have the iconic  GTi in the (rather conservative) shape of the VW Golf – or you can go with your heart and buy something that looks much more sporty but is a generation or so behind the Golf – the Volkswagen Scirocco.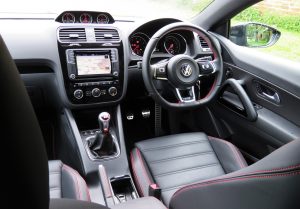 Now VW have made the choice even harder by introducing the Scirocco GTS which uses the same 220bhp 2.0 TSI petrol engine you'll find in the Golf GTI but have added even more kerb-appeal by way of some clever body styling which includes Gloss Black door mirrors with integrated indicators, sportier front and rear bumpers, radiator grille and side-skirts, GTS decal stripes on bonnet, roof and tailgate, red brake calipers and unique GTS badging on front grille and tailgate.
If you're not a fan of decals then you'll be pleased to know the Scirocco GTS can be ordered without them at no extra cost. Personally, I think they are subtle enough to remain and add a little something that makes the GTS stand out above the other Scirocco models.
The 18in "Hayden" wheels are also unique to the GTS as are interior features such as the chrome door sill protectors with GTS logo, piano black inserts in the dash and centre console, carpet mats for front and rear with red border stitching, leather multi-function steering wheel with red stitching and GTS logo insert. The Titan Black leather is, of course, stitched in red and the front seats have the GTS logo stitched into the head restraints as well as being heated. Let's not forget the unique GTS golf ball design gear knob either.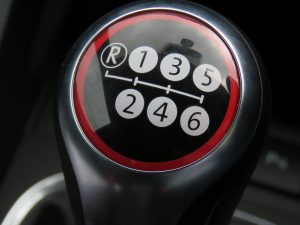 My manual car also came with a few options which included rear view camera, bi-xenon headlights, Dynamic Chassis Control, electronic diff-lock and Car-Net App-Connect for integration with a smartphone. The options pushed the price up from the basic OTR price of £28,500 to £31,745. And there's that dilemma again – you're now a couple of thousand pounds above the price of a GTI fitted with the excellent DSG gearbox and almost a grand above the 265bhp Golf Clubsport Edition 40. But they're not Sciroccos are they?
Okay, the VW Scirocco GTS really does look the part but what's it like inside? Well, it's actually very good. The sports seats give excellent support and hold you well in fast corners, the dials and switchgear feel suitably solid and the extra dials on the dash-top binnacle hark back to the original Scirocco way back in 1974. Old-fashioned though? Not to my eyes.
It's a bit of a squeeze getting into the rear 2 seats but once there it is surprisingly comfortable with more leg room than you may expect. However, if your rear passenger is over 6ft tall they may end up with a crick in their neck on longer journeys. That sloping roofline comes at a price.
The VW Scirocco is all about the drive though and I have to say the GTS feels even quicker than it's official 0-60mph sprint time of 6.5 seconds. It's quick through the gears too as the 6-speed is a delight to use being so precise.
It also sounds good, being just shy of too loud at full revs but definitely having a raucousness about it that will put a smile on your face when you push it. It ain't Focus ST loud but then most VW drivers wouldn't want that anyway, eh?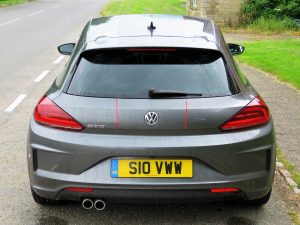 The ride is good but not great. Yes, the new Golf GTI rides the bumps better and feels a little more planted on the fast corners but even with the optional Dynamic Chassis Control fitted the Scirocco was feeling its age and tended to lose its line a little over rougher surfaces. Don't get me wrong, you can still throw the Scirocco around a bit and it's grip around corners will outlast my nerve by some margin, but it's no longer class-leading and even the Fiesta ST will give it a run for its money through the twisties – for a lot less money. But that's not a Scirocco is it?
Bags of feedback through the steering wheel means you always know what's happening up front which instills confidence and makes the whole experience an even bigger grin-inducer than many a modern-day hot hatch.
Although pricey, when compared it to its more sober-looking stablemate, you'll find that when you step out of the Scirocco you can't help but glance back over your shoulder to take another look – and then you'll know you chose the right one.
VERDICT ****
OTR Price: £28,500
Engine: 2.0 TSI Petrol
Power: 220 bhp
Transmission: 6-speed Manual
0-62mph: 6.5 secs
Top Speed: 153 mph
Combined Economy: 46.3 mpg
CO2: 142 g/km