SINCE splitting from Citroen less than 12 months ago, DS Automobile have been keen to put some distance between itself and its mother company, going for a more upmarket, bespoke image with particular emphasis on the younger end of the market.
With it's avant-garde styling and occasional out-and-out wacky colour schemes it certainly looks an appealing package to those who are after something a little different from the usual euro-offerings.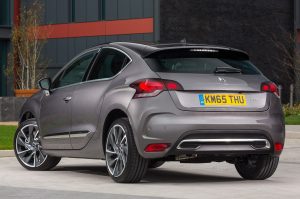 Taking its cues from the more expensive DS 5, the DS 4 has a much more appealing front end than its former cousin with a new shiny DS logo replacing the familiar chevrons and some striking LEDs giving the car a serious frown even in daylight.
To draw a distinction between itself and Citroen, DS are focusing on design, technology, comfort and refinement and all are plain to see in this new face-lifted DS 4. For a start there are 38 colour combinations to choose from in the now familiar dual-tone paint schemes. Want a metallic grey car with a purple roof and matching wing mirrors? No problem – and I should know because I've been driving it around for the last week.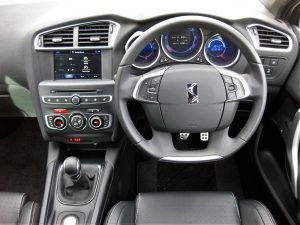 It's certainly a good looking car and I never once heard anyone baulk at the colour scheme, in fact everyone was complimentary from 20-year-olds right through to Octogenarians – everyone found it appealing.
The interior has somewhat of a wow-factor too. This particular DS 4 Prestige came with full black leather with white stitching and on first inspection everything certainly appears upmarket. The blue/violet lighting of the main instruments is particularly pleasing behind the smallish, sport steering wheel.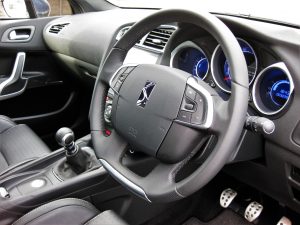 However, upon closer inspection there are still traces of Citroen DNA. Lower down in the cabin, the plastics are very hard and scratchy although the dash itself is much softer to the touch. Plastics surrounding the heating controls and infotainment system are not up to BMW 1 Series or Audi A3 standards, although to be fair you will be paying many thousands of pounds more for the equivalent specced German models.
And Spec  is where the DS scores highly with lots of tech on board to keep you entertained and impressed. A 7-inch colour touchscreen with Sat Nav, CD Player and DAB radio comes as standard, as does the MirrorLink and CarPlay system to match your smartphone to the screen.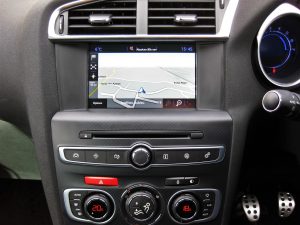 There is keyless entry and start, leather steering wheel, auto lights and wipers and a reversing camera with parking sensors too. I very much liked the way the cruise control was operated with a small rolling button beneath your left thumb. I found it very intuitive. The same button can also activate the speed limiter.
A similar button beneath your right thumb allows quick and easy scrolling through menus for playlists, radio stations and your address book once you're phone is paired via Bluetooth. A push on the scroll wheel activates whatever is highlighted. A really slick system.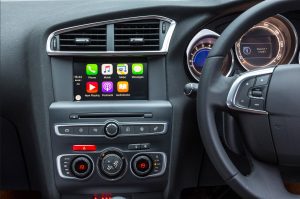 The 6-speed manual gearbox was also slick but not quite sporty and the 150bhp turbocharged diesel engine was very willing once in 3rd gear and above. Below that I found it rather unresponsive and even a bit sluggish. It didn't really feel like a 0-60 in 8.8 seconds car. Once on the move it was fine though and motorway cruising was more than acceptable, 370Nm of torque giving plenty of power when needed for overtaking. What didn't please me so much was the amount of noise intruding into the cabin. I don't think the 19in wheels helped here as there was quite a bit of tyre roar but I think there was also some wind noise thrown in their too; possibly from the large wing mirrors. Rather disappointing for a prestige vehicle.
Another let-down was rear leg room. There wasn't very much at all and if your rear passengers are getting a bit irate with the lack of space, they'll be decidedly fuming if they try to open the rear windows as they are sealed shut. I have no idea why as it seems quite bizarre on a 4-door car. C'est la vie. Boot space is generous, however,  at 385 litres – better than most rivals.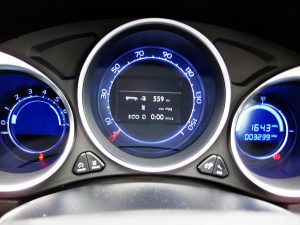 Ride comfort suffers considerably on less than perfect roads with the suspension thumping somewhat and the whole car feels a little fidgety which is surprising as DS have spent a lot of time and money trying to get the DS 4 to ride like a premium-class vehicle. Again, here I blame the 19in wheels and tyres. I suspect smaller wheels would give a much better experience.
With a fully snow-laden whiteout on the day the DS was dropped off for me I admit to lamenting the fact that the Land Rover Discovery I had been using for the last week was being taken away. Sod's law applies here . . . However, the little DS coped very well on the hills, although thankfully most major roads were clear of the white stuff.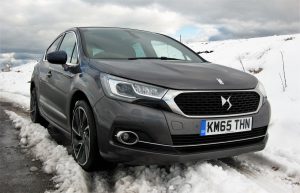 Overall I found the DS 4 nice to look at, nice to sit in but not great to drive. The dynamics just don't seem to work very well, particularly on a car that is supposed to have a sporty feel to it. On the plus side you do get a whole raft of tech that you would have to pay extra for in most other rivals and it is a truly appealing car to have sat on your driveway. Trouble is, once off the driveway it feels a little disappointing.
Verdict: ***
OTR Price: £23,495
Engine: 2.0 litre turbcharged diesel
Power: 150 bhp
Transmission: 6-speed Manual
0-62mph: 8.8 secs
Top Speed: 129 mph
Combined Economy: 72.4 mpg
CO2: 103 g/km