SO, a 3-cylinder 1.0 engine, mated to a 7-speed DSG auto box in a car sporting SEAT's FR badge. Hmm, it doesn't really sound very sporting at all does it? I'm thinking that the commute to work is going to be quite a noisy affair as that tiny engine is going to be screaming on the hills as the auto box tries frantically to choose a gear that will do the job.
One trip in and I realise just how wrong I am. This thing really shifts – and I don't just mean through the gears – it actually feels quite sporty as that 1.0 turbocharged engine powers up the hills without breaking a sweat and the DSG box handles things so well that you really can just put your foot down and not worry about whether the next steep incline is going to slow you down to crawl or not – the little Ibiza feels much more than the sum of its parts.
A second facelift has brought some minor cosmetic changes to the Ibiza which include LED daytime running lights and new alloys but not much else other than some new paint schemes. Inside there are more noticeable changes with the former poor dash layout much improved with an attractive Media System Plus infotainment system which sports a 6.5in screen which includes Sat Nav and Apple CarPlay as well as Android Auto and Mirrorlink for Smartphone connection – a really useful and desirable update which I found to work extremely well, especially when switching between Sat Nav and Bluetooth devices.
Quality of interior plastics has also been improved – most noticeably on the sweeping dash where once was a hard, scratchy plastic there is now a more soft textured plastic. However, look to the sides and you'll see that the plastics on the door cards are still of the "economy" variety and not quite up to the standard of say, the Hyundai i20 or Skoda Fabia but quite acceptable nonetheless. All the switchgear feels solid and up to the standard of it's bigger brother, the Leon.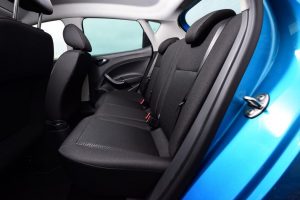 The Ibiza is still a little cramped in the back where taller passengers may find they have very little knee room and head room isn't great either. Again, the Hyundai i20 and Skoda Fabia are much better in this respect. The 293 litres of boot space is perfectly acceptable however.
It's not just the interior that has had money spent on it though, the underpinning of the FR have also been tweaked with uprated suspension and steering to give a sportier ride. I must say though that the ride doesn't feel particularly sporty. There is too much body roll in the corners and the electric power-steering feels a little lifeless, especially at speed, with very little feedback through the wheel. I found the noise levels to be just acceptable with tyre-roar the main culprit. I noticed the little Ibiza had Bridgestone Turanza tyres fitted and I have always find them to be particularly noisy on any vehicle, so maybe the problem is down to tyre choice rather than mechanics.
Economy figures are impressive at a combined 64mpg, although, realistically I achieved a figure more around 47mpg on mixed driving (but with a lot of hills!).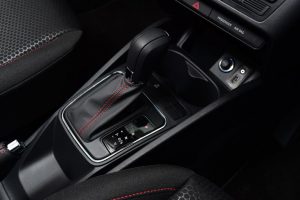 Overall I was impressed by the Ibiza FR, the combination of that 3-pot 1.0 litre turbocharged engine and the DSG gearbox was a revelation. The styling is still sharp even after 7 years but the interior updates are most welcome and add the latest tech which will boost the Ibiza's appeal with it's target younger audience.
Verdict: ****
AT A GLANCE:
OTR Price: £16,140
Engine: 1.0 Turbo petrol
Power: 110 bhp
Transmission: 7-speed Automatic DSG
0-62mph: 9.3 secs
Top Speed: 122 mph
Combined Economy: 64.2 mpg
CO2: 102 g/km