THE Mitsubishi L200 Barbarian could be forgiven for having a bit of an identity crisis. On the one hand it is a very capable, go-anywhere 4-wheel drive load-lugger;  just as at home on the farm transporting sheep to market  as it is on the building site shifting a tonne of equipment from one site to another.
Tradesmen and outdoor workers love it for it's ruggedness and reliability and that's not to mention those who use it purely for their sporting activities. You can fit an off-road dirt bike in the back of one of these things quite easily.
But now it appears to want to be a family car too and we all know that being a jack of all trades rarely leads to being a master of anything. I wouldn't think Mitsubishi are too bothered about this dilemma though as the L200 has always been extremely good at one thing – namely being a reliable workhorse – and now it is decidedly better at being the other – a refined, every day vehicle suitable for carrying 4 people in comfort and providing some creature comforts that you only find in higher-end crossover vehicles.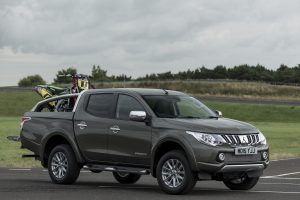 Okay, so the previous Series 4 L200 twin-cab also purported to be capable of wearing both hats, but in truth it was still very . . . well, "utilitarian" in the way it drove, sounded and handled. So what is different about this new Series 5 model?
Well, for a start it has had the soundproofing beefed up by way of fully revised suspension and six shock-absorbing body mounts that are more than twice the size of those fitted to the previous model. This means much less vibration and noise getting into the cabin, giving driver and passengers a more SUV-like experience than previously.
However, it's the sheer look and  quality of the interior on this top-of-the-range Barbarian model that really puts it ahead of the previous models.
Keyless entry and push-button start is welcome but I'm not too sure about the blue LED mood lighting. It's a tad unnecessary. That can be forgiven though as the rest of the interior is quite classy but understated in black leather and smoked chrome plastic trim. Yes, the dashboard and door cappings don't have the softer feel of a quality SUV but the L200 is meant to be a working vehicle and as such the plastics used are more than acceptable.
The Infotainment system I found to be a bit of a mixed bag. The DAB radio appeared to change channels on a whim and I couldn't get the Bluetooth to recognise my phone contacts. All a bit frustrating. The Sat Nav itself was basic but just okay – the most annoying part being the tone of the directions being given. I can only describe them as "stern and unfriendly". Never before has a sat nav made you feel the shame of a 14-year-old standing outside the headmistress' office. It was all I could do to stop myself muttering "Yes miss, sorry miss", each time an instruction was given.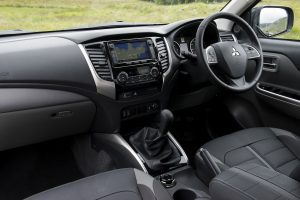 The rest of the tech worked fine. Dual zone climate, heated front seats, electric windows all round and powered seat adjustment make you feel you really are in a good quality SUV rather than a pick-up. Automatic lights and wipers along with a Lane Departure Warning system and cruise-control all add positively to the experience, as do the comfortable seats. Rear seat passengers have plenty of room, even 6-footers should have no problem thanks to the L200's J-line design between cabin and load space which gives more interior room and allows the back seats to sit slightly reclined giving more space and comfort.
Storage space is well catered for with 2 large cup holders beside the handbrake and good sized door bins both front and back. The lockable glove box is also generous. Pull the rear seats forward and there is also a small area to store bags and a few tools away from prying eyes.  All buttons and switchgear feel solid and of good quality; something that you want in a vehicle that may see more than it's fair share of dirty, greasy or wet hands.
Getting in and out of the vehicle is aided by the permanent side steps attached to the outside and while my passengers had no problems at all, I found I could easily catch the wipers instrument stalk with my left elbow when exiting the vehicle and leave it in it's "fast-wipe" setting.
The first thing you notice when stood beside the vehicle is, of course, that it is big. To be more accurate, it is long. You won't park this in a single parking space down at the supermarket. You'll need about a quarter of the one behind (or in front) as well. The good news is that the rear parking camera  and sensors will help you a great deal here as will the huge wing-mirrors which are deep enough to show you the entire depth of the vehicle down to the tarmac. They really are quite essential on a vehicle this length.
Overall the L200 looks very imposing but smart. Extensive use of chrome trim contrasts nicely with the Amazon Green metallic paint on the supplied vehicle  and from any angle it looks suitably macho.
Push the start button to get things moving and the new all-aluminium 2.4 litre MIVEC diesel engine chugs into life. It's not a quiet engine but it's not noisy either; it kind of suits the vehicle. The engine itself is a big improvement on the old, agricultural 2.5 lump. It now has variable-valve timing and a lower compression ratio which improves efficiency and brings the C02 level down to 169 g/km – lower than any other comparable pick-up. It pumps out a respectable 178 bhp and gives the Mitsubishi a class-leading 0-60 time of 10.4 seconds. It's no slouch.
There is an option of a 5-speed automatic gearbox instead of the standard 6-speed manual and to be honest I would opt for the manual. The autobox, as fitted to the test vehicle, felt quite unrefined. It seemed to hold onto the gears for too long between cogs, allowing the engine note to rise to almost banshee levels before changing up. It was thirsty too. I averaged only around 34 miles to the gallon whereas the manual can achieve over 40mpg in the real world.
Of course, one of the great benefits of the L200 is it's simple selection of 2 or 4-wheel drive via the Super Select 4WD system which offers the driver 4 modes of drive – 2 wheel for use on dry tarmac, 4-wheel for when conditions are not as ideal, 4HLc which locks the central diff for more rugged terrain and finally 4LLc for steep inclines, mud and deep snow. All selectable on the go at speeds of up to 62mph, just simply turn the large rotary dial which is located near to the handbrake.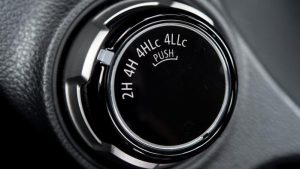 Out on the road the L200 impressed with its levels of ride quality. It was only on poor or bumpy A-roads that the vehicle bounced along a little. On the motorway at 70mph the engine is rock solid at just under 1500 revs and it quietens down remarkably. The ride is smooth and unfidgety and body roll is hardly noticeable at all. Indeed, you can quite easily have a conversation with both front and rear passengers without having to raise your voice at all. I've been in noisier mid-range hatchbacks.
Away from the motorway things are not quite up to SUV standards and if you are thinking of coming from an SUV to the world of the pick-up for its extra hauling ability you may be disappointed in the ride quality overall. You have to be aware that the Mitsubishi L200 is designed to do a job first and foremost and cosset it's occupants secondly. That's not true of the likes of the Nissan Quashqai or the VW Tiguan, for example, that would put cosseting first.
Overall though, if you're in the market for a pick-up that is also a nice place to sit in and that other people would be happy to climb aboard for an extended journey, then you should certainly be considering the versatile L200.
VERDICT: ****
OTR Price: £30,238
Engine: 2.4 MIVEC diesel
Power: 178 bhp
Transmission: 5-speed Automatic
0-62mph: 10.4 secs
Top Speed: 109 mph
Combined Economy: 39.2 mpg
CO2: 189 g/km