I LIKE the look of the Citroen Cactus. There, I've said it. 'Vive la difference' as the folks at Citroen may say.
When it comes to our cars we can be quite a conservative lot.  Just take a look around at what people are driving these days and answer truthfully if you can tell your Nissan Quashqai from your Kia Sportage or your Vauxhall Astra from your Alfa Romeo Guilietta. It's not always obvious – so when a manufacturer puts something out there that is instantly recognizable maybe we should celebrate the fact rather than wrinkle our noses at such brazen non-conformity – and if anyone is going to shake things up in the world of car design it is usually Citroen.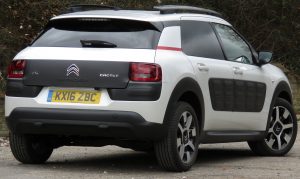 So, the Cactus may not be everyone's cup of tea. It's the Airbumps on the sides isn't it? Well, they're not just a style statement, they have a practical reason for being there – they protect the bodywork when Mr. or Mrs. Careless fling open their car door into the side of your pride and joy in the car park. It's bubble-wrap for cars except this version doesn't pop. It may relieve tension though – the tension you get when you've just bought a new car and you really want to keep it looking that way.
What about the rest of the car? Well it looks nothing like the standard C4 and although it is similar in size it is actually based on the C3 platform. It does give a nod to the C4 Picasso, however, with narrow lights running above the main headlights giving it a pretty mean look from the front. The Cactus has a tough, utilitarian look to it with some plastic mouldings running over the wheel arches and along the sills. There is also a large slab of plastic along the rear hatch which would look a little plain without it and the whole car sits higher for that 'Crossover' look that a lot of us are craving at the moment.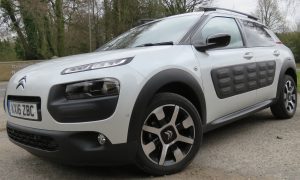 I've been driving the top spec Flair model in Pearlescent White with black Airbumps and, according to my wife, it looks like a police car. My neighbour says it looks like a rally car and another neighbour thought it was a pace-car from a racetrack. What they all agree on is that they don't like the Airbumps. They're all wrong.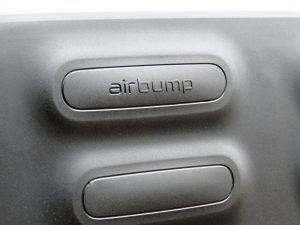 What we did all agree on was the interior – it's a resounding success from the feeling of spaciousness to the retro touches like the luggage handle door pulls and luggage strap look of the glove box. It's quite classy and you find yourself stroking the surfaces nostalgically. That wouldn't happen with a Nissan Juke.
The dash and instruments are anything but retro though. Sparse and modern, the simple, oblong LED instrument cluster rises out from behind the steering wheel while the infotainment screen looks like a portable tablet computer suspended from the front of the dash. This screen is also where you control heating and ventilation leaving the dash uncluttered and adding to that feeling of spaciousness. It works really well too with the touch-screen being responsive and most icons large enough to hit easily even when on the move.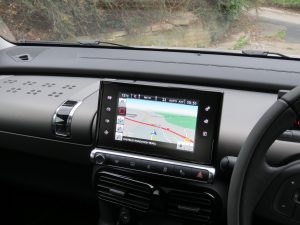 Driving position is fairly comfortable once you get used to a slight offset of the pedals. There is no reach adjustment on the steering column but I didn't find this to be a problem. I did find though, that shifting to 3rd and 5th gears was a bit of a stretch even with the seat correctly adjusted.
Out on the road the PureTech 110bhp 3-cylinder unit is a peach. Very quiet, even at tick-over and with plenty of power on tap to make for relaxed cruising on the motorway. Around town the longish-gear ratios mean you may be stirring the gearstick a little but nothing untoward and the Cactus rides over pot-holed roads very well indeed – much like any crossover – and body roll, while evident is perfectly acceptable. I found the whole driving experience surprisingly relaxed and enjoyable, even the ARKAMYS digital sound system impressed and the colour reversing camera and easy to use Sat Nav all added to impress me.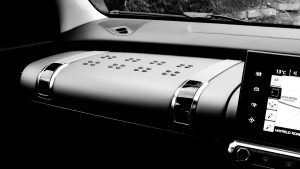 It's not very often that a car exceeds all expectations as much as the Cactus did. I found myself warming to it very quickly and was pleasantly surprised by the quality of design, finish, space and overall driving experience. Even economy is good with zero tax and 70mpg achievable, although on mixed roads I managed a more realistic 55mpg – still very good for such a spacious car.
Okay, it's not a premium-class product but then it's not premium money either. What you have here is a good-value, decent sized family car that stands out from the crowd, drives well and will trigger plenty of debate among family and friends – or you could just buy another anonymous eurobox.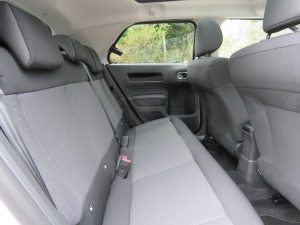 Verdict: *****
OTR Price: £17,555
Engine: 1.2, 3-cylinder Turbo Petrol
Power: 110 bhp
Transmission: 5-speed Manual
0-62mph: 9.3 secs
Top Speed: 117 mph
Combined Economy: 60.1 mpg
CO2: 107 g/km