WITH a 400 mile round trip to South Wales beckoning, I was hoping that the Dacia Sandero Stepway would step up to the mark and prove to be a comfortable and frugal ride. Being Renault's cheap and cheerful marque I wasn't expecting much on the comfort front but I knew it included Renault's excellent 1.5 dCi diesel engine – which is also available in the Renault Captur – so the frugal part was looking promising.
On first impressions the Sandero Stepway looks more up-market than the rather mundane, non-raised, Sandero. It's surprising what adding a sprinkle of "SUV-dust" can do for the image of a car. The raised suspension (40mm over standard Sandero), satin chrome roof bars and plastic trim around the wheel arches, satin chrome scuff plates and black side sills definitely add appeal to the Sandero but the awful "STEPWAY" sticker at the top of the front doors looks like a cheap and nasty afterthought. Peel those off though and you have a pretty good looking small SUV.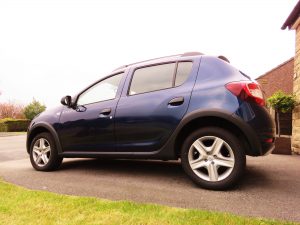 Did I say small? It's more like a medium sized SUV inside the Stepway. There appears to bags of room both front and back with plenty of leg and head room. It certainly feels more light and airy than one of its main rivals, the Nissan Juke. Boot space is good too at 325 litres or 1,200 litres with the rear seats down.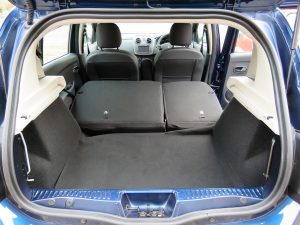 The Stepway is about £3,000 cheaper than the Juke too – but when you sit inside the Stepway it becomes obvious why. There appears to have been little imagination used on the design of the Stepway's interior. The dash is simple and functional, awash with grey plastic, broken only by chrome trim around the dials and instrument cluster. The heater control knobs feel cheap and brittle to the touch. It's not an unpleasant environment but it feels dated and since Dacia are using older Renault parts extensively, it's not surprising.
On start-up another money-saver becomes obvious – sound insulation – as the diesel lump ticks over rather noisily and once on the move both wind and tyre noise are noticeable. Don't get me wrong, this isn't a cacophony of sound where you have to shout at your passenger to be heard, it's just not up there with the more expensive models when it comes to sound suppression but this is no surprise at this price point.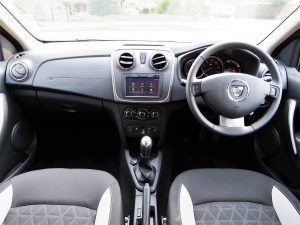 I was driving the top of the range 'Laureate' model (£11,095 OTR) with air con, 7-function on-board computer, cruise-control and speed limiter, rear parking sensors, leather gearknob and MediaNav 7in. Touchscreen infotainment system. The base 'Ambiance' model comes with a decent amount of kit and can be had for an incredible £8,495.
There are 2 engines to choose from: a 1.0 petrol turbo which is fine for shorter runs around town and returns a respectable 52.3mpg, or for those who rack up the miles, the 1.5 dCi diesel which also puts out 90bhp and is capable of 70.6mpg.
There were a couple of annoyances however. Firstly, the infotainment touchscreen is nowhere near bright enough. It was a beautiful sunny day on our trip and for the most of it I couldn't make out anything on the screen due to glare, which when you are following satnav is very annoying. The screen is angled slightly upwards and this appears to make the problem even worse. Even in moderate light it's not very clear. My passenger couldn't make it out either.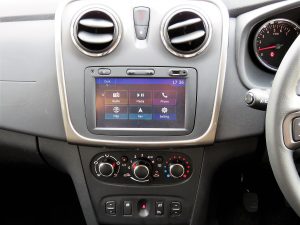 The other annoyance was the vertical cross-stitching on the leather gearknob – it's very rough and stands proud of the leather, consequently over our long journey I ended up with a sore spot on my left hand palm which, if the journey had been longer, would have become a blister. If you don't want to break out the old driving gloves then perhaps don't go for the leather option on the gearstick.
What was a surprise was how well the Stepway drove. The 1.5 dCi has plenty of grunt mid-range which meant for relaxed cruising down the M5 and M50 to Monmouthshire and once on the twisty A-roads the Stepway maintained its composure with body roll kept to a minimum and the steering, although feeling a little light, was accurate enough. Visibility all-round is excellent.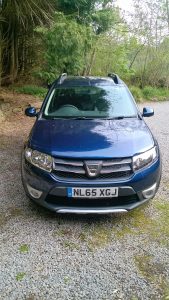 Meeting up with friends we then took a 45-minute trip across country – which meant we had to follow our friends in their Audi Q3 which was being driven quite enthusiastically. The little Stepway had no problem keeping up – even on the hills – and I was pleasantly surprised by how well the 90bhp Stepway coped with everything that was thrown at it. It never felt like I was asking too much of it.
At the end of the journey we arrived relaxed with no aches or pains from the supportive seats and I was amazed at just how little fuel had been used. On the 400-plus mile round trip I averaged 61mpg and arrived home with half a tank of fuel.
Overall the Stepway is a bit of a bargain and for those on a budget, who may be considering a small to medium sized car, it opens up the possibility of joining the Crossover crowd – which appears to be growing year-on-year – and comes with the benefit of a higher driving position and better clearance – not to mention riding the pot-holes better than most standard small cars.
The Sandero is practical, very useable and in it's cheaper Ambiance spec with the diesel engine is worthy of 4 stars. The Laureate, however, even though a good price for a decent sized Crossover, doesn't quite justify it's price hike.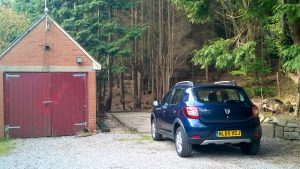 VERDICT: ***
OTR Price: £11,095
Engine: 1.5 dCi diesel
Power: 90 bhp
Transmission: 5-speed Manual
0-62mph: 11.8 secs
Top Speed: 104 mph
Combined Economy: 74.3 mpg
CO2: 98 g/km