WHEN is a Fiat 500 not a Fiat 500? Ans: When it's a Fiat 500X.
When you think Fiat 500 you think Italian, cute and sexy but the 500X is more Italian, butch and in-your-face. Just like Monica Belluci and her bruiser of a brother  – you could never mistake one for the other and to give them the same name would be ridiculous.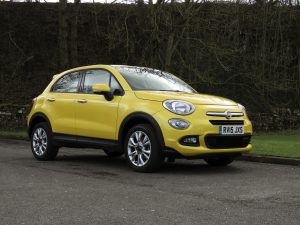 That's not to say the 500X is unappealing – it is more desirable than the 500L which looks rather awkward from any angle. No, the 500X is a smart looking crossover vehicle in the same vein as the Mini Countryman; but whilst the Countryman is unmistakably a Mini, the 500X requires a second glance for you to recognize it's pedigree.
Pumped up, muscular rear wheel arches and 162mm of ground clearance give the 500X a purposeful look – even in the bright Amalfi Yellow of the test car (a £1,000 option).
Inside the retro look of the standard 500 is still present but not quite as obvious. Yes, you still have the lovely chrome-trimmed lozenge-shaped buttons on the dash and the interior handles are rounded and chunky too, but the instrument cluster is a more grown-up affair, albeit mounted on a full-width body-coloured strip which is a little distracting in bright yellow – especially in strong sunlight which did cause some glare. Cross and Cross Plus models, which have a more rugged, off-roader feel to them have a dull, grey plastic insert here but if you want 4-wheel drive then you'll have to plumb for the Cross Plus model.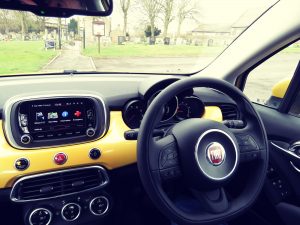 The chunky leather-clad steering wheel felt good to use as did the familiar 'pool ball' gear stick carried over from the standard 500. Quality of materials used is okay with the door panels being particularly well finished in soft material, only the door toppings feeling a little on the cheap side.
The infotainment system is normally a 5in affair but my test car had the £1,000 Nav Pack upgrade which gives you a 6.5in touchscreen with DAB Radio, Bluetooth, SD Card slot and Satellite Navigation, all of which worked well without having to resort to the manual.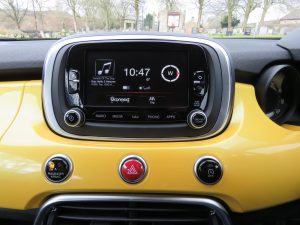 Interior space is good and the whole cabin feels light and airy – even with darker materials being used – even the rear accommodation is generous and accommodating for the longer-legged and has plenty of headroom for most adults. Three adults in the back would be a bit of a squeeze though, but no more so than in a Nissan Juke, Renault Captur or Mini Countryman.
Boot space is modest at 245 litres with all the seats up but it's worth noting that the rear seats fold almost totally flat to help with larger cargo.
Out on the road the 500X doesn't really disappoint in any areas but neither does it excel either. The 1.4 Multi Air petrol engine in the test car was very smooth and refined and gives a better experience than the diesel option – if you're not covering mega-miles.
The 140bhp on tap from the little 1.4 unit is more than adequate to cope with any situation and on motorway runs especially is a delight. The 6-speed manual gearbox gave no cause for concern, shifting accurately and easily. The Pop Star version I've been driving comes with "Drive Mood Selector" as standard which lets you choose from Auto (normal), Sport or Poor Weather by simply turning a dial located down near the handbrake. Selecting sport mode immediately sharpened up throttle response and the 500X became a bit of a rocket, unfortunately it also became a little jerky at slower speeds so I found myself only selecting "Sport" in certain conditions, such as overtaking.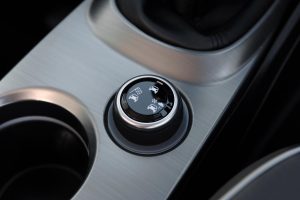 Handling was better than expected with very little body roll around the corners for a crossover but understeer was noticeable even at modest speeds but not really a problem as you soon learn to compensate. Steering feel was good and while you won't get masses of feedback through the electronic steering rack, it was always accurate and felt well weighted.
If you're after one of the growing number of family-friendly crossover vehicles out there then the Fiat 500X should certainly be on your radar as it offers good value for money –  so long as you stay away from the top of the range models, the Cross and the Cross Plus. But who needs faux skid plates and aggressive bumpers anyway?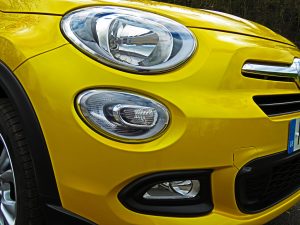 VERDICT: ****
Fiat 500X MA1.4 Pop Star
OTR Price: £18,065
Engine: 1.4 Multi Air petrol
Power: 140 bhp
Transmission: 6-speed Manual
0-62mph: 9.8 secs
Top Speed: 118 mph
Combined Economy: 47.1 mpg
CO2: 139 g/km