LAND ROVER is, of course, synonymous with the very best in 4-wheel drive vehicles – from the no- frills Defender (which only ceased production recently after almost 70 years and over 2 million units sold) to the fully-frilled, extravagance which is the Range Rover.
Sitting just below the Range Rover in the hierarchy of opulence is the Range Rover Sport – a luxury Sport Utility Vehicle which goes head-to-head with the likes of Audi's Q7, Mercedes' ML and BMW's X5. But the Germans aren't having it all their own way – The British-built Range Rover Sport has had some tweaks for 2016 which keep it right up there in contention.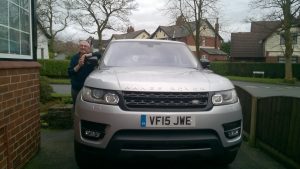 Now sporting a more powerful V6 turbo diesel which kicks out 306bhp – it's the new maximum torque figure of  700nm (up 100nm from the previous model) that is most significant and certainly noticeable out on the road, especially when overtaking. The 0-60 sprint takes just 6.8 seconds and top speed maxes out at 138mph.
CO2 emissions are down by 14g/km to 185g/km and economy benefits by almost 3mpg to take the Sport to a combined fuel consumption figure of 40.4mpg – impressive for a vehicle weighing 2.1 tons
A couple of new party-pieces for 2016 are the Gesture Tailgate which allows you to open the tailgate simply by wafting a foot under the rear of the vehicle – useful if you have your hands full – and Automatic Access Height which lowers the vehicle by around 6cm for easier entry and exit when the engine is switched off and a door is opened.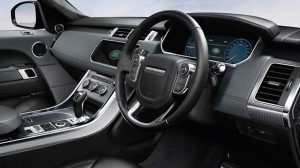 Another welcome addition is the ability to use your Smartphone, via the vehicle's infotainment system, to lock and unlock the car via a downloadable app.
This second generation Range Rover Sport was first unveiled in 2013 and was successful in making the model more appealing to the younger drivers who may have thought, mistakenly, that anything "Range Rover" was for the tweed and Champagne picnic brigade or Premier League footballers only. Taking many of its exterior design cues from the popular Evoque, it's certainly fresher and more appealing than the slab-fronted 1st generation model and the raked rear section – quite rightly not as dramatic as the Evoque – adds to its sporting appeal. I have to say, walking around this HSE Dynamic model, the proportions look spot-on.
The gloss black trim detail, which comes as part of the Dynamic Pack, also contrasts pleasingly with this particular vehicle's Indus Silver paintwork and standing tall on 21 inch, split spoke alloy wheels, there is nothing fuddy or duddy about this vehicle.
Keyless entry gives way to a world of sumptuous leather and brushed aluminium inside. I would have preferred a touch more contrast than the supplied Ebony on Ebony interior and while feeling plush I couldn't help but sense it would have benefitted from tan or Pimento (red) seats. This is, of course, purely personal and Land Rover's online configurator gives a whole myriad of options that should suit any taste.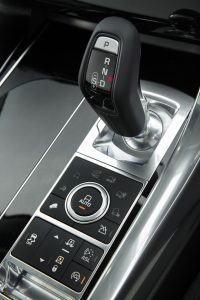 The 14-way power adjustable seats up front make getting comfy a breeze and heated seats for both front and rear passengers make for nice, toasty derrières during any cold snaps. A chasm of an oddments bin between the two front seats also contains media options – USB connectors for charging phones or playing music or video media and an auxiliary input for any music device. A sliding front panel to the left of the automatic transmission adds two sizeable cup holders while other storage space is taken care of by deep door bins and a modestly-sized glove box.
The 8-inch hi-res touch-screen infotainment panel was easily navigated without having to resort to the manual and I found the selection buttons perfectly quick and responsive to a light touch.
The test vehicle provided had the uprated Dual-View screen fitted (a £600 option) which  allows the passenger to view, for instance, a DVD movie while the driver views any other options available, including the Sat Nav. A set of WhiteFire wireless headphones is also included.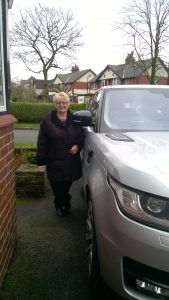 Rear passengers are well catered for with their own heated-seat controls, reading lights and 60-40 split seats which can be slid forwards or backwards depending on whether they want a lot of leg room or masses of leg room. They also get their own set of media input ports. A large central armrest can be dropped which reveals a pair of cup holders and a shallow oddments bin.
Boot-wise, you really shouldn't have any problem with 784 litres at your disposal with the rear seats in their upright position and a whopping 1,652 litres available with the rear seats folded down flat. There is also a £1,500 option for a third row of seats which fold out from the boot at the push of a button and provide you an extra pair of seats. These seats do not give much legroom though and Land Rover themselves recommend that they only be used for shorter journeys by younger passengers. Taking this option does not affect the boot capacity in any way.
Out on the road the Range Rover Sport is an absolute delight to drive. The first comment from my passengers was always regarding the quietness of the engine; even at tick-over there is only a barely-perceptible hum from the 3.0 litre V6 engine. Slip the autobox into drive and away you waft. The second comment was always about the smoothness of the ride, even badly pot-holed roads caused no upset to either the ride or the passengers.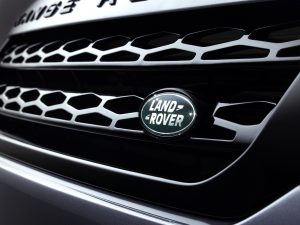 This second gen Sport has shed the pounds (a massive 813 of them) by adopting extensive us of aluminium throughout the body and chassis. Mated with the new, more powerful  V6 engine and superb 8-speed automatic gearbox, the handling really does belie the Sport's outside dimensions. Four corner air-suspension and Terrain Response mean body-roll is kept to a minimum through the twisties and you really can trap-on without saying hello to your lunch again.
Pop up the Terrain Response selector on the central console and select "Dynamic" and things really get interesting. Throttle response is sharpened, dampers are stiffened and gears are held slightly longer. The ride is still smooth by anyone's standards but it's now all so much more "urgent". Push the gear lever over to the left to select the Sport mode and now gears can be selected manually by a quick flick of the lever up or down, or if fitted, a quick flick of the paddle shifters behind the wheel. Yes, you can feel like a Formula 1 driver in a 2.1 tonne vehicle capable of towing a (small) house. It's hard to believe that even the wonderfully capable Porsche Cayenne could be more fun than this.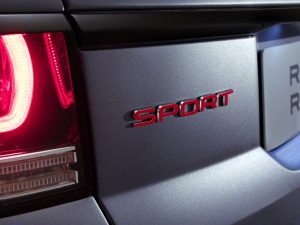 Off- road the Range Rover Sport is still recognised as best in class along with it's big brother the Range Rover. It is, quite literally, King of The Hill. Both up to it and down from it. With the "Wade Sensing" option fitted the car will even tell you when you should back off when taking your £67,000 pride and joy through deep water. It's capable of getting through almost 3 feet of the stuff though – something that many people, I'm sure, will have been grateful for during the horrendous flooding we've witnessed this winter.
Overall, the Range Rover Sport is a pretty fine piece of kit which is a better off-roader by a muddy country-mile than it's rivals from Audi, Mercedes and yes, even Porsche. But let's be honest. Most buyers will never, intentionally, go off-road anyway so it's on the battlefield of comfort, refinement, value and economy that this war will be won or lost and the Sport is definitely in there with a fighting chance as it excels at the first two and ain't too far off the mark with the last two. It is quite pricey but if it were purely down to desirability then it would win hands down. It's a class act.
VERDICT: *****
AT A GLANCE:
OTR Price: £67,150
Price as tested (inc. Options): £80,425
Engine: 3.0 litre SDV6 diesel
Power: 306 bhp
Transmission: 8-speed Auto
0-62mph: 8.6 secs
Top Speed: 138mph
Combined Economy: 40.4 mpg
CO2: 185 g/km