WITH crossover vehicles now taking a fair chunk of the traditional family hatch market, Volvo have taken their premium model V40 and given it the 4×4 look (kind of).
Raised by 40mm and only available in 2-wheel drive – unless you go for the top of the range T5 petrol – The V40 Cross Country is certainly no off-roader and if it was it would probably be called the XC40. But, no this Cross Country model is simply a slightly higher version of the excellent V40 and it has some kickplates, silver roof rails and an addition to the rear bumper that let's everyone know which version of the Volvo you have. You'll also be about £1,000 lighter in the wallet if you go for the Cross Country version over the regular one.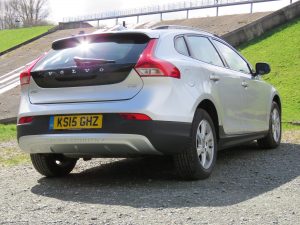 From the outside it is, unsurprisingly, very similar to it's cheaper sibling – ok, it's slightly raised but not like a Nissan Qashqai or Kia Sportage, it keeps it's sleeker looks, with swooping rear and that distinctive S-shaped flourish to the rear lights and hind quarters. The V40 is a good looking car and  the Cross Country version retains  all it's best features.
Apart from the words "Cross Country" embossed in a chrome coloured strip across the bottom of the glove box, you can't distinguish the interior from the standard V40. In a word it is "Classy". Quality is right up there with the best and as soon as your backside hits the seat you feel you are about to drive something that will offer comfort and reliability. You just trust it immediately and know that nothing is going to feel cheap or come off in your hand.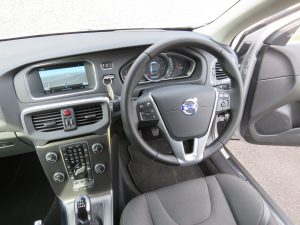 The centre-console trim on my model was finished in a smoky brushed aluminium colour which fitted in perfectly with the mid-grey cloth seating. Plastics were soft-touch all round with bright chrome edging to the doors and instrument surround.
One worry was the use of the ignition key, unless you specify Keyless Drive (£550) you have to insert the key into a slot high up on the dash (out of harm's way in the event of a crash). This isn't a problem in itself but if you have a lot of keys and paraphernalia hanging from your key fob I can imagine that they will take their toll on the finish of the dash over time. Best to keep your key separate.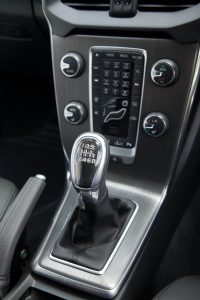 Another slight irritation was the infotainment system which, on my SE Nav model, has the larger 7in screen with Sat Nav, Internet connection, Web Apps and voice control but no touch-screen functionality. This means lots of knob-twiddling and button pushing when setting a Sat Nav route which while not hair-rippingly frustrating, was a little tedious.
Accommodation is a little tight in the back, that sloping roof line causing problems for any rear-seat passengers over 6ft. They won't have much leg room either unless the front seats are pulled forward a fair amount. The seats, however, are very comfortable and for £200 extra can also be heated.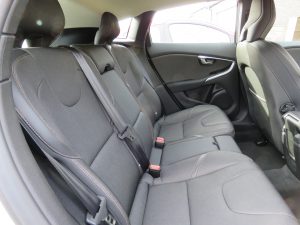 Boot space is good enough at 335 litres but the hatch opening is quite narrow with a high lip so getting in bulkier items may be a bit of a problem.
Out on the road the "Drive-E" 2.0 litre diesel, 120bhp engine coped very well in all situations and mated to a slick 6-speed manual gearbox I could find nothing to complain about at all. I think this is the first diesel that I've driven where I was constantly having to remind myself that I wasn't driving a petrol car. I found the V40 to be very quiet even at low revs but it wasn't just the lack of diesel clatter it was an all-round feeling of calmness and quality. Just be careful at the filling station!
Handling and performance are more than adequate; the raised stance doesn't appear to have compromised the V40 Cross Country very much, if at all. Like the standard V40 the Cross Country feels very capable dynamically. Assured and smooth on motorway runs you could forgive yourself for thinking you were in a much bigger car, while on A-road dashes it is forgiving and agile enough for most drivers – just don't expect hot-hatch levels of grip or stability.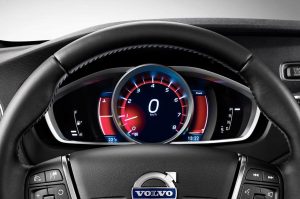 For a car that feels truly premium and has a very capable 2.0 litre engine, the economy figures are quite outstanding. Official figures of 74mpg on the combined cycle and a CO2 figure of just 97g/km are class-leading – as are the safety features of the car (it is a Volvo after all) which include an airbag built into the bonnet for pedestrian safety. In 2012 Euro NCAP awarded the V40 the highest score it had ever recorded for adult occupant safety (98%) and Volvo have been building on this ever since.
If the benefits of a higher ride-height are for you but you don't fancy just another faux-by-four wannabe, then you just may find that the Volvo V40 Cross Country is exactly what you've been looking for.
Verdict: ****
AT A GLANCE:
OTR Price: £24,770
Engine: 2.0 E-Drive diesel
Power: 118 bhp
Transmission: 6-speed Manual
0-62mph: 10.6 secs
Top Speed: 118 mph
Combined Economy: 76.0 mpg
CO2: 97 g/km