Peugeot people carrier has the family covered
WHEN you think of an MPV it is easy to conjure up a picture of a van with windows and seats because traditionally people-carriers have been pretty uninspiring to look at and not much more inspiring to drive.
In recent years this has all changed though with the likes of Peugeot and Citroen bringing out pretty cool looking MPVs that aren't too bad to drive – as well as being practical family motors that have tons of space and often an extra couple of seats thrown in for those larger families.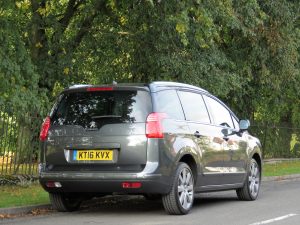 One such Multi-Purpose Vehicle is the Peugeot 5008 which was never a bad looking vehicle before it's face-lift in 2014 but is now a very handsome family-lugger indeed.
It has been given the Peugeot "family face" with a floating front grille like on the 208 and 2008 models with new headlamps and a bold LED strip in the lower portion.
That steeply-raked windscreen is topped by roof bars that surround the passenger compartment and are integrated into the rear D-posts. It all looks rather swish – maybe not quite so cool as the new Citroen C4 Picasso but it looks more "grown-up".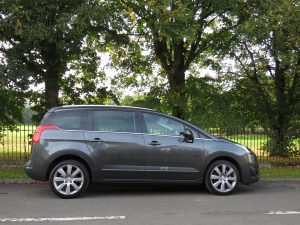 Available in two trim levels: Active or Allure it comes with a choice of a 1.2 Puretech 130bhp, 3-cylinder petrol engine or the 120bhp 1.6 BlueHDi diesel. Automatic transmission is an option with the diesel engine otherwise there is a 6-speed manual. All give decent mpg with the diesel version capable of an impressive 65.7mpg on the combined drive cycle.
I've been tootling around in a 5008 Allure BlueHDi with auto gearbox which had options fitted of Metallic Paint (£525), Black leather trim (£1,570) and an electric Driver Seat (£310) all of which you can easily live without and just pay the basic on-the-road price of £27,030.
For that sort of money you get a lot. Seven seats for a start – or fold 5 of them flat and you have a huge van-like load-space. The seat combinations are mind boggling but using any one of them is simplicity itself as it usually involves merely pulling a strap.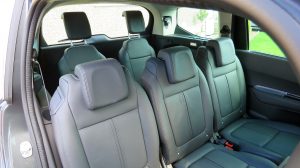 The centre-row of seats are all fully independent and all can be slid forwards or back for more/less leg room as well as be reclined more if you wish.
The outmost seats not only slide forward for access to the rear-most seats but also fold up cinema-like which makes getting into the back much easier.
From the driver's seat things look good too with large, comfortable seats with loads of adjustment that feel they would be great on longer journeys; fold-down armrests and a great view out front thanks to that huge windscreen.
There's also great all-round vision thanks to an elevated driving position and the full-length panoramic sunroof lets light flood into the cabin if you open the electronic blind.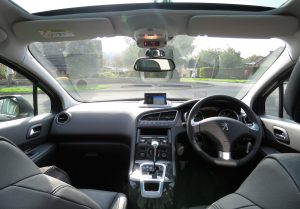 Too much light for the sleeping kiddies in the back? Then pull down the 4 built-in window blinds that will put the centre and rear row of seats in shade.
Storage is just okay which is a bit disappointing for a family MPV– the glove box is ridiculously small – but there is a 10.5 litre, cooled centre compartment in the front which also houses connectors for USB and MP3 players. The kids have their own secret under-floor storage under the rear mats which they'll love and all door bins are of a reasonable size.
The steering wheel  is suitably large but has no multi-function buttons on it as audio and cruise are controlled from extra stalks behind the wheel – and here I found a problem. It's awkward to get the ignition key into it's slot – especially in the dark as you have to negotiate the key around one of those bulky stalks.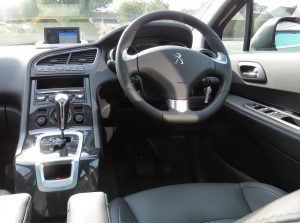 Anyway, once the engine is running you'll see the infotainment screen flips slowly open from the top of the dashboard and be amazed as your gun-sight slowly rises in front of you from behind the main instrument cluster.
Did I say gun-sight? I meant HUD of course which shows speed, cruise speed (if set) and also a red warning if the radar-controlled Distance Alert system should kick in.
Other driving aids are numerous and include Auto Parking Brake with Hill Assist, Front and Rear Parking Aid with a parking space measurement system, Cruise Control with Speed Limiter, Auto headlights and Auto Wipers. The Allure model adds a colour reversing camera, the colour HUD and Auto Dual Zone Climate Control and well as Sat Nav with full postcode lookup.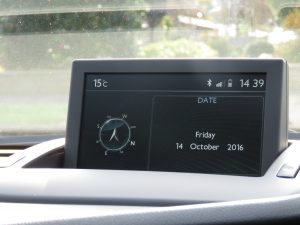 The Allure also gets some styling upgrades in the way of 18in alloys instead of 17in, Dark Tinted rear, side and tailgate windows and that magnificent Cielo glass sunroof with electronic blind.
On the road the 5008 belies it's size. It shifts very well with plenty of torque low down from the 1.6 diesel unit and while a little clunky in operation the auto box is smooth enough. The large steering wheel reminds you that you're basically driving a small bus but the steering is precise and doesn't feel overly lifeless.
You won't be tempted to throw the 5008 around corners but should you find yourself in one at a higher speed than intended then you'll be pleasantly surprised by the lack of body roll or understeer. Okay, it's not Golf-like around corners but it's definitely no flabby bus and is surprisingly enjoyable to drive even at speed. It's a pity the footrest is set so high though. No matter how much wiggling around in my seat I did I couldn't get my left leg at a comfortable angle for any period of time.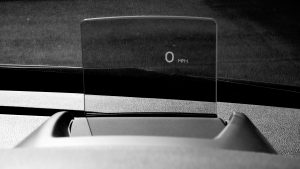 Another gripe would be the clock – or lack of it. The only time display is on the pop-up infotainment screen but if you choose to close the display – which can be distracting if you don't need the sat nav or media info – you have no way of knowing the time. A read-out between the main dials would have been ideal but here you only get trip information which is annoying.
Other than those relatively minor gripes I was impressed by the Peugeot 5008 and with an all-new version out in 2017 it may be just the right time to negotiate a decent discount. You'll certainly get a lot for your money.
VERDICT: ****
AT A GLANCE:
OTR Price: £27,030
Engine: 1.6 turbo diesel
Power: 130 bhp
Transmission: 6-speed Auto
0-62mph: 12.8 secs
Top Speed: 113 mph
Combined Economy: 64.2 mpg
CO2: 114 g/km