THE new SEAT Toledo could be the perfect getaway car. Okay, it may not be particularly quick but it certainly blends into the background pretty quickly and you'll lose it in a crowd almost immediately.
It's an anonymous car that most people would struggle to conjure up an image of and the fact that it is pretty much a re-skinned Skoda Rapid probably doesn't help either as the Rapid is such a rare sight on our roads.
However, if you're after an affordable, roomy family hatchback that won't draw attention then the Toledo may be just the car for you – and yes, I said hatchback because the SEAT Toledo is not a saloon car, despite first appearances.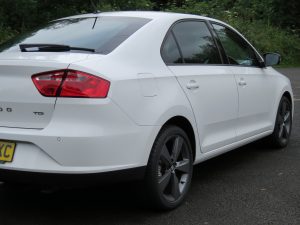 SEAT's master of stealth is, in fact, a terrific family car. For a start it has 4-doors and a large boot that is way more accessible and easier to load than a booted saloon. It has plenty of room in the rear with bags of leg and headroom for 2 adults – although a 3rd adult may be a bit of a squeeze. Three kids? Shouldn't be a problem . . .
Up front it's typical VW ergonomics with everything to hand and logically laid out. The materials used may not be up to Golf standard but you didn't expect that anyway, right? Cheapish, hard plastics in the door bins is no surprise but the rest of the dash is perfectly acceptable and all the buttons and knobs feel solid enough.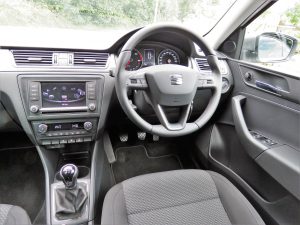 This mid-range Toledo Style comes with a 1.6 TDI diesel engine with 115 bhp and uses a 5-speed manual gearbox. Everything works as it should and with a combined fuel economy of 67.3 mpg and just 109 g/km of CO2, then the £17,245 price tag starts to make sense.
Out on the road it makes even more sense as the Toledo traps along easily with plenty of torque which can make you lazy with the gearstick.My only real complaint is lack of noise-insulation as the engine sounds a bit clattery at lower speeds – more so than expected – but it does quieten down considerably once up to speed and motorway cruising is not a problem.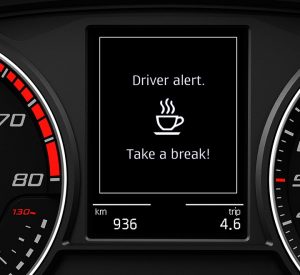 Ride quality on well-maintained roads is as good as anything in this price range but gets a little jittery on the rougher surfaces – it actually starts to feel like the suspension is a little stiff but I would put this largely down to the optional 17in alloy wheels – the standard-fit 16 inchers give a better ride all-round and don't detract from the looks of a car that isn't big on looks anyway.
Available in just 3 trim levels – SE, Style and Style Advanced – the base model starts at just £17,195 and for that you'll get 15in. steel wheels, Bluetooth phone connection, rear parking sensors and air conditioning. Step up to the Toledo Style (£17,245) and you get 16in alloy wheels, Sat Nav, climate control and a DAB radio. Not bad for an extra £50.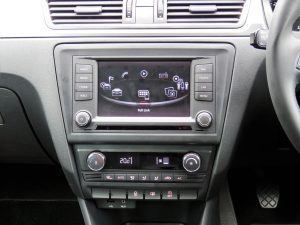 The Style Advanced (£17,995) throws in metallic dashboard inlays, dark tinted rear windows and a plusher interior in the way of Alcantara and Simil Leather upholstery.
My car came with the optional Full Link pack which includes Mirror Link, Apple CarPlay and Google Android Auto (£150) as well as the Titanium Pack (17in Titanium coloured alloys and door mirrors) which adds another £350.
The boot space is 500 litres which is more than a Mercedes E-Class and the rear passengers don't suffer as a result – leg room is class-leading.
Engine-wise you have a choice of a 1.2 TSI petrol, giving 110 bhp, 0-60mph in 9.9 secs and a CO2 rating of just 110 g/km (not available on the base, SE model) or you can go diesel with a choice of 1.4 (90bhp) or 1.6 TDI (115 bhp) on the SE model. Style and Style Advanced models get only the 1.2 petrol of the 1.6 diesel.
My choice would be the 1.6 diesel in Style spec as with this combination you get pretty much everything you need – including climate control and Sat Nav – along with the excellent 1.6 TDI engine which gives 0-60 in 10.0 secs, just 101 g/km of CO2 and can return a combined MPG of 72.4.
Slotted in between the Ibiza and the Leon, the SEAT Toledo is never going to set your pulse racing but what it does do – and very well – is give you plenty of space and comfort for a reasonable price. Just remember to make a note of where you parked it . . .
VERDICT: ***
OTR Price: £17,245
Engine: 1.6 TDI diesel
Power: 115 bhp
Transmission: 5-speed Manual
0-62mph: 10.0 secs
Top Speed: 125 mph
Combined Economy: 72.4 mpg
CO2: 101 g/km