If you fancy one of those SUV Crossovers that are all the rage these days then you've probably short-listed the Nissan Qashqai as it's a best-seller in that particular market – but if you fancy something a little cheaper and a little better-looking then say hello to the Renault Kadjar.
The Kadjar comes with basically the same engine, gearbox and running gear as the Nissan but the French have added some extra style in the bodywork department and the interior has a little "je ne sais quoi" that also adds to its appeal.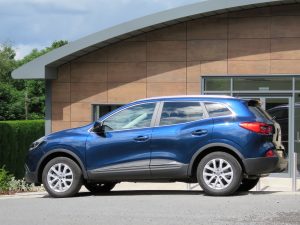 The boot also has slightly more space also, but unless you get the tape measure out you would hardly notice.
Outside it's a well proportioned, curvy SUV with the Renault family large diamond on the nose and attractive slim headlights which lead to the well-rounded wheel-arches – all a bit more attractive than the rather staid Qashqai.
Inside it's a little more interesting too with a large single binnacle taking up most of the dash viewed through the steering wheel. It looks very smart and is reminiscent of a Volvo design – although not quite as premium-looking.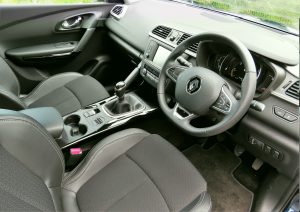 Available with just the one petrol choice – the 1.2 Energy TCe 130 – or two dCi diesel engines giving 110bhp or 130 bhp with all-wheel-drive only being available with the dCi 130 bhp engine. With 4WD you can expect a combined mpg of 57.6 while the more popular 2WD, 110 bhp diesel can manage  72.4 mpg. Petrol-driven Kadjars will return 48.7 mpg.
I've been driving a 2WD model – the Kadjar Dynamique S Nav dCi 110 with fitted options of: metallic paint (£525), Emergency Spare Wheel (£95) and, rather oddly, 17in alloy wheels in lieu of the 19in standard alloys which is a no-cost option which has the effect of reducing CO2 emissions to just 99 g/km and so will save on road tax, albeit just £20 a year. Company car drivers will find this option more attractive though.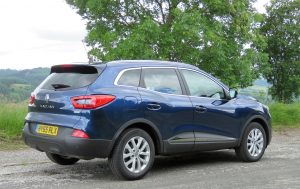 The model range starts with the Kadjar Expression Plus at just £18,495 on the road and includes manual air-con, Hill Start Assist and Cruise control with Speed Limiter. For £20,195 you can upgrade to the Dynamique Nav which also throws in roof rails, Auto dual-zone Air-Con, 7in touch screen with Sat Nav and an upgraded Arkamys sound system.
The sweet spot is probably the Dynamique S Nav  at £21,095 whose standard kit also includes front and rear parking sensors along with one-touch easy folding rear seats, synthetic leather and cloth upholstery, 19in wheels and the very useful multi-position boot floor.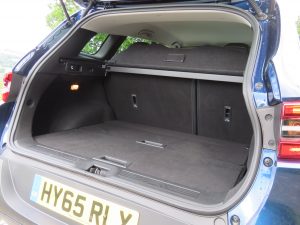 For those feeling flush there is also the Kadjar Signature Nav and the Signature S Nav (£23,695) which has full leather upholstery, rear parking camera, blind spot warning and hands-free parking.
I like the Renault Handsfree keycard which is much easier on the pocket than a traditional folding-key – you just don't notice it is there like you would a bulky key; even in your back pocket when seated. Comfort is also a theme inside the Kadjar as the faux half-leather seats in this Dynamique S Nav model are not only very supportive but are power-adjustable for just the right driving position. Everything is to hand with a reach/rake adjustable wheel and the gear lever being positioned perfectly for easy shifts without a stretch.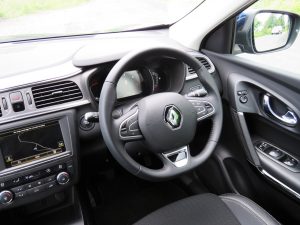 Interior finish is very good and if not quite up to the best our German friends can offer, it's certainly on par with the Nissan Qashqai, Kia Sportage and Ford Kuga with the only evidence of harder, cheaper plastics being used low down on the door binnacles.
The rear has plenty of space for  for 2 passengers with 3 being a bit of a squeeze but possible. Headroom is good, even for 6-footers and leg and knee room is very good. Door bins in the rear are generous with a 75ml drinks bottle easily fitting.
Out on the road it's easy to forget that you're driving a taller SUV and not a normal hatchback. Sure, you have the better visibility of a crossover vehicle but the Renault Kadjar drives very much like a well-sorted hatchback. It certainly doesn't appear to be affected by adverse body roll around tighter corners and the grip levels are very impressive with no noticeable understeer.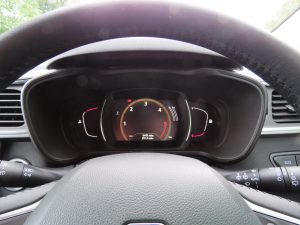 Gear changes are slick and the 1.5 diesel engine pulls very well – even in 4th on an incline the engine doesn't labour so change-downs are kept to a minimum. Steering is precise and well-weighted and while a 0-60 mph time of 11.9 seconds doesn't sound particularly quick, it certainly feels quicker.
Road noise is only average which means it's certainly not intrusive but those large wing-mirrors do generate some wind noise at motorway speeds while the tyres add a little more noise to the cabin but, again, nothing really extraordinary.
The Renault Kadjar is a product of the Nissan-Renault alliance which gives you Japanese reliability with some French style and is all the better for it. The Kadjar looks good, drives very well and – in it's 2WD mid-range guise – offers great specification and value. Why pay more for the Qashqai?
VERDICT: *****
OTR Price: £22,995
Engine: 1.5 dCi diesel
Power: 110 bhp
Transmission: 6-speed Manual
0-62mph: 11.9 secs
Top Speed: 113 mph
Combined Economy: 72.4 mpg
CO2: 103 g/km