The new DS 3 Cabrio has a few things missing – yes, obviously a roof – but it is also missing the Citroen badge as DS is now a brand in its own right. Still under the Citroen umbrella it is now the "Posh" Citroen or the "Younger; more avant-garde" Citroen. Depends on how you want to look at it. It is also missing a decent boot-opening – but more of that later.
The DS 3 has always been a popular model here in the Uk with more than 100,000 of them being sold since it's Citroen-badged launch back in 2010 and it's easy to see why. It's a true Mini alternative being both smart looking and with some distinctive styling – the shark-fin side panels, for example, and the floating roof.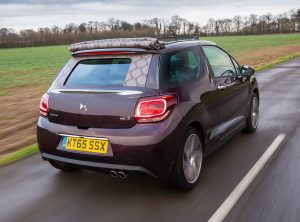 Earlier this year it received some freshening up on the outside with, most notably, a new front end which includes smart "jewelled" headlights and some chrome-effect trim which serve to give the DS 3 a more purposeful look
Inside it has a more modern, minimalist look with a smart new infotainment system dominating the sweeping dash. Some retro-looking switches are still there as is the floating dial hood which looks very smart. The dials are suitably intricate-looking – more like expensive, over-sized watches than car dials and they really add to the feeling that this little car is of premium quality. The seats are super-supportive with large bolsters that keep you from sliding around and on a long trip to Northamptonshire and back I didn't get uncomfortable at all. The driving position is also very good with plenty of adjustment available.
I've been driving around (mostly with the roof closed due to the weather) in the 165bhp 1.6 THP Prestige model and I must say it goes very well – almost as fun to drive as the Mini Cooper S but not quite so sharp around the twisities. It certainly feels capable of 0-60 in 7.6 secs which is 4.4 seconds less than it takes to fully open the roof.
Opening the roof fully does take TWO pushes of the button above your head though – the first push slides the roof back and gathers it up just above the rear window. The second push folds down the rear window and the insulated-fabric drops down even further. I'd leave it in the first position though as that allows you to see through the rear window. In the second position rear visibility is seriously compromised and you'll be relying on your wing mirrors much more. The good news is that you can open and close the roof at any speed up to 70mph. You'll only try that once though as the wind noise at 70mph is just plain annoying.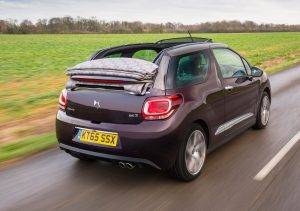 Is it a cabrio or just a hatchback with a long sunroof? That depends on your definition of "cabrio" I suppose. It certainly feels like a cabrio – especially with the front windows down. You do get  that "wind in your hair" feeling. My wife – who has long hair – was impressed by the fact that she wasn't immediately transformed into Cousin It from the Addams Family. The small net wind-break that pops up at the front of the opening probably helped here – but it didn't help the local insects who were scooped up by the hundreds. I don't fancy cleaning that out at the end of summer . . .
Mrs. B loved the styling of the car both inside and out and also loved the way it drove – mentioning the gear-change in particular which I must agree felt very sporty with just the right amount of spring/damping between gears.
Also impressive was the updated 7-inch infotainment system that now includes Apple's CarPlay as well as DAB radio and a 6-speaker Hi-Fi  with Bluetooth media streaming and a USB socket. The Prestige model also throws in Sat Nav and a Hi-Fi audio upgrade. Surprisingly, the audio controls are on a stalk behind the wheel rather than mounted on the wheel itself which I found a bit fiddly at first but soon got used to it.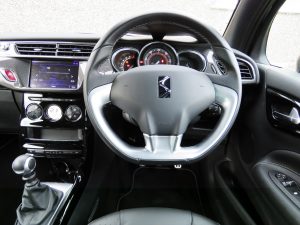 Available with a choice of 2 diesel engines (100bhp and 120bhp) or 5 different petrol versions ranging in power from 82bhp to 210bhp there is something for everyone. An auto gearbox is also available  on the PureTech 110 version, which is probably the engine to go for as 110bhp is more than adequate and the little 3-cylinder, turbo-charged unit is a belter, giving 0-60 in under 10 secs and combined economy of 65.7mpg (manual gearbox).
So, about that boot-opening. It is tiny. You'll feel like you are posting your luggage rather than loading it – but this is the price you pay for open-top motoring. The boot space itself is perfectly adequate at 245 litres and of course much more with the rear seats folded. Anyway, I discovered that the best way to get anything sizeable into the boot is to open the roof fully and just drop it in gently. Just don't try it in a downpour.
VERDICT: *****
OTR Price: £21,595
Engine: 1.6 THP Petrol
Power: 165 bhp
Transmission: 6-speed Manual
0-62mph: 7.6 secs
Top Speed: 135 mph
Combined Economy: 50.4 mpg
CO2: 129 g/km