Space, refinement and value for money make the Skoda Octavia Estate SE Sport stand out from the crowd
Consumer magazine What Car? Awarded the Skoda Octavia Best Family Car for 2016 and you would have to be a die-hard, stick-in-the-mud badge-snob to argue against that decision because the Czech manufacturer, with more than a little help from the Volkswagen group, has managed to produce a spacious and refined family-lugger that is hard to beat on both price and quality. Oh, and it drives very well too.
However, if you need even more space in the boot you can always opt for the equally good Estate version which increases the boot space from 590 litres to 610 litres and a whopping 1,740 litres if you decide to leave the kids at home and drop the back seats.
Available in 5 versions: There is the S, SE, Greenline, SE Sport and SE L, ranging in price from manual 1.0 TSI Octavia S Estate at £18,310 OTR to the full-fat 2.0 TDI 4×4 Octavia SE L Estate at £25,555.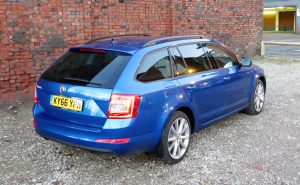 And if that's not butch enough for you then there is always the more-rugged looking Octavia Scout or the cracking "Honest dear, I bought it for the space, not the performance" Octavia vRS.
While all Octavia Estates come with alloy wheels, roof rails, electric front windows, air-con and an infotainment system with 8-speakers and Bluetooth you'll find the sweet spot will be the SE trim which adds amongst other things, prettier alloy wheels, dual-zone Climate Control and electric rear windows as well as rear parking sensors, driver fatigue sensor, Driving Mode Selector (Normal, Eco, Sport, Individual) and Voice Control for phone (and navigation if added).
I've been driving the Octavia Estate SE Sport with a 1.4 TSI petrol engine and 6-speed manual gearbox – maybe not everyone's first choice of engine as diesel is still popular but as diesel comes under more and more pressure due to emission fears then we will see the more frugal, cleaner petrol units holding their prices better.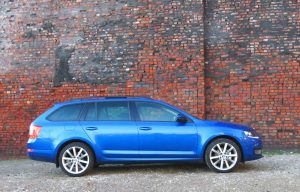 The 1.4 TSI engine is no compromise however. The 150PS unit can take you from 0-62mph in just 8.2 seconds and onwards to 134mph while feeling smoother and sounding quieter than its diesel counterpart. It'll also return 54.3mpg on the combined cycle and emits just 119g/km of CO2. It would certainly be my first choice of engine over the 1.6 TDI purely on refinement alone. I found it lively and a delight to use, averaging 46mpg in mixed driving over 7 days.
And what of the rest of the car? Well, it's a Skoda Octavia which means it looks okay but won't set your pulse racing. The Race Blue metallic paint on my car helped to lift things a little but is a £555 option. The £400 optional 18in Alaris alloy wheels also helped but I would stick with the standard 17in alloys although the 18-inchers didn't appear to unsettle the ride at all.
Inside it's more of the same – pleasingly functional rather than gob-smackingly stylish. Everything is in the right place apart from the handbrake lever which is a little awkward to use with it being designed for left-hand drive cars. It's a pity there is only one USB port up front as I like to be able to charge my phone as well as listen to music from a USB memory stick.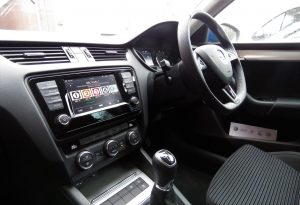 It is a nice place to sit though and those sport seats hold you very well indeed. With comprehensive adjustments for seat and steering wheel you won't find getting comfortable a problem. The sportier 3-spoke multi-function supersport steering wheel is a delight to hold and the gear lever shifts smoothly and accurately.
Visibility all round is very good – especially through the rear window where the estate benefits from a less-steeply raked angle than that on the hatch model.
You won't feel cramped in the Octavia either as seating space is generous both up front and in the rear with plenty of room for 6-footers both forward of the knees and above the head. Yes, 3 is a squeeze in the rear but it's no different for any car in this class and price bracket.
The Wi-Fi hotspot is a welcome addition to the SE Sport spec, as is the excellent Sat Nav which is simple to use even when you don't use voice commands. The Amundsen touchscreen is clear and sharp and I like how the function buttons automatically pop up when your hand approaches the screen.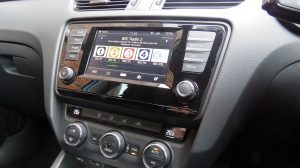 Another feature I really enjoyed was the Bi-Xenon headlights with AFS (adaptive front light system) which made a huge difference on twisting, dark country roads and gave confidence in some pretty dire weather.
For around the £21,000 mark I don't think you can beat the Skoda Octavia Estate for features, driving pleasure and ultimately, value for money. It has all bases covered and it's difficult to imagine why any family of 5 or less would need any more space.
But it's not just families that can benefit from the Octavia's generous proportions; businesses too will feel the benefit and if they take the 1.6 TDI with just 100 g/km of CO2 then they will feel a tax benefit too.
The Skoda Octavia Estate really is a serious all-rounder with few compromises – and where else do you get an ice-scraper tucked into the lockable fuel-flap? They've thought of everything.
VERDICT: *****
Skoda Octavia Estate SE Sport 1.4 TSI
OTR Price: £21,640
Engine: 1.4 TSI petrol
Power: 150 PS
Transmission: 6-speed Manual
0-62mph: 8.2 secs
Top Speed: 134 mph
Combined Economy: 54.3 mpg
CO2: 119 g/km