Toyota take the "sport" out of sporting but leave a decent load-lugger in the Auris Touring Sports
TOYOTA have opted to name the estate version of their popular Auris the Toyota Auris Touring Sports.
Now, I can understand the "Touring" bit but the "Sports" part is a bit of a mystery as the Auris Touring Sports is about as sporty as a Chesterfield sofa. Like the sofa, it's comfortable and reliable but it ain't sporty.
The Auris Touring Sports is, of course, based on Toyota's mid-sized family hatch with which it shares everything but the size. Main rivals are the Volkswagen Golf Estate, Ford Focus Estate and the Vauxhall Astra Touring Sports (which fits the Sports name a little better. But only a little).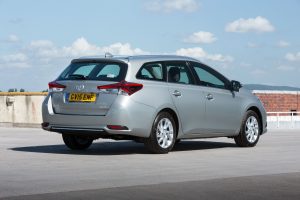 Available in 5 different trim levels – Active, Icon, Business Edition, Design and Excel, it starts from £20,540 and rises to £23,930. The popular Hybrid model is available at any trim level and mates a 1.8 petrol to an electric motor to give you 136bhp and CO2 emissions of just 81 g/km.
The basic Active model is available with a new 1.33, 100 bhp petrol engine which, to be honest, feels a little underpowered. The 1.2 petrol turbo (114 bhp) is a better bet on the Icon and above models. There is also a 1.6 diesel with the same bhp and a 90bhp 1.4 diesel completes the engine choices.
I've been driving the Design model with a 1.2 petrol turbo engine mated to a manual 6-speed gearbox and I can confirm that on one of the worst driving nights I've ever experienced, the Toyota can wade through a foot of water (several times), climb steep, fast-flowing rivers, erm . . . I mean roads and comfortably remove gallons and gallons of water from the windscreen in a quiet and efficient manner.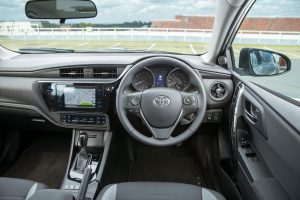 However, some of the more modern tech failed pretty miserably during the storms – namely the traffic sign recognition system, the distance alert and most annoyingly the auto main beam for the headlights which defaulted to dipped beam unless I pulled the stalk toward me and held on – not ideal while on a twisty, narrow, Peak District B-road in total darkness and with a biblical storm raging.
Unfortunately, under normal conditions things weren't much better. The auto main/dipped beam system was terrible. It could take up to 10 seconds to switch to main beam when first initiated, although once there it quickly switched between main and dipped when needed.
The traffic sign recognition was so hit-and-miss it was next to useless. Recognising most of the speed changes on a route isn't good enough. I eventually switched it off.
These systems are very useful and work fine in other manufacturer's cars so it's a bit of a puzzle why the usually ultra-reliable Toyota version appears to struggle.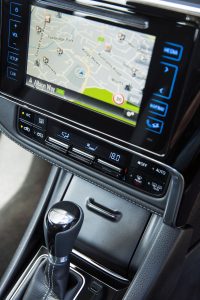 While I'm on a rant let's get another moan out of the way – The Auris's 1.2 turbo-petrol engine should be more efficient than the 36mpg I managed in a week and CO2 emissions of 126 g/km isn't great either. It should also be possible to move smoothly along in slow, queuing traffic without the engine either screaming at the clutch bite point or nearly stalling. It became a painful balancing act that appeared to defy all logic – or 38 years of driving experience.
However, once moving along,  the 1.2 engine behaved very well and power delivery was smooth without having to change down much on the up-hills but I didn't get anywhere near the official combined figures of 51.4 mpg.
If it's practicality you're after though, the Auris Touring Sports' ace-in-the-hole is its very generous load space of 435 litres and a Skoda Octavia Estate-busting 1,199 litres when the rear seats are folded.
It may not have the most inspired lines from the outside – "It's not ugly" is about the best I can manage – but the inside is a lot better and let's face it; that's what you'll be looking at most of the time.
The dash is uncluttered with all buttons and knobs falling easily to hand. They feel robust enough to last the lifetime of the car and the plastics used don't feel cheap either. Not premium feeling but certainly as good as rivals from Ford and Vauxhall.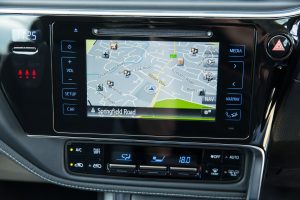 The front seats and leather-clad steering wheel have enough adjustment in them to get a comfortable driving position which should suit all shapes and sizes although if you're over 6ft you will find that anyone sat behind you is a little squeezed as the rear space for passengers is merely adequate – the price for having such a huge load space.
The 7in touchscreen on the central infotainment system was clear and responsive with icons easy to select on the go. My model came with the optional Toyota Touch 2 with Go which included a Sat Nav system that I found very intuitive and a pleasure to use.
Also included as an option was Toyota Safety Sense which includes Auto Emergency Braking and Lane Departure Alert along with the Road Sign Assist and Auto High Beam.
On the road there is no denying that the Auris Touring Sports is a comfortable car with wind noise kept to a minimum and tyre noise from the 17in wheels is also nicely subdued.
The 1.2 petrol engine is fairly quiet even at motorway speeds but I wasn't convinced by its mpg figures and I think one of the diesel options would be better with the hybrid option being the best choice of all for an all-round, load-lugging family car.
The Auris Touring Sports is a good car with immense practicality and the assurance of rock-solid Toyota reliability. With the Hybrid engine fitted it is worthy of 4 stars but I wasn't convinced by the 1.2 petrol unit.
VERDICT: ***
Toyota Auris Touring Sports 1.2 Design
OTR Price: £21,790
Engine: 1.2 Petrol Turbo
Power: 114 bhp
Transmission: 6-speed Manual
0-62mph: 12.4 secs
Top Speed: 104 mph
Combined Economy: 51.4 mpg
CO2: 126 g/km