New Mazda3 – big heart, lighter body delivers an excellent driver's car
THE Mazda3 is a smart-looking mid-sized hatchback which goes up against the likes of the ever-popular Ford Focus, new Vauxhall Astra and Volkswagen Golf in the "sensible family car" category – so it has its work cut out then.
Interestingly, Mazda have gone against the flow to make their cars more efficient by opting to make them lighter but retaining larger capacity engines instead of turbo-charging smaller power-plants.
And what does this unusual approach give you? Well, with the cars themselves being much lighter you'll find they have a sporty feel to them that rivals may lack. After all, traditionally, if you want a car to go quicker and handle better you lose unnecessary weight and Mazda have achieved this using SkyActiv Technology which reduces chassis and body weight by using lighter, stronger steel constructs which give more rigidity and so better handling.
It certainly shows in the handling of the Mazda3 but I'm not convinced by the efficiency as, driving the 2.0 litre, 120bhp petrol version, I only managed a lowly 37mpg on a trip to Llandudno and back with Mrs. B and Mrs. B's mum on board.
We all agreed that the Mazda3 is a good looking car with its swooping, high waistline and muscular looking front end. The twin exhausts at the rear also give the car a distinctive sporty look that lifts it above the Ford Focus and, some may say, the VW Golf too.
Inside was a little more conservative with dark colours being broken up only occasionally by splashes of chrome around the air vents, steering wheel and door cards. It still impressed though as everything had a premium feel to it with the knobs and switches feeling reassuringly chunky.
I particularly liked the centrally mounted rotary control for the infotainment system which was so easy to use and much better than trying to poke a finger accurately at the screen whilst on the move.
The front seating felt comfortable enough, if a little firm, and adjustment is varied enough for any shape and size with visibility being very good too.
Not so in the rear, however, as Mrs. B's 5ft. 1in. mum complained that although there was plenty of space in the back, the view was restricted by the high, narrow rear windows – a consequence of that swooping roof-line and a trend that you find on a lot of modern hatchbacks. So, smaller folks may not be too happy there in the back – and the suggestion of a booster seat doesn't always go down well with the over-70s . . .
The Mazda3 SE-L Nav that I was driving retails at £19,695 OTR and comes with a decent specification which includes rain-sensing wipers, dusk-sensing headlights, LED front fog lights, rear parking sensors and Smart City Brake Support which can help avoid frontal collisions at lower speeds.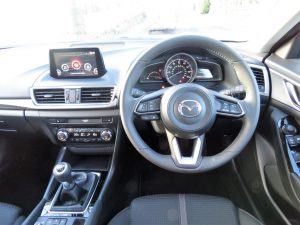 Comfort and convenience are also boosted on the SE-L Nav with the addition of Cruise Control with manual speed-adjustment, dual-zone climate control, an adjustable speed limiter and, of course, Mazda's Navigation System – which I found to be a doddle to use and gave clear, well-timed instructions that complemented the high-res 7in screen very well.
Even the £17,595 lowest-spec SE model comes with an engine start/stop button, air con, 16in alloy wheels, DAB Radio, integrated Bluetooth and a multi-function steering wheel along with the 7in colour touchscreen.
Boot space trumps the Ford Focus again at 364 litres but falls a little short of the new Vauxhall Astra which manages 370 litres. If you really need more space back there you could always opt for the Mazda3 Fastback 4-door which manages a whopping 419 litres.
But the real trump card for the Mazda3 is the way that it handles. It has a neutral feel to the steering, which was a little light for my taste but changes of direction were precise and predictable with very little understeer when pushing on into the corners.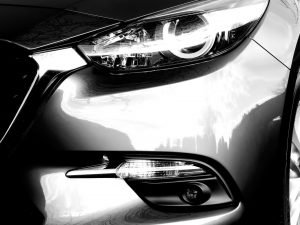 Body roll was also well controlled with the lighter, stiffer chassis definitely giving the Mazda3 an advantage over it's rivals. It certainly felt nimble enough to be borderline "sporty".
Wind noise was a little more intrusive than I expected which I put down to the large wing-mirrors but other than that we found the trip to north Wales comfortable and relaxing with conversations being easily held at normal talking volumes.
Mazda have certainly made the new Mazda3 a strong contender in the hard-fought mid-size family hatchback sector – it has the looks and the driveability to more than match its rivals but I'm not convinced by the economy aspects of the Mazda3 as rivals offer just as much power – or more – for better mpg and CO2 figures and it is those figures that may convince buyers to look elsewhere rather than consider the driving pleasure on offer.
VERDICT: ****
AT A GLANCE: Mazda3 SE-L Nav 120PS
OTR Price: £19,695
Engine: SKYACTIV-G 2.0 petrol
Power: 120 PS
Transmission: 6-speed Manual
0-62mph: 8.9 secs
Top Speed: 121 mph
Combined Economy: 55.4 mpg
CO2: 119 g/km