Volkswagen's plug-in load-lugger comes with more than a touch of class
IF you're after a Volkswagen Passat but don't want a diesel engine then you have a choice of two models – The Passat GTE or the Passat Estate GTE.
Both models are plug-in hybrid vehicles consisting of a 1.4 litre TSI turbo petrol engine and a clever electric motor that is built into the non-optional auto DSG gearbox.
The GTE will run for around 31 miles on electric charge alone at speeds of up to 81mph but in hybrid mode, where the TSI engine helps drive the front wheels and charges the battery pack, it'll be good for 140mph and has a range of around 664 miles.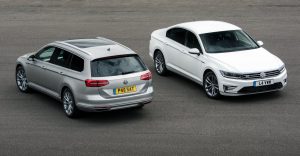 Just like the Golf GTE it uses a third clutch that will automatically disengage the petrol engine when coasting so saving more vital fuel. It's all clever stuff that not only promises to save you money at the pumps but also makes a lot of sense for those paying benefit-in-kind tax as the GTE models have a lowly CO2 emission of just 39 g/km.
Private buyers may not fare so well though as the Passat GTE is quite expensive to buy compared to its diesel-engined  siblings. Taking into account the £2,500 PICG government grant, the saloon version starts at £36,525 while the version I've been driving – the Passat Estate GTE starts at £38,075 – more than £3,000 more than you would pay for the equivalent diesel model.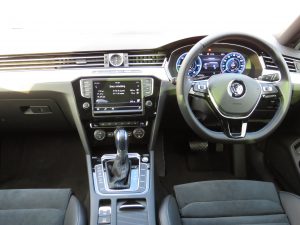 So what do you get for your extra 3-grand? Well, in my case you get a Volkswagen Passat Estate which means straight away you have one of the most practical and comfortable family estates out there. Bags of space to seat 5 adults in comfort and a load-space of  650 litres which beats the Ford Mondeo  Estate by over 100 litres.
You also get a choice of 4 driving modes: e-mode for pure electric driving; Hybrid for when electric only is not available or not required; Battery Charge which allows the driver to use the petrol engine to not only drive the front wheels but to also charge the electric cells for later use – and GTE mode for when you want to experience the full power of the electric motor combined with the TSI engine.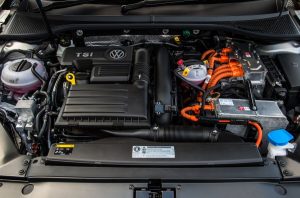 All Passats are refined cruisers but with the GTE it's taken to another level as in electric-only mode the only sound you'll hear is from the tyres and the wind rushing past – which isn't a great deal of sound even at motorway speeds.
Even when the 1.4 TSI engine kicks in when the electric charge is depleted you'll hardly notice – it's a very quite engine and because of the smooth DSG gearbox you won't feel it kick in either.
From the outside there are subtle styling cues that let you know this is the hybrid model: 18in. Oxford Anthracite alloys, black radiator grill with a GTE nameplate and blue strip running across it, blue brake callipers, C-signature LED daytime lights, chrome side window surrounds, silver anodised roof rails, trapezoid twin exhaust outlets and gloss black B-Pillar trim. There are also blue GTE badges on both front wings as well as the rear hatch.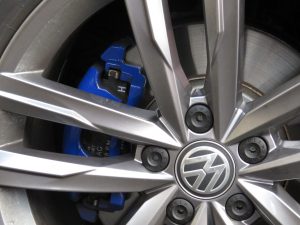 Inside you have blue ambient lighting, a GTE gearknob stitched in blue, Aluminium "Wave" inserts in the dash, centre console and door panels, a cooled glovebox and a leather trimmed multi-functional steering wheel with paddle-shifters.
The upholstery on my GTE was a sporty looking Alcantara with "Vienna" leather side bolsters and with this being a Volkswagen the whole cabin layout is, of course, immensely well thought out and easy to use with an excellent choice of materials that feel solid and well put-together.
The centrally-mounted 6.5in. infotainment system includes the Discover Navigation System with European maps as well as a DAB radio, CD Player, aux and USB inputs. Bluetooth phone connection with media streaming is also included.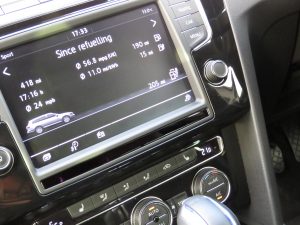 Visibility all round is excellent as is the driving position but if you need more help when parking then you'll be pleased to hear that parking sensors, both front and rear, are included in standard spec as is Adaptive Cruise Control, City Emergency Braking and radar-controlled distance monitoring to keep you and your loved ones safe.
Pushing the start button on the Passat GTE can leave you wondering why nothing, apparently, happened  – until you get used to it of course. Press the accelerator gently and away you waft silently and smoothly.
Even when running e-mode the Passat feel surprisingly quick as the power comes in almost instantly but in hybrid mode it feels a little quicker still. With a combined bhp of 216 and a 0-60 time of 7.6 secs the GTE doesn't hang around and while it can handle the twister roads quite well it never feels like a sporting ride. Body roll is noticeable but not intrusive and the steering feels a little on the light side.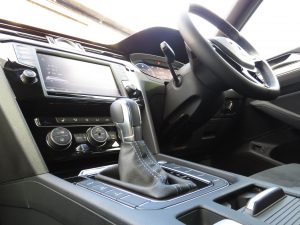 Get it on the motorway however and the Passat, just like it's diesel-powered brethren, is a superb cruiser. The excellent DSG automatic box is simplicity itself to use; just select drive and leave it there. Auto hill-hold and auto electric handbrake make life a doddle. Sure, have a go with the paddle-shifters but the novelty will soon wear off – unless you plan on booking a track day . . .
My only concern was the brake feel. The regenerative brakes – which feed some voltage back into the battery when used – felt inconsistent to me and I can imagine take a while to get used to which is a little disconcerting for brakes.
So what did it cost to run? Well I managed all my commuting on e-mode only – charging up at home and at work from a standard plug which takes around 4 hours from empty. A longer trip to Nottingham and back saw the hybrid mode kick-in and I managed a credible 60 miles to the gallon. Still way off the official combined figure of 166mpg but I never really expected anything like that in the real world.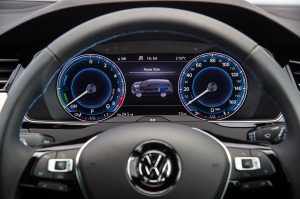 The GTE comes with a second lead for charging from a 16amp wallbox which will take just 2.5 hours from empty.
So, should I buy one? Well it depends really. For business users it makes much more sense for the extra tax-breaks but for the non-business user you may be better looking at a diesel model and save yourself a wad of cash. It will only really make sense if your commute is less than 30 miles or so and you absolutely must have a premium-feel, cutting-edge hybrid electric vehicle that is both immensely practical and superbly put-together.
VERDICT: *****
Volkswagen Passat Estate GTE:
OTR Price: £38,075
Engine: 1.4 TSI Petrol & Electric Motor
Power (combined): 218 PS
Transmission: 6-speed Auto DSG
0-62mph: 7.6 secs
Top Speed: 140 mph
Combined Economy: 166 mpg
CO2: 39 g/km