Kia's Sportage triumph goes from strength to strength
THE Kia Sportage – you see a heck of a lot of them on our roads don't you? Well there must be good reasons why this compact SUV  is so popular and if you think it's simply down to price then think again.
There are cheaper SUVs out there – the Dacia Duster springs to mind – but Kia appear to have hit the "value for money" bullseye when they introduced the  3rd generation Sportage to Europe back in 2010.
In Europe it out-sells the Audi Q3, BMW X1, Range Rover Evoque and Ford Kuga. In 2015 European sales of the Sportage rose by 8% to 105,317 units – The whole Kia range sold 385,000 units in the same period so you can see why this new 4th generation Sportage is so important to the Korean company.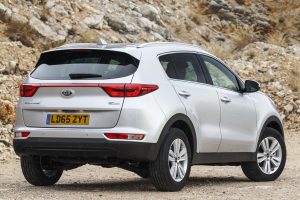 Not wanting to change a winning formula too much the new Kia Sportage is still a handsome-looking car but now with more efficient engines, new connectivity and advanced driver assistance. There is also a new, sportier GT-Line model that gives the Sportage a more rugged look as well as introducing the iconic "ice-cube" LED front foglights, dual exhausts and unique 19in alloys.
I've been driving the Kia Sportage 1.7 CRDi 2 Eco model which sits just above the base model and goes head to head with Nissan's more expensive best-selling  Qashqai 1.5 dCi 110 – Kia helpfully name their trim levels 1, 2, 3 and 4 with the new GT-Line being the top-spec.
Size-wise the new Sportage is 40mm longer with no change to either width or height over the outgoing model. It is 40mm lower though and the boot space at 491 litres is 14 litres more than previously and also 47mm lower to assist with loading those heavier objects. A 2-position cargo floor leaves space for the luggage cover to be stored beneath it when not in use – a handy feature.
Inside it feels airier with noticeably more space in the rear and a much fresher, modern look to the cabin in general with softer-feel surfaces and good quality, chunky buttons and switches. The 7in touchscreen means less switches cluttering  the dash, which while functional is a little dull in appearance.
The leather-bound multi-function steering wheel is adjustable for both reach and rake and feels good in the hands.
The driving position is excellent and I found the Black Premium cloth upholstered seats to be both supportive and comfortable having both height adjustment and electric lumbar support. In fact there is nothing to really complain about at all in the Sportage which costs just £22,050 OTR and includes a host of technology and driver-aids that you may be paying through the nose for with other manufacturers.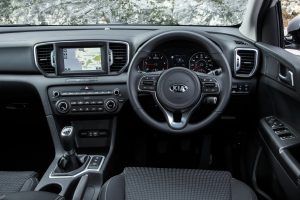 The Kia Sportage's popularly makes more sense when you look at that excellent specification which includes dual-zone air con, all-round electric windows, cruise-control with speed limiter, Lane Keep Assist System, Hill Start Assist, Intelligent Stop-and-Go, touch-screen Sat Nav with Reversing Camera, Reversing Sensors, Bluetooth with Music Streaming, DAB Radio and a 6-speaker Audio System which sounds above average and is a doddle to use.
Out on the road the Kia Sportage drives pretty much like you would expect – it behaves very much like a mid-size hatchback that rides road-imperfections very well. Okay, the stiffer suspension keeps body-roll to a minimum but does mean those larger pot-holes can cause a bit of a thump through the suspension but nothing to worry your average commuter.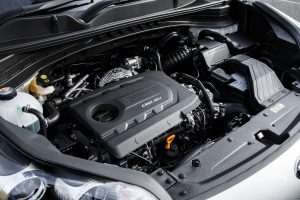 The 1.7 diesel engine has 114bhp on tap and pulls well from low down the rev range making progress very easy and relaxed. It is a little noisy though towards the top end of the rev range and feels a little unrefined compared to some rivals but not so bad that you would think twice about a longer motorway journey.
Steering is a little light but, again, nothing to worry about. It does seem to weight up nicely at faster speeds though and the Sportage doesn't "wander" at motorway speeds – in fact it feels very civilised as noise-intrusion was kept at bay much better than I was expecting.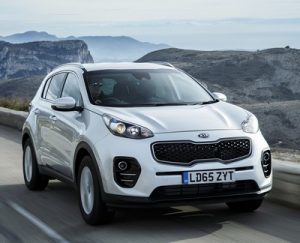 The Sportage feels like a car you could easily live with on a day to day basis. It's practical with it's large boot space and split-folding rear seats that lie flat, it's got all the techy creature comforts you will need and is an absolute doddle to drive – it makes the whole SUV phenomenon make more sense. Why wouldn't you want a higher, more commanding view of the road; why wouldn't you want your seats to be just at the right height for easy entry/exit? Why wouldn't you want the extra security (real or imagined) that a chunky SUV offers over more conventional hatchbacks?
The more you drive it, the more sense it makes and the harder it is to argue against small SUVs. If you don't like faux-by-fours then you can also have the Sportage with AWD too –from only £22,245 for the Sportage KX-1 2-litre diesel. All models come with Kia's rival-beating 7-year/100,000 mile warranty too for extra peace-of-mind.
Kia have got it just about right with the Sportage and I'm sure the newer, more frugal and better equipped model will mean we will be seeing even more of them on our roads in the near future.
VERDICT: *****
Kia Sportage 1.7 CRDi 2 Eco
OTR Price: £22,050
Engine: 1.7 turbo diesel
Power: 114 bhp
Transmission: 6-speed Manual
0-62mph: 11.1 secs
Top Speed: 109 mph
Combined Economy: 61.4 mpg
CO2: 119 g/km