Nissan Leaf – Changing perceptions of electric-only vehicles
Do you remember your reasons for dismissing electric cars when they first arrived on the scene?
If you were a serious petrol-head they probably went along the lines of:
"They'll be too small with bog-basic interiors and they'll have whiney little motors that won't have enough power to tackle a slope.
They'll also take forever to charge and those batteries will need replacing every year – and all that for just 5 miles of travel? Forget it".
Unknowingly, you will have just described a milk-float.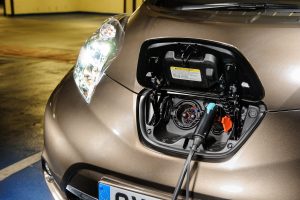 Well, if modern day milk-floats are anything like the Nissan Leaf then hand me a blue and white stripy apron because I'm off to drop yoghurt on your doorstep.
Now don't get me wrong – I like the sound of a burbling V6 and I also quite enjoy the feeling of being slammed back in the Recaro when you mash the pedal of something "exotic" – but is that something you must have day in, day out?
It is? Then you must be under 30 years old and have money to (literally) burn. You may leave the review now . . .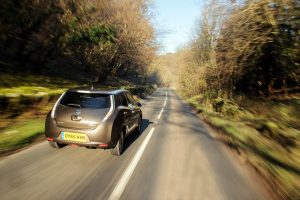 For the rest of us let's consider the facts and make up our minds:
The Nissan Leaf isn't small. In that cutesy body you'll find roughly the same living space as in the latest Vauxhall Astra. Three adults fit reasonably snug in the back although the piggy-in-the-middle will have to contend with a raised area between their feet. Two adults have more than enough space.
At 370 litres you'll find the Leaf can carry more milk in the boot than a VW Golf.
The interior is far from basic. Even the lowest spec Visia model (from £21,680 OTR) comes with Air-Con, Hill Start Assist, CD Player, multi-function steering wheel, Intelligent Key and Bluetooth phone integration.
Move up to the Acenta model (from £23,780 OTR) and you get NissanConnect EV Infotainment system with 7in monitor and Sat Nav, a rear-view camera, rain-sensing wipers, a heat-pump cabin heater that saves energy and "B-Mode" which when selected via the stubby gear-knob enhances the regenerative braking system and can increase range. There is also a choice of the larger capacity 30kWh battery (increasing range from 124 miles to 155 miles), 16in alloy wheels and electric folding mirrors.
The range-topping Tekna model (from £25,380 OTR) adds heated seats front and rear, a heated steering wheel, 17in alloy wheels and a 360-degree Around View Monitor. You also benefit from black leather trim, LED headlamps and a 7-speaker BOSE audio system.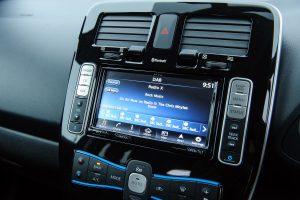 All the above prices apply if you wish to own the battery. You can also opt for battery rental which will substantially reduce the cost of the vehicle but you will pay between £70 and £113 a month for the battery depending on your annual mileage, time period and battery size. This option guarantees a new battery as soon as it fails to hold a charge less than around 80%.
The interiors of all 3 models work well with smart looking LCD displays dominating the main area giving the driver information on range, state of charge, battery temperature and a power meter. Rather bizarrely it also builds trees – well an LED version of a tree which is an indicator of how eco-friendly your driving is. You can't hug it though . . .
There is also a smaller digital "eyebrow" display at the top of the instrument panel which provides the Eco indicator and speedometer.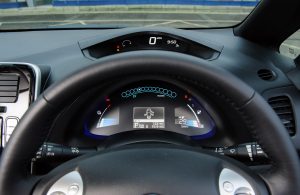 You sit a little higher than in a normal car which makes the ride and visibility very good. In fact the Leaf rides very well over the most pock-marked surfaces with the extra low-down weight of those batteries seeming to dampen the ride a little more without getting jittery.
No need to worry about lack of power either – The Leaf actually feels much quicker than it's 0-60mph time of 11.5 seconds would suggest as the power is there immediately you put your foot down.
With no cog-dancing in the single-speed gearbox you get a very smooth increase in speed that may catch you out the first time. I had no problem whatsoever overtaking slower traffic – especially on steeper gradients where the lack of change-down and smoothness of drive will make you smile in a smug kind of way.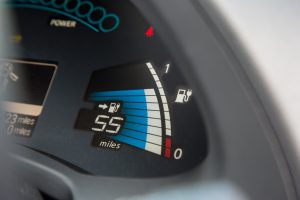 Owning an electric vehicle also introduces you to the "Let's See How Far I Can Get on a Full Charge" game. Mobile phone users have been playing it for years but without "range-anxiety" it loses its edge.
I found myself in the game very quickly – out of interest rather than need – and after the first day of zapping around in "normal" mode I quickly settled down to using "Eco" mode which reduces output from the battery and also reduces the power used up by the air-con.
I then also went for "B"mode which, on the Tenka model, is selectable from the stubby disc gear changer. This reaps back more energy whilst braking. Also, coasting downhill it has an obvious braking effect that can slow you down quite quickly but pours those electrons back into the battery pack.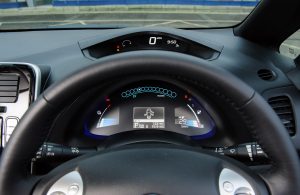 The result? Well a 25-mile trip only cost me 10 miles of range – and I made almost 3 full trees. Overall I managed an impressive 102 miles from a full charge before range-anxiety set in – which I thought was impressive.
The Nissan Leaf can take up to 15 hours to charge fully from flat using a domestic plug. The good news is that you can have a 32A home charging unit fitted that will reduce that time to about 9 and a half hours (30kWh) or 7 hours (24kWh). Rapid chargers which you can find at motorway services and Nissan dealers take around 30 minutes for an 80% charge.
There is also a lot of tech here beyond the obvious. You can pre-heat/cool your car when plugged in so it's ready for you in the morning and you won't need to use precious battery power on the heater or air-con. You can also remotely set times for this to happen from your mobile phone from where you can also view lots of telemetry such as charge-status, range, etc.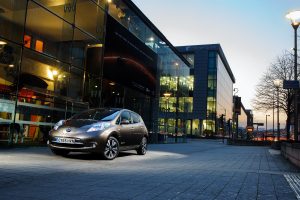 The biggest compliment I can pay the Leaf is that on the day I handed it back I picked up a Jaguar XE and for the first couple of hours it felt rather agricultural compared to the Leaf. This is rather shocking as the Jag is a class leader in comfort and driver satisfaction. It proved to me just how game-changing  the current crop of EVs are – and they are only set to become more so.
VERDICT: *****
Nissan Leaf Tekna – at a glance:
OTR Price: £27,230
Engine: Electric Motor
Power: 109 bhp
Transmission: Single Speed
0-62mph: 11.5 secs
Range: Up to 155 miles
Top Speed: 90 mph
CO2: 0 g/km
Cost to fully charge (Domestic): £2 to £3 depending on tariff