IN a car as cute as the Fiat 500 I suppose we shouldn't have been surprised when a car full of young children began to wave as they overtook us on the M5. We waved back of course, thus reinforcing that the new Fiat 500 is a happy, smiley car driven only by happy, smiley folk.
Okay – usually, YOUNGER, happy, smiley folk than me – but there you go.
And if you think the little Fiat was struggling in motorway traffic then you'd be wrong – it was going along very nicely at 70mph thank you very much and the last time I checked that was the speed limit for motorways.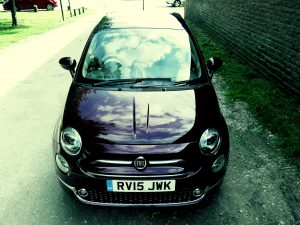 The 500 is just one of those cars that people like to be in front of – not behind. I can only think that they believe they must be travelling well below the speed limit if a tiny car is ahead of them.
Anyway, let's not start a "speed limits need to be reviewed" debate here – how did the Fiat 500 cope on the 600-mile round-trip to Fife and back?
Much better than I had first imagined actually – and I had imagined quite a tiresome journey with plenty of noise and changing of gears (especially down, to overtake. Overtake? Who am I kidding?)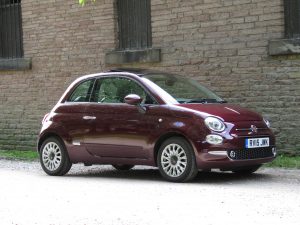 Fortunately, I'd been provided with the range-topping Lounge model which comes with such luxuries as air-conditioning, a height-adjustable driver's seat, panoramic sunroof, rear parking sensors and a leather steering wheel with audio controls. The optional 7in infotainment screen (up from the standard 5in) with Tom Tom Navigation was also fitted (£275).
Unfortunately, there was no cruise-control as this isn't available even as an option. A shame as it is standard on the Vauxhall Adam – one of the 500's obvious rivals.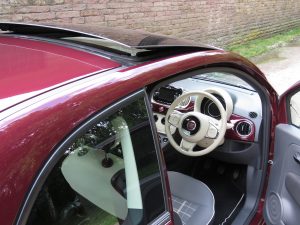 I was pleased to see that my car came with the bogo-standard 1.2, 4-cylinder, 69bhp engine as the more powerful TwinAir units (85bhp and 105bhp) are just a little bit too noisy for a long journey – that 2-cylinder staccato can get very wearing and is much more suited for city driving. The 1.3 MultiJet diesel may have been the better option actually, as while it can be very rattly around town it's quite a good cruiser and Fiat claim it can return up to 94mpg.
I managed to average 54.5mpg overall, which I was pleased with – only having to stop for fuel once on the return journey.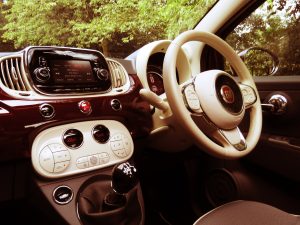 And the journey was a pleasant, relaxed affair too. Okay, the Fiat 500 is no mile-munching cruiser but it's not particularly noisy either – you can easily hold a conversation even at 70mph and the sound-system doesn't need to be turned up to 11 either. The skinny little tyres don't make much road-noise and the bubble-like aerodynamics don't generate much wind noise.
I didn't have to wrestle with gear-changes either when overtaking as the little car picks up adequately even in its 5th top gear – you just have to give it a little more time and plan-ahead a little more than you would in a more powerful car and so long as you don't want to scream along like your hair's on fire then the Fiat 500 gets the job done nicely.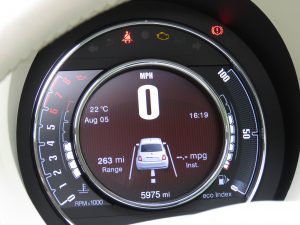 Inside, the new 500 isn't a million miles away from the older model. It's still retro-based but now with an infotainment screen in the middle of those cute, shiny buttons and switches. It all looks just as appealing on the inside as it does from the outside which is probably unique to the Fiat 500.
With a wider choice of colour options than ever before it's quite easy to go all-out whacky if you wish and I particularly liked the cream-coloured touches in this car – although the cream steering wheel was already showing some signs of grimy-ness after less than 6,000 miles.
The main, all-digital, instrument cluster is a delight to behold with your speed shown in big bold figures in the middle with a climbing rev-counter up the left-hand side and an Eco-Index on the right with trip, economy, range and MPG shown in the middle. It even changes colour depending on which mode it is set to. Quality of materials is still a little suspect and not up to Mazda 2 or Vauxhall Adam standard and although it all looks beautiful I'm not sure how long it will stay like that.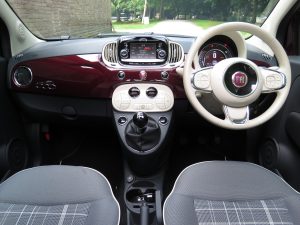 The front seats are supportive and comfortable although both feel like they are set a little high. The driver's seat is adjustable for height but even at its lowest setting it seemed a little high. No matter, all-round visibility is excellent from those seats and there appears to be plenty of headroom too.
Headroom is pretty good in the rear for such a small car although leg room is, as you might expect, rather lacking. Not cramped, just lacking. I imagine a couple of adults could be quite comfortable back there even on longer journeys but as there is no centre seat-belt this is a 4-seater car only.
The tiny boot (185 litres) is capable of holding a small suitcase but we had to drop one of the rear seats to fit in our larger case.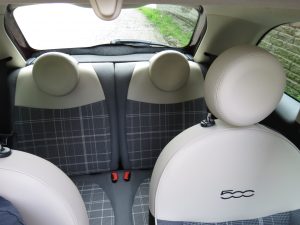 It's also only a 3-door car so getting in and out of the rear can be a bit of a squeeze even though the front seats slide well out of the way and the doors open quite wide.
You'd be quite hard pushed to spot the exterior changes of the new Fiat 500 – but why change a winning formula? There are some stylish tweaks – like the rear light clusters that now show some body colour in their centres and the chrome strip low down which connects the fog light and reversing light. There are also new, larger front daylight-running lights and a chrome strip across the bonnet – much like it's bigger brother the 500X.
There are three trim-levels, starting with the Fiat 500 Pop (£11,050 OTR) which is only available with the 1.2 engine but does come with some nice touches, such as remote central locking, steering wheel mounted audio controls, electric front windows and start/stop tech.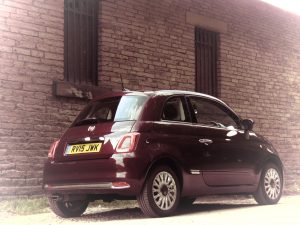 If you want air-con and alloy wheels you need to upgrade to the Pop Star (from £11,925 OTR) and for the Touchscreen Radio with Bluetooth, sunroof, rear parking sensors, extra chrome trim and leather steering wheel you'll be wanting the Fiat 500 Lounge (from £12,800 OTR)
Whichever you choose you'll end up with one of the most iconic small cars out there that will put a smile on your face (and sometimes the face of your fellow travellers) on a regular basis.
VERDICT: ****
OTR Price: £12,800
Engine: 1.2 Petrol
Power: 69 bhp
Transmission: 5-speed Manual
0-62mph: 12.9 secs
Top Speed: 99 mph
Combined Economy: 60.1 mpg
CO2: 110 g/km