OKAY, let's get straight to the point – what does the 'PHEV' part of Mitsubishi Outlander GX5h 2.0 PHEV stand for and what does it mean?
Well, it stands for Plug-in Hybrid Electric Vehicle and what it means is that unlike other straightforward Hybrid vehicles which use the engine to charge the vehicle's battery, this one has a plug socket (2 actually) which along with a charging lead (supplied) means you can use your domestic power supply to fully charge the battery.
And the range on that full charge? Well, it's about 32 miles but will depend on a few factors such as driving style, terrain and even weather. Yes, a cold winter's day will drain a battery quicker, as will driving like Lewis Hamilton up any steep inclines.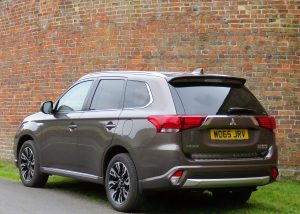 'Not very far then' you may think. But it's actually further than the average commute which statistics tell us is less than 20 miles. The Outlander PHEV also has a few tricks up its sleeve to extend that range too which I'll get onto later.
Now, my own commute is 25 miles each way, taking in mostly hilly A-Roads and around 8 miles of motorway and I just about managed both ways on electric power alone. I have available power sockets at work so I could plug in on arrival and 5 hours later the Outlander was fully charged again.
5 hours is the time when plugged into a regular 13amp supply. If you have access to a 16amp supply (which you can have fitted at home for an extra cost) then that time is brought down to 3.5 hours. If you have access to a rapid-charging station then you can have an 80% charge in just 30 minutes.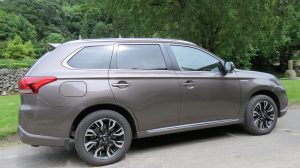 Cost of fully charging from your home supply? Between £1 and £1.30 depending on your tariff.
So, not bad then. Stick to short journeys and you may never have to buy petrol again.
However, in the real world that is never going to happen of course and the Mitsubishi Outlander is a big beast for doing school-runs only or just popping round to the local supermarket every now and again. No – sooner or later you'll be wanting to go on a longer journey that will require some burning of fossil-fuel from the 2-litre petrol engine.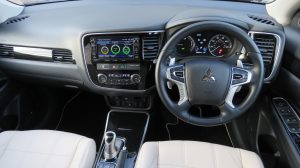 The good news is that the Mitsubishi Outlander is pretty economical for a large SUV, whether burning fuel or not. In fact Mitsubishi claim it is capable of 159mpg although in reality you'll probably achieve in the high 50s which ain't bad at all. It's CO2 emissions of just 42 g/km is way better than non-hybrid rivals and means you won't pay a penny in road tax either.
Also, the Outlander's breaking system is regenerative which means as you slow down some charge is put back into the battery. This can be maximised when going downhill where you can use the car's steering wheel-mounted paddle-shifters to increase or decrease the amount of regenerative breaking – load the system up and the car slows considerably and feeds more power back into the battery, take some load off and the car begins to roll more quickly but not as much energy is 'reaped'. You soon learn that gravity is your friend and you'll take every opportunity to replace that battery power. It becomes a new aspect to your driving and one that you quickly use instinctively.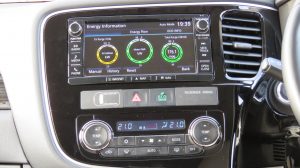 The Outlander is a true 4WD drive too – the 2.0 petrol engine not only charges the battery when needed but can also drive the front wheels. An electric motor drives the rear wheels while another electric motor can help drive the front wheels when more power is needed. All in all there is 200bhp available but the Outlander will cruise at up to 74mph quite easily on electric power only.
Inside is exactly the same as it's non-PHEV brother, with comfortable seating all round and plenty of space for everyone. Just don't expect it to look futuristic in there like a Tesla – the Outlander is smart but practical inside with largish switches and buttons that feel sturdy but aren't particularly stylish.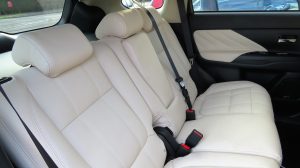 Equipment levels are generous with even the basic GX3h getting keyless-entry and start, 18in alloys, rear parking sensors, dual zone climate and a decent infotainment system and would be my choice at just £31,749 which is cheap for a hybrid SUV, never mind a Plug-In Hybrid.
My car was the £40,899 GX5h model which comes with a host of extras including full Nappa Leather, Alpine sound system, heated rear seats, LED mood lighting, 360-degree camera view and extra chrome styling including rear spoiler and front Outlander badging.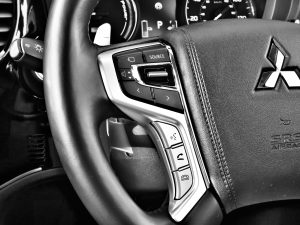 All models have a 4in TFT multi-function display between the main dials to show energy flow, range, regenerative-braking and battery state.
Out on the road the first thing you notice is how quiet the big Outlander is. Even with the engine running this thing is almost whisper quiet. The engine is mostly there to charge the battery so doesn't have to be working as hard as in a conventional car and because Mitsubishi are aware that most of the noise you will hear comes from tyres and wind they have used more insulation than they do on other models – and it works. Driving a Mitsubishi Outlander PHEV is quite a serene affair.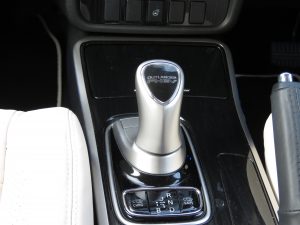 Dynamically the PHEV doesn't entertain but doesn't disappoint either. Lifeless steering would be my biggest gripe but the simple joystick gearknob is a doddle to use and the CVT gearbox just adds to the feeling of calm with no jerky gearchanges spoiling the experience.
You lose a little space in the boot over the non-PHEV Outlander due to the batteries but it can still take 463 litres which should be sufficient for most families. Oh, the batteries also mean you can't take the 7-seater option as you can on the standard Outlander.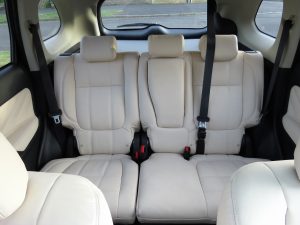 So, a good-looking, automatic, 4WD, practical, family-sized Hybrid SUV that is crammed with tech that could save you a fortune in fuel bills for less than the price of a top spec VW Tiguan diesel. No wonder Mitsubishi are selling so many PHEVs at the moment – the downside is you may have to queue at the rapid-charger . . .
VERDICT: *****
AT A GLANCE:
OTR Price: £40,899
Engine: 2.0 Petrol MIVEC
Power (combined): 200 bhp
Transmission: Auto CVT
0-62mph: 11.0 secs
Top Speed: 106 mph
Combined Economy: 156.9 mpg
CO2: 42 g/km