KIA'S tag-line is "The Power to Surprise" and I'm not sure what I found more surprising when taking delivery of their latest offering. It was either that it was a saloon car in this world of Crossovers and SUVs or that it was not another Sportage. They seem to be everywhere you look at the moment.
The Kia Optima certainly bucks the trend – a traditional large saloon in the vein of the VW Passat or Skoda Superb, except the Kia is a true saloon as it has a boot, not a hatch.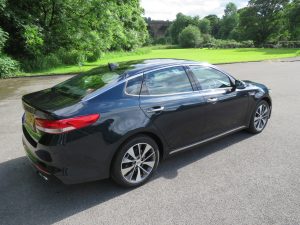 It's also very big; well long actually – which means plenty of room inside for both front and rear passengers to stretch out and enjoy all the standard kit that comes with the car – which is a lot.
The previous model was quite a good looking car but the new model Optima has raised the bar somewhat with its large, open front grill, sweeping roofline and just enough chrome trim to keep it looking classy.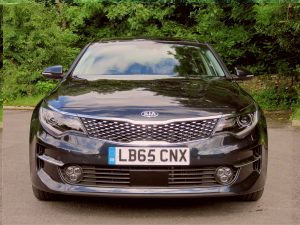 With 4 available trim levels – rather unimaginatively called 1, 2, 3 and 4 it comes with just one engine choice which is a 1.7 diesel lump that puts out 139bhp, is capable of 68.9 mpg and puts out 110 g/km of CO2 which equates to just £20 a year road tax.
However, I was driving the top-spec Optima 4 with a 7-speed DCT Auto gearbox (116 g/km CO2 and £30 road tax) which averaged just 44mpg in a week of driving which included a 600-mile round trip to Scotland where the Optima proved to be a very capable long-distance cruiser being both quiet and comfortable with plenty of driver-aids to help along on the journey such as SatNav, Adaptive Cruise Control, Lane Keep Assist, Blind Spot Detection and Hill-Start Assist.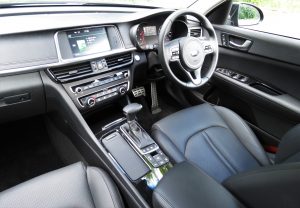 The  auto gearbox was a bit of a mixed bag. While a pleasure to use 95% of the time it had a nasty habit of holding high revs when descending hills which became rather tedious and certainly won't have helped the mpg figures.
Steering was also a little disappointing being lovely and light around town but rather vague at motorway speeds and while not bad enough to spoil the driving experience the extra steering inputs needed were noticeable on the longer stretches.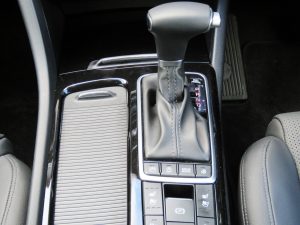 Inside, the Optima is again an improvement on the older model. Yes, there is still a lot of black around and it isn't quite up to the standard of the Skoda Superb or even the Ford Mondeo but it doesn't feel cheap. In fact it all feels very well put together and just look at all the equipment you get on this range-topping model: Black Leather upholstery, 8-way power adjustable driver's seat with memory, Front heated/ventilated seats, Rear ventilated seats, electric parking brake, leather steering wheel, alloy pedals, paddle-shift transmission, 8in. Touchscreen with Sat Nav with full European Maps , DAB radio, Bluetooth with music streaming, Smart Park Assist (Parallel, Perpendicular and Departure Mode), Harmon Kardon Premium Sound System with 10 speakers, keyless entry and go, wireless phone charging, panoramic sunroof, 360 degree parking cameras . . . and more; but I need to take a breath.
Yes, this range topper is a bit expensive at £28,995 as you can get a similar-specced Skoda Superb for about the same money and enjoy better mpg and driving dynamics, but the very well equipped Kia Optima '2' with 6-speed manual gearbox includes Sat Nav, Bluetooth and a reversing camera for less than £23,000 along with Kia's excellent 7-year warranty. It's the pick of the bunch.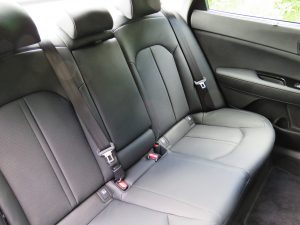 Town driving showed that the Optima rides very well too, that long wheel base absorbing most of the roads imperfections very well and the newly-stiffened chassis had body roll down to virtually nothing around the twistier bends.
I had thought that the 18in alloys  may cause some "thumping" over some potholes or speed bumps but I needn't have worried as the Optima rode very well for a car on larger wheels and even road noise from the rubber was hardly noticeable.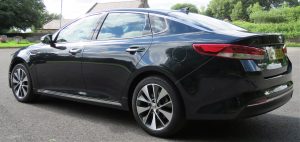 On the trip north we had no problem with luggage space either;  510litres of space in the huge boot was more than enough but if you need more the rear seats split 60:40 and fold flat. Okay, not as practical as a hatch, but the opening is wide enough to cause few problems.
There is also plenty of storage space around the cabin, both front and back with a cooled glovebox that is an absolute boon on longer journeys.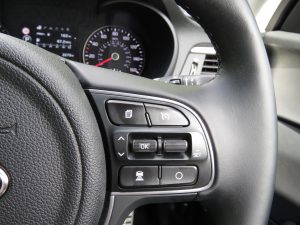 So, a great drive – especially motorway crusing – as well as generously appointed. However,  the Optima '4' is a tad on the expensive side and doesn't quite cut the mustard when compared to it's rivals from Skoda, VW and Ford so loses a star. However, go for the Optima '2' and you really have a bit of a bargain.
If refinement at a good price is what you are after and you don't mind that it is just a bit longer than your average supermarket parking-slot, then the Optima ticks all the right boxes.
VERDICT: ****
AT A GLANCE:
OTR Price: £28,895
Engine: 1.7 CRDi 16-valve diesel
Power:  139 bhp
Transmission: 7-speed auto DCT
0-62mph: 10.6 secs
Top Speed: 126 mph
Combined Economy: 64.2 mpg
CO2: 116 g/km