The Disco has been around since 1989 and with an all new Series 5 model due out later this year, there has to be a pretty compelling reason why punters should be considering this prestige SUV right now. Enter the special edition Landmark and Graphite models.
The costlier Landmark is the model I've been driving for the past week and although I say "costlier" it's actually around £4,000 cheaper than the equivalent HSE  Luxury – but with even more options loaded. So at £56,000 it may not be cheap but it is pretty good value.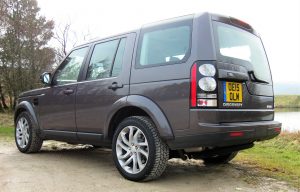 So, what are these extras that Land Rover is being so generous with? Well, there are the bright-finish roof bars for a start which follow the Disco's trademark stepped roof. There's black gloss vents, grill and wing mirror caps, Landmark badging to the side and rear and 20-inch 5-split spoke alloy wheels. There is also a lovely new copper-coloured paint called Zanzibar which is exclusive to the Landmark.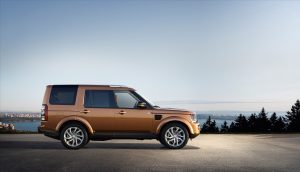 Very generous, you may think, but inside there is also the addition of Windsor Leather seats and the Extended Leather Pack throughout, furnishing the dashboard, door casings and fascia. The model I drove had an all-ebony finish inside but Almond is also available as well as Tan which is a first for the Discovery.
Altogether it's a very nice place to be. The stadium seating gives excellent visibility and it's almost as good for the people sat behind you. And the people sat behind them as the Discovery is a true 7-seater – the third-row pair of seats popping up out of the load space and providing all the comfort and space needed for 2 adults.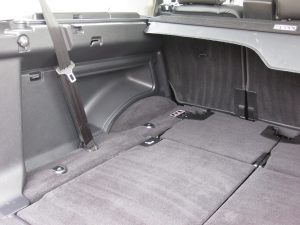 Engine choice is, er . . . well there isn't one. It's the 3.0 SDV6 diesel which is no bad thing as the 256bhp unit, mated to an excellent 8-speed auto box is more than equal to any task; a little rattly on start-up but once you're away it feels very refined and motorway cruising is a very civilised affair even at 70mph, only slight wind noise from the large wing mirrors being audible.
Okay, it doesn't quite ride the bumps as well as the Range Rover but it isn't far off and certainly nowhere near being a problem. Where it does differ from the Range Rover is the amount of body roll round the corners; again, not a problem and easily sorted by slowing down a little – it is after all a tall beast.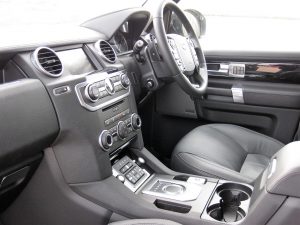 A trip to IKEA in Ashton to pick up a bookcase and some shelving units hardly tested the huge load area (1,124 litres in 5-seat mode) – the flat-pack boxes were swallowed easily and loaded even easier with the help of the split loading area. An absolute doddle which left us contemplating a trip back inside to buy more units – after all the Disco was going back to Land Rover in four days . . .
With the weather turning more wintry I was grateful for the spec of the Discovery – heated rear and front screens, heated seats which warm your back as well as your behind and the luxury of a heated steering wheel. All very welcome at 6 in the morning with an outside temperature of -2 degrees.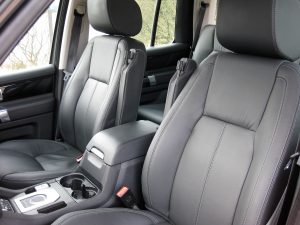 The infotainment system worked flawlessly with Bluetooth and DAB radio as well as digital TV available on my commute. The TV worked very well with the picture only visible when stationary but sound available at all times. There are also 2 screens in the front headrests for rear passengers and a pair of wireless headphones is provided. Couples with young children will, I'm sure, benefit enormously from this feature. The Meridian surround sound system is also very impressive.
If you're the type who gets giddy at the thought of pulling a small house around with you then you'll be pleased with the fact that the Discovery has been at the top of the Caravan Club's list of capable towing vehicles for the last nine years in the UK, recently taking a total of three awards as well as Overall Winner.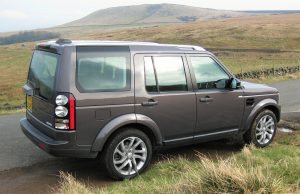 All in all, this last shout-out for the Series 4 Discovery is still a very strong contender for those wanting a true off-road SUV which can seat 7 passengers in comfort. The excellent Terrain Response system for all road surfaces remains one of the most comprehensive and easy to use systems available and with Hill Descent in the mix, you really can be confident no matter what the environment.
VERDICT: ****
AT A GLANCE:
OTR Price: £55,995
Engine: 3.0 SDV6 Diesel
Power: 256 bhp
Transmission: 8-speed Automatic
0-62mph: 8.8 secs
Top Speed: 112 mph
Combined Economy: 36.7 mpg
CO2: 203 g/km