OUR love affair with the Toyota Prius started way back in 1997 when the Mk.1 swept (almost) silently into the limelight and the future of the hybrid electro-petrol motor car was assured. Trees were hugged and we were all assured that the planet could indeed be saved from the gas-guzzling behemoths we had been driving previously. Hurray!
It was quite ugly though, as were the Mk.2 and the Mk.3.
And now we have the Prius Mk.4 and, at last, it is a beautiful sight to behold.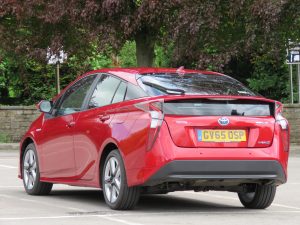 Okay, I've overdone it a little there. Truth is the Prius Mk.4 is still, er . . . different. From the front it's not so bad – quite Gerry Anderson in some respects – all pointy bits and sharp angles that make it look purposeful and sleek. The rear is still a bit of a dog's dinner though, much like the earlier models. It just looks awkward and appears to sit too high.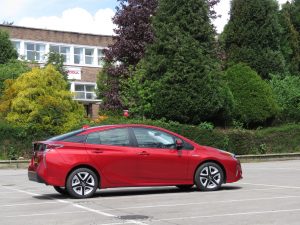 This is, of course, all in the name of aerodynamics and you can reassure yourself that if the boys and girls at Toyota could have found a more efficient and prettier way to cut through the air then they would have.
This Mk.4 Prius is the first model from Toyota to use the new Toyota Next Generation Architecture (TNGA)  which you will be seeing a lot more of in Toyota models. The advantages include more interior space, less weight and a stiffer bodyshell which leads to a much better driving experience than in previous models – and believe me, it works.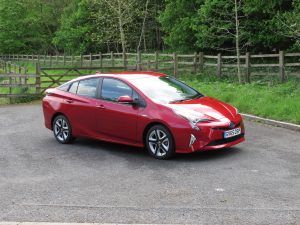 This Prius is a delight on the move, being smooth, quiet and very simple to drive. All of a sudden you are quite happy to just waft along to your destination as the Prius instils a sense of calm and well being. Want to go forward? Just flick the tiny gearstick right and down, press the accelerator and off you go. For reverse flick it right and up (Yes, I thought that too: why not up for forward and down for reverse?) Just add steering and you have a stress-relieving formula than can help bring back the joy of motoring. Indeed, most of the time, the only noise you'll hear will be coming from the tyres. Pot holes are dealt with very well and while there is not a great deal of feedback from the steering it is accurate and direct.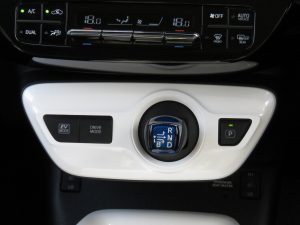 Just don't expect any Formula 1 type starts – the acceleration is linear and incredibly smooth. You won't notice any gear changes because there aren't any from the Electric CVT gearbox and you'll hardly notice when the 1.8 litre VVT-i petrol engine (carried over from the previous version, with a few refinements) kicks in either. It's no slow-coach though, 0-60 can be achieved in a smidge over 10 seconds.
So, are things just as calming on the inside? Well, yes they are if minimalist equals calm in your book. All-round visibility is excellent too and the new platform appears to have created much more legroom in the rear than on previous models. Boot space is also improved with 502 litres being available with the rear seats in position. Well above average.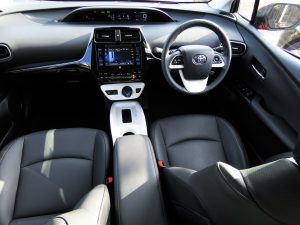 The centrally mounted instrument panel is still there but now with clearer graphics and the 7in Infotainment touch-screen – on this top of the range Excel model – includes Touch and Go Plus giving you DAB radio, CD player, Sat Nav, text-to-speech, email display, WiFi Hotspot, advanced Bluetooth and a colour rear-view camera.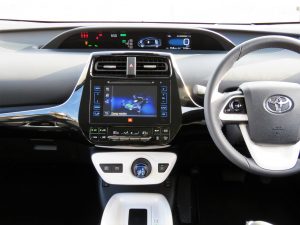 The only slightly annoying aspect is that the onboard computer insists on scoring your driving style for efficiency at the end of every trip and while my best score was 78 (apparently I should turn down the climate control) Mrs. B managed 80. Annoying. Oh, and who thought of hiding the buttons for the heated front seats behind the floating central console? You can just about spot them when seated but reaching them is a bit awkward. They look like an afterthought.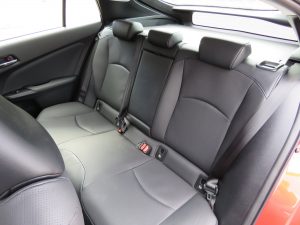 Quality of interior fixtures, however, is good – markedly better than the previous model – although the white plastic on the steering wheel and central console caused some raised eyebrows as some people thought it looked "cheap" and would be better in black or chrome. I quite like it as it has a futuristic look about it (Think 2001: A Space Odyssey) which is what I assume the designers were going for.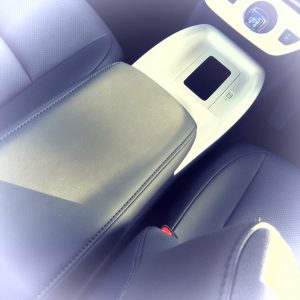 So, did I enjoy my week with the Toyota Prius? Yes I did and it would be a serious contender if I were looking for a spacious family hatchback in the £25,000 to £30,000 price bracket because it was just so easy to live with and with Toyota's reputation for build-quality I would think that would stay relevant for quite some time.
The fact that it is a hybrid is now a bonus rather than a compromise as it is such a pleasant car to drive and can return an incredible 85.6 mpg with a CO2 rating of just 76 g/km.
Now, is there a tree around here that needs a hug?
Verdict: *****
AT A GLANCE:
OTR Price: £27,945
Engine: 1.8 DOHC with VVT-i
Electric Motor: 71 bhp
Hybrid System Power: 121 bhp
Transmission: Electric CVT
0-62mph: 10.6 secs
Top Speed: 112 mph
Combined Economy: 85.6 mpg
CO2: 76 g/km