THE Vauxhall Astra has always been a bit of an "also ran" when it comes to family sized hatchbacks, losing out for years to the Ford Focus and other rivals such as the SEAT Leon and Skoda Octavia who have also offered better refinement, space and driving dynamics. So, this Mk.7 version needs to be a bit of a game-changer as far as Vauxhall are concerned. And it is.
The Mk.7 Vauxhall Astra is smaller and lighter than the previous version – it's all good though because it actually has MORE interior space and is more frugal than the Mk.6. It's also cheaper to buy too.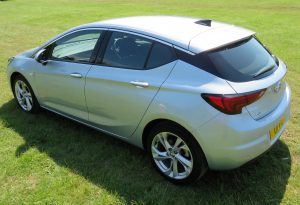 Engine choice is good with a range of both petrol and diesel engines to suit everyone – although the Essex boys will have to wait a little longer for the coupe VXR version which I'm sure will be soon.
Most popular engine is likely to be the 1.6 CDTi 134bhp "Whisper" turbo diesel with CO2 levels at only 103 g/km and capable of 72mpg, although the 110bhp version of the same engine brings the CO2 level below the magic 100 mark and is the most economic at 83mpg. There is also a 159bhp Bi-Turbo version available but whether this is worth the extra spend above the 134bhp single-turbo is debatable.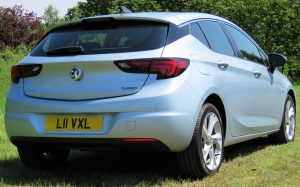 Petrol versions start with the 100bhp non-turbo 1.4 but you have to ask yourself why would you bother with that when you can have the 1.4 turbo 150bhp model which has the same 54mpg and 128g/km CO2 but with a 0-60 time of just 7.8 secs?
There is also a cracking little 3-cyclinder 1.0 petrol turbo giving 104bhp and 64mpg while pushing out only 99g/km of CO2. Spec the optional auto box and it's even cheaper to run. A 125bhp 1.4 and a 200bhp 1.6 complete the petrol line-up.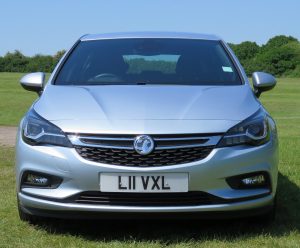 Trim-wise the Astra starts at Design then onto the Tech-Line, Energy, SRi and finally the leather-clad Elite. Both Sri and Elite are available as "Nav" which gives you SatNav as standard.
I've been driving the SRi Nav 1.4i 150bhp Turbo model with the added options of Metallic Paint (£545), Intellilux LED Matrix Headlights (£995) and Electronic Climate Control (£395) taking the standard OTR price from £19,595 to £21,530, although I'm sure there will be deals to be done.
From the outside the new Astra is certainly an improvement on the older model, looking sharper and sleeker with a pleasing rake to the roofline. The 17in 5 Twinspoke alloys set it off nicely and chrome-effect upper window trim adds positively to the overall look.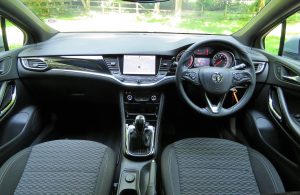 Inside is probably where the biggest improvement has been made with a real feeling of quality about the whole cabin. Plastics have gone up a notch or two and the soft-touch, textured dash surrounds an impressive 8in. Infotainment touch screen which is bright and colourful with large icons which were easy to access when on the move. The Sat Nav is one on the best I've used recently with an uncluttered screen and intuitive command inputs.
Vauxhall's excellent OnStar system is standard on the SRi which extends the connectivity of the vehicle to not just a WiFi Hotspot but also offers a range of call-centre services from remotely checking the status of the vehicle to creating a sat nav route for you and uploading it to your car. At the moment, this is unique to Vauxhall but other manufacturers are sure to catch on.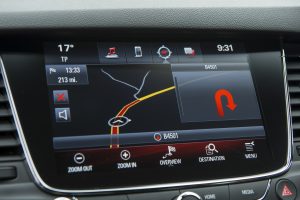 Sport seats in the SRi model are supportive enough if a little on the firm side but finding a good driving position is a doddle with plenty of adjustment on the seat and steering column. Likewise, visibility is very good and although the rear windows may appear a little narrow, it never caused any concern.
The boot space of 370 litres is good for this class and is helped by having quite a low floor which may, however, hinder you getting heavier items in there.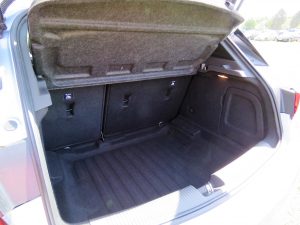 Out on the road the Astra gets even better with very good ride comfort which handles the lumps and bumps very well; probably due to the SRi no longer having stiffer or lower suspension – sportiness is now purely down to wheel and tyre combinations and the 17-inchers appear to be a perfect compromise between comfort and sportiness.
The six-speed box shifts smoothly and the 150bhp 1.4 engine can also shift too – especially if you press the "Sport" button to sharpen throttle response. It sounds surprisingly good too at high revs with a subtle growl.
Handling is improved and that 200kg weight-loss over the last version really shows as there is very little body roll around corners and the car feels lively enough to satisfy with the steering being the only slight disappointment with little feedback. Again, hit the "Sport" button and this is somewhat improved.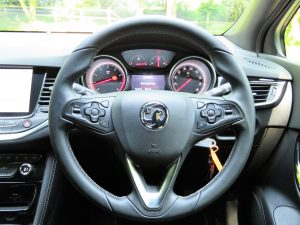 Noise levels on the motorway are well within acceptable levels and while not as quiet as a VW Golf you will be paying substantially less for a car which is probably better equipped – so no complaints there. The ride overall is very assured whether pootling around town or taking a fast A-road. The new Astra really does feel very solid. It certainly appears to have been very well put together with no rattles or creaks whatsoever.
Overall, a vast improvement on the old model and now a real contender to take the Ford Focus's crown as the best mid-range family hatch. It has more space for rear passengers than the Ford and the interior now looks superior too. The Focus has always had the better driving dynamics but with the Astra's weight-loss and new engine range it's now closer than ever before.
VERDICT: *****
AT A GLANCE:
OTR Price: £19,595
Engine: 1.4 Turbo Petrol
Power: 150 bhp
Transmission: 6-speed Manual
0-62mph: 7.8 secs
Top Speed: 134 mph
Combined Economy: 51.4 mpg
CO2: 128 g/km