AS luxury SUVs go, the fourth-generation Lexus RX450h is probably the most striking of all with it's huge open-mouthed grill. The new origami-inspired look may not be to everyone's taste but it certainly turns heads and I found that the majority of comments made about the new look were positive.
Introduced late in 2015 the new RX450h improves on the outgoing model in every department as well as being longer, wider and lower it also boasts higher levels of comfort and luxury.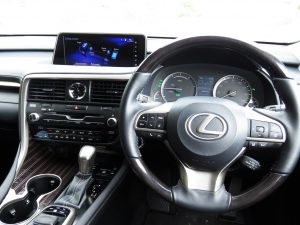 There are just the two engines available, a 2-litre, 4-cylinder petrol turbo model in the RX200t or the more popular (especially with the company driver) 3.5 V6 petrol which also comes with 2 electric motors driving all 4 wheels in the RX450h.
Step up to and into the top-of-the-range RX450h Premier and you get an immediate feeling of great opulence. It really is a classy interior from the soft black leather to the wooden centre console trim which has been laser-etched by craftsmen who usually spend their days working on the top spec pianos at Yamaha. It also has a lovely analogue clock placed centrally in the dash.
The infinitely-adjustable seats are very comfortable with the front two being both heated and – for those balmy, summer days – ventilated. A 15-speaker Mark Levinson audio system is fitted, along with a wireless smartphone charger, colour head-up display, dual-zone climate control and the biggest infotainment screen I've ever seen at 12.3in. Navigating around the screen is a little awkward though using the mouse-type controller on the centre console. It is probably less awkward for left-handers though.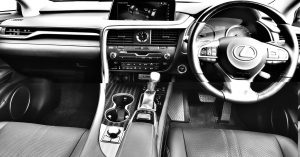 A good driving position is easy to find and on a 2-hour trip up to Lake Windermere on a hot, sunny day I arrived feeling fresh with no aches or stiffness at all. My 3 passengers all felt the same and were impressed by the level of comfort and space both in the front and the rear. Conversations were easy even at 70mph with very little wind or road noise which all added up to a stress-free trip.
Fuel consumption, at an average of 36mpg was nowhere near the claimed 51mpg which was a little disappointing considering the amount of time the RX was running on battery power as the petrol engine will stop and start at any speed depending on a variety of conditions.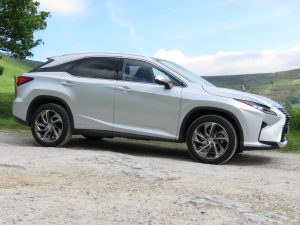 Pushing on in the RX450h, however, shows up some of its shortcomings dynamically as it never feels quite as sporty as the Range Rover Sport or Audi Q7, for example and I'm sure the new Jaguar F-Pace will shine where the RX450h merely appears quite good. There's nothing particularly wrong with the way the Lexus gets around A-Roads – the steering is well weighted and body roll isn't a problem – it just feels more suited to the long-haul motorway trips whereas rivals can excel in both conditions.
All that may not bother company car drivers though who will only face a 20% Benefit in Kind charge as opposed to over 32% for the Audi Q7. The equivalent Audi can be had for around £4,000 cheaper though.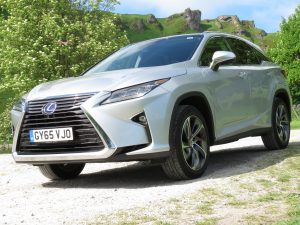 It's a pity that Lexus haven't seen fit to make the RX a true 7-seater as some rivals have. At just short of £58,000 you would be right to expect an extra couple of seats if needed and I'm sure the addition would have made the RX much more appealing to many people.
All in all, impressive as the RX450h is, it falls a little short of the mark in this price bracket. I don't mind paying a premium for cutting edge technology and while rolling silently off the driveway feels rather special, averaging 36mpg doesn't make that extra investment in the tech worthwhile. However, if it is your Green credentials you wish to boost and not your bank balance then the Lexus makes more sense as it emits just 127 g/km which is way lower than diesel driven rivals.
VERDICT: ****
OTR Price: £57,995
Engine: 3.5 V6 24-Valve DOHC with VVT-i
Hybrid System max torque: 335 Nm @4600 revs
Transmission: Electric CVT
0-62mph: 7.7 secs
Top Speed: 124 mph
Combined Economy: 51.4 mpg
CO2: 127 g/km