I had a bit of a fight on to drive the Vauxhall Adam as Mrs. B kept fawning over it. She thought it was the cutest car she'd seen for a while and even favours it over the ever-green Fiat 500.
I have to agree that it is a smart looking small car and I would say equal to the little Fiat from the outside. It has a non-threatening, curvy-cutesy look about it even with the sharper styling of black roof and wing mirrors.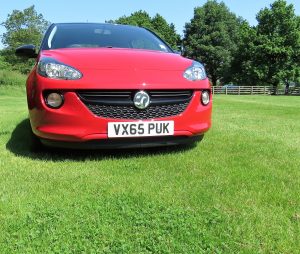 Eventually I got to sit in the driving seat myself and was impressed by the quality of fit and finish in there. It was better than I had expected for a small city car and I particularly liked the smart dash with its sporty twin-binnacles and retro-looking needles which are neatly detailed in a bright scarlet. Again, on par with the little Fiat but not quite up to Mini standards where the quality of materials is a step above (as is the price, of course).
The rest of the sweeping dash looks quite good too with plenty of chrome trim and the bright red body-colour running through the centre. The multi-function steering wheel itself if quite chunky and feels good in the hands, as does the equally chunky gear knob.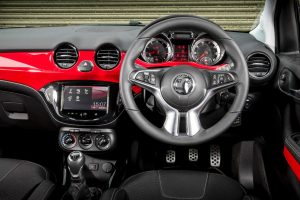 Seating adjustment is better than average for a small city car and it is easy to get a good driving position with height and reach adjustment on the leather-clad steering wheel.
While space in the front is more than adequate, it's no surprise that rear passengers will find things a little cramped back there. The rear seat bases feel a little on the small side too, perhaps being designed with children in mind rather than adults. Access to the rear seats is better than I expected if still a bit awkward. Fastening a child into a child seat back there shouldn't be too much of a chore. It's worth noting that the ISOFIX child seat restraint system also incorporates a top tether.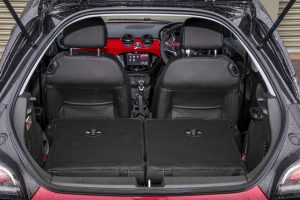 Boot space is tiny at just 170 litres – 15 litres less than the Fiat 500 – but drop the 50:50 split rear seats and you have a useful  663 litres.
Infotainment is taken care of with the Intelilink system which is normally a £1,845 option but standard on this Energised model I've been driving.
Choose the Energised model and you also get 17in gloss black alloys, black roof, dark tinted rear windows, LED daytime running lights, black Morocana seats, air conditioning, USB connection and sport pedals.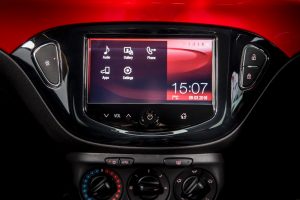 With the Energised model  you're stuck with the least-powerful 1.2 engine with just 69bhp and a 0-60 time of almost 15 seconds – which is a shame when Vauxhall also provide the 90bhp 1.4 and the 110bhp 1.0 EcoFlex engines in other Adam models.
However, the Engergised model is based on the basic Adam Jam with a lot of the most popular options thrown in for a decent price – so you may have to sacrifice performance for style here or pay the extra cash for a different model with paid-for options.
Out on the road that 69bhp engine surprises with it's willingness around town. It certainly feels nippy and the good visibility all round helps in tighter spots. Steering is lovely and light and there is even a City Mode button to lighten it up even more when parking.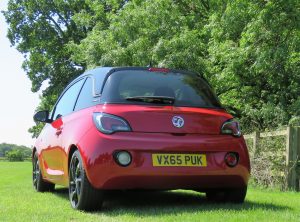 It's out on the faster A-Roads and Motorways which begin to show the engine's shortcomings. Keeping up with faster moving traffic is a bit of a chore – especially on the hills where you need to keep the revs high and be ready for a change-down through the gearbox. The 1.2 unit is a little noisy too at speed and this could be quite wearing on a long journey. I found myself hankering after the 1.0 EcoFlex unit which is superior in all ways and even the 1.4 unit whose extra 20bhp would have been most welcome.
Other than the engine noise, the Adam rode along very nicely with hardly any wind noise or other extraneous sounds getting into the cabin. The 17in wheels don't appear to spoil the ride either as bumps and lumps seem to be dealt with well. At speed, however, the light steering becomes a little too light and feedback through the wheel is almost nil.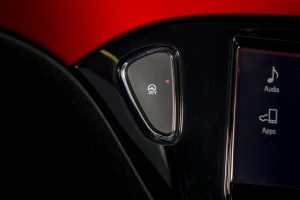 The sound-system impressed as did the ease of use of the steering wheel controls and Bluetooth music streaming. Cruise control is also a bonus on a car at this price level and the system even includes the useful speed-limiter function.
All in all the Vauxhall Adam Energised is a tempting proposition if you are after a well-specified city car that is also eye-catching.  At £13,705 on the road it's not the cheapest city car – even with the added extras – but it is still good value and, at the moment, can be had on Flexible Personal Lease for just £139 a month for 48 months (with advanced rental of  £3,058). Just don't let Mrs. B know . . .
 VERDICT:  *** (and a half)
OTR Price: £13,705
Engine: 1.2i
Power: 69 bhp
Transmission: 5-speed Manual
0-62mph: 14.9 secs
Top Speed: 103 mph
Combined Economy: 53.3 mpg
CO2: 125 g/km