Subaru Levorg: When a lack of choice can be a good thing
THE Subaru Levorg is, apparently, a spiritual replacement for the Subaru Legacy.
"Spiritual"? you may ask. Well, yes because it's a replacement for the Mk.4 Legacy, not the Mk.5 which was not very popular. The Mk.4 left a much better . . . well, legacy.
The Levorg sounds like a bit of a mixed bag – replacement for the last but one model Legacy, a boxer engine mated to a CVT gearbox, estate body styling and just the one engine and one trim level available in the UK.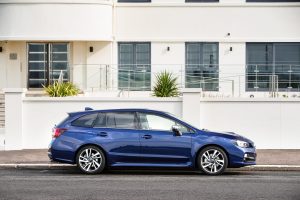 Lack of choices can put some people off when choosing a new car but the good news is that Subaru have made all the difficult decisions for you and the result is a surprisingly good package.
That single "GT" level of trim, for instance, gives you a Lineartronic CVT automatic gearbox, an all-new 1.6 litre DIT Boxer engine with 168bhp on tap, all-wheel drive with active torque-vectoring and 18in alloys all in a family-sized tourer that definitely leans towards "sporty".
There are also plenty of creature comforts including leather upholstery stitched in blue, sports front seats, auto lights and wipers, keyless access and push-button stop/start, dual zone heating, heated front seats, Bluetooth connectivity, cruise control, a rear parking camera and a 7in infotainment system that is an absolute joy to use. There are also four USB connectors – 2 front, 2 back – and dual 12v sockets so the kids shouldn't need to moan about not being able to use/charge their mobile devices.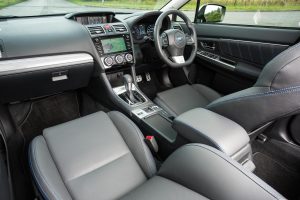 And how does it look? Well I would say imposing rather than sporty. It does have the front-end of the WRX STI with that huge bonnet scoop but the rest is more understated and family-friendly with 4-doors and a huge boot space (522 litres, or 1,446 litres with the rear seats folded).
The largish side sills add to the sporty look as do the dual exhausts at the rear end and the shark-fin aerial.
The interior is a million miles away from the rather dour Subaru interiors of old and is a pleasure to sit in. The driving position is easy to adjust for all shapes and sizes and all the buttons and switches are easy to hand and feel just as good as anything provided by the Germans and being a Subaru you know things will be as robust as an ironclad.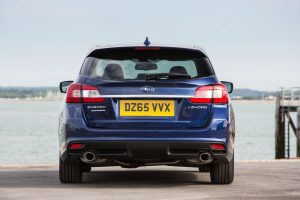 Visibility all round is very good – even the narrowish rear window doesn't cause any problems – and besides, the Levorg comes with the new 'Subaru Rear Vehicle Detection' system (SRVD), which alerts drivers to vehicles behind the Levorg. This includes Blind Spot Detection and Lane Change Assist, which warns drivers of fast-approaching vehicles behind when the driver indicates to change lane. There is also Rear Cross Traffic Alert, which detects vehicles passing behind the Levorg when reversing out of a parking space. All useful tech.
Interior materials feel very good and look just as good too – everything is finished to a high standard with just the right amount of chrome trim set into the doors and steering wheel and with some faux-carbon-fibre inserts in the dash giving it some sporting credentials. It's one of the best cabins I've sat in for a while and the all-new 7in touchscreen Infotainment system with Sat Nav makes it even better as it is both bright, clear and incredibly intuitive to use thanks to the screen icons being labelled. Lexus, please take note!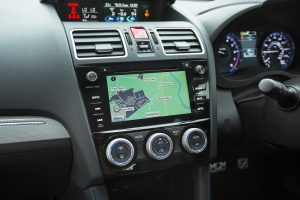 I'm delighted to say the pleasure continues when you start the engine and get out on the road. The 1.6 Direct Injection Turbo (DIT) Boxer engine has virtually the same power as Subaru's 2.5 naturally-aspirated engine, but crucially is 36% lighter and has more torque. The 0-60mph sprint takes 8.9 seconds – but it feels quicker.
The Lineartronic CVT gearbox is simplicity itself to use and provides almost seamless gearchanges. The engine is so flexible throughout the rev range that you will hardly notice any of those gearchanges anyway, just lovely, measured acceleration that won't snap your neck back but is certainly quick enough.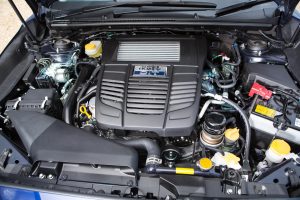 Handling, as you would expect from a permanent AWD vehicle, is very good indeed. Push the Levorg around some twisty A-roads and it feels very composed with body-roll being controlled very well indeed for a car which is set slightly higher than most – not SUV-high but enough to make getting in and out of it a doddle.
It rides rougher sections of road very well too with only the deeper pot-holes making any sort of impression.
Steering has enough feedback to make the Levorg enjoyable and is weighted just the right side of "too light" that even low-speed parking manoeuvres shouldn't have you breaking out into a sweat.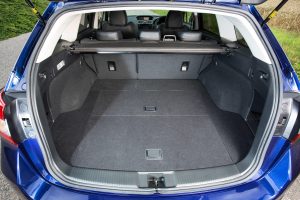 The only thing that may have you breaking out into a sweat is the running costs of the Levorg. It's combined fuel efficiency of just 39.8 is nothing to write home about, neither is a CO2 rating of 164 g/km and you just can't help thinking it would make such more sense to have a modern diesel engine in there. But that is not how Subaru do things and if a Subaru is what you want then the Levorg certainly has a lot to offer.
I was genuinely impressed by the refinement of the Levorg – both on the road and in the fit and finish of the interior. It's immensely practical as a family car too and I warmed to it's charms immediately. The Subaru Levorg has been one of the stand-out pleasant surprises of the year for me as it's a car you will genuinely look forward to driving on a day-to-day basis – I'm just not so sure I could live with those costs.
VERDICT: ****
Subaru Levorg GT
OTR Price: £27,495
Engine: 1.6 DIT Boxer (petrol)
Power: 167 bhp
Transmission: Six-speed Lineartronic CVT
0-62mph: 8.9 secs
Top Speed: 130 mph
Combined Economy: 39.8 mpg
CO2: 164 g/km