Brilliant spec but sober looks in Suzuki's latest super-mini
THE Baleno is the latest offering from the Suzuki stable and sits above the Suzuki Swift in terms of size and just below the Vitara and S-Cross.
It features an all-new platform and the second incarnation of Suzuki's excellent Boosterjet petrol engine which was first introduced to the Vitara S in January of this year.
Now, I've always had a soft-spot for Suzukis since owning one of their original Swift GTi models back in the late 1980s – it had the smallest, most powerful 16-valve engine available at the time with 1.3 litres and a massive (for the time) 101 bhp. It weighed as much as a gnat and changed direction like one too.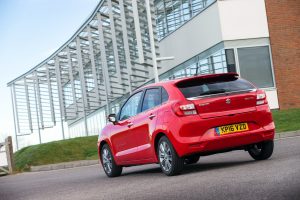 It was also very cute which, unfortunately I can't say about the Baleno. It looks too bland and while the PR team at Suzuki tell me it employs "Liquid Flow" design themes both outwardly and inwardly I can't really warm to it from the outside at all as it appears devoid of any character – especially from the back where it could be mistaken for any mid-spec hatchback from the last couple of decades.
The front is better where you can see the "Liquid Flow" from the headlights dropping down into the grill and it is a bit "Smiley" but overall it lacks style which is a shame because the new Vitara has loads of it.
It's an even bigger shame when you realise just how good the Baleno is to drive and just how well equipped it is.
Even the entry-level SZ-T 1.0 Boosterjet model (£12,999 OTR) includes 16in. Alloy wheels, air-con, Sat Nav, DAB Radio with USB and Bluetooth Connectivity, Privacy glass and front electric windows.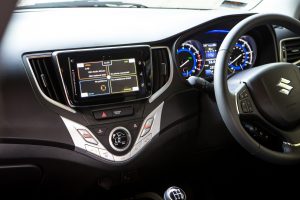 The SZ5 model (£13,999 OTR) which I have been driving, adds auto Climate Control, rear electric windows, 4.2in central trip display, LED rear lights and, astonishingly at this price point, Adaptive Cruise Control and Radar Brake Support. Both come with a 5-speed gearbox but you specify a 6-speed auto on the SZ5 for another £1,400.
The "Mild Hybrid"1.2 Dualjet comes in at £13,499 and is manual only.
Inside, the Swift is very easy to get along with – again, it's not the most inspiring of places of to be but it is comfortable and well laid out. You won't find any super-minis with quite as much room as the Baleno both up front or in the rear. The rear, especially, is surprisingly good with excellent leg room and enough head room for the vast majority.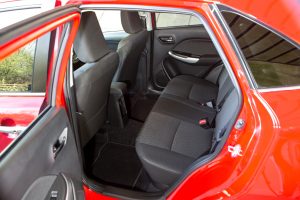 Seats are a little on the firm side but hold you well and it's easy to get a good driving position. All-round vision is perfect for those trips around busy towns and you needn't worry about boot space either as the Baleno has 320 litres available with the rear seats up and a whopping 756 litres with them folded down. There is no lip when the seats are folded either. Need a deeper boot? Just lift out the false-bottom panel and hey-presto. Suzuki have built a lot of practicality into the Baleno that you just won't find elsewhere.
The Baleno reminded me a lot of my old Swift GTi out on the road – it's nimble, responsive, rides well over pot-holes and will put a smile on your face – the little 1.0 litre, 3-cylinder, turbo-charged Boosterjet engine is a gem in virtually any situation. It packs 111bhp and sounds half-decent too with an audible rasp from the exhaust that isn't sewing-machine-like at all. Keep it revved and you'll marvel at the way the Baleno can easily keep up with (and occassionaly overtake) virtually anything else on the road.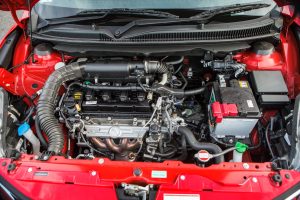 As you would expect from a built-for-the-city Super-mini, the steering is a little light at higher speeds but nothing to worry about at all. It actually feels very stable at motorway speeds and you'll notice the noise from tyres and airflow before any noise from the engine. It's may be a little noisier than the equivalent Fiesta but there's very little in it.
Longer trips would be a doddle in the Baleno – and the adaptive cruise control makes it even more so.
So, for less than £14,000 you can get a spacious, very well equipped Super-Mini that is genuinely fun to drive and will return a combined mpg of 62.7 while emitting a lowly 105g of CO2. It's more practical than it's smaller sibling the Swift but lacks its physical charm.
However, if you can see past the rather dull exterior you could pick yourself up a cracking little motor that is practical enough to be labelled a small family car and fun enough to drive for practically anyone.
VERDICT: ****
Suzuki Baleno SZ5
OTR Price: £13,999
Engine: 1.0 Petrol
Power: 111 bhp
Transmission: 5-speed Manual
0-62mph: 11.4 secs
Top Speed: 124 mph
Combined Economy: 62.7 mpg
CO2: 105 g/km