The Toyota Avensis Touring Sports – a family Estate you choose with your head rather than your heart
The Toyota Avensis Touring Sports is Toyota's large, family-friendly estate car that – just like it's smaller sibling, the Auris Touring Sports – shouldn't really have the word "Sports" anywhere near it.
It's certainly large enough and comfortable enough inside to take the whole family on a tour but if you expect a sporty drive then think again because the Avensis is more about the sensible things in life like comfort, reliability and good old-fashioned practicality.
Take its looks for instance – it certainly doesn't scream sporty at you; It's more a half-whisper that doesn't really attract much attention at all and when Toyota updated the looks in 2015 – adding LED headlights and some other styling cues – you really get the impression they didn't want you to notice – and I don't think many people did.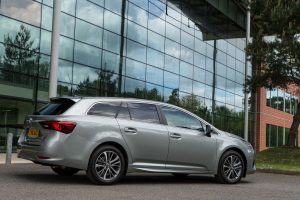 Toyota have also changed the number of engines available in the Avensis to three. Yes, just three. There is a 1.8 petrol unit and two new D-4D diesel engines – the 1.6 and the 2.0 litre. If you want auto transmission you will have to opt for the already rather thirsty petrol engine as it's simply not available on the diesel versions – a rather alarming oversight for a car that is all about refined, long-distance cruising.
Spec-wise things begin to look up as all models are well equipped. The entry-level Avensis Touring Sports starts with the Active model (from £20,015) which includes front and rear LED lights, a pre-collision system, cruise control and adjustable speed limiter, Bluetooth connectivity, hill start assist, electronic parking brake, manual air-con, 4 electric windows and a TFT multi-information display.
As you can't specify the best engine – the 2.0 diesel – on the Active model you'll be wanting to step up to the Business Edition (from £23,245) which adds such goodies as 17in alloy wheels, automatic wipers and headlights as well as Toyota Touch 2 with Go Navigation and reversing camera.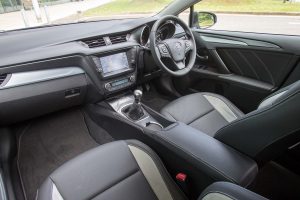 We then have the Design model (from £24,045) with 18in alloys, leather seats with Alcantara inserts and rear privacy glass and the Business Edition Plus (pictured) which includes prettier alloy wheels, cornering lights, Smart Entry and push-button start for a starting price of £25,045.
However, I've been driving the £27,510 Excel version with the 2.0 litre diesel engine. This comes with a full leather interior with electrically adjustable driver's and passenger seat with memory function. There is also an excellent panoramic sunroof, 10-speaker audio (instead of 6-speaker), heated front seats and voice recognition. It's a little expensive though for the added features and I would say the Business Edition is the sweet spot as it's a lot of car for just over £23,000.
And when I say "a lot of car" I mean it literally too. Up front and in the rear no one will want for space in the Avensis and it compares well with the likes of the Ford Mondeo Estate and the Mazda 6 Tourer with perhaps the Skoda Superb Estate being slightly better.
The interior is certainly very well put together and feels like it will survive the test of time. Some plastics on the lower-end models are a little scratchy but most surfaces are pleasantly tactile and don't give cause for complaint. There is plenty of space for storage in the door bins and a huge bin under the central armrest. The glove box is quite cavernous too although if you have a bottle in the centre console you will find your elbow knocking into it every time you change to 2nd or 4th gear.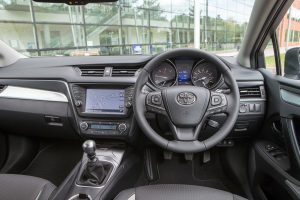 The 8in touch screen, from where you control sat nav and other infotainment, is nice and clear but has a definite lag when touching the icons – which frustrated my son no end when he was trying to set up his iPhone on Bluetooth during his trip back to university.
What he couldn't complain about though was boot space as all his paraphernalia – including a computer tower, two 21in monitors, an electric guitar and amplifier, not to mention a couple of weeks worth of washed and ironed clothing and bedding, lots of books and various storage boxes that I daren't even look in – fitted into the cavernous 543 litre boot without even obscuring the rear view. He was impressed that we didn't need to drop the rear seats – which would have provided 1,609 litres of total space.
The trip down to Nottingham showed the Avensis Touring Sports at its best as the 143bhp engine proved to be an excellent cruiser with very little noise entering the cabin. The 6-speed manual gearbox felt smooth enough and the steering was light and direct with enough feedback to make motorway cruising stress-free.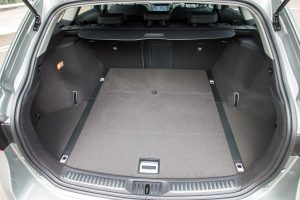 For the return journey I took the cross-country route which meant plenty of A (and sometimes B) roads. This did rather show up the Avensis's failings when it comes to that soft suspension setup that works so well on smoother, less twisty roads and motorways. The car tends to wallow a little around corners – much more so than the Mondeo – and understeer is also more pronounced but still nothing to worry about.
What I did find is that I had to change gear quite a lot as the 2.0 diesel unit didn't feel as flexible as I had hoped and quickly lost momentum when slowing for tighter bends or hitting the steeper climbs. It brought home the fact that the Avensis Touring Sports is not a driver's car but rather a car for comfortably carrying passengers and large loads greater distances.
VERDICT: ***
Toyota Avensis Touring Sports Excel 2.0 D-4D
OTR Price: £27,510
Engine: 2.0 turbo diesel
Power: 143 bhp
Transmission: 6-speed Manual
0-62mph: 9.8 secs
Top Speed: 124 mph
Combined Economy: 61.4 mpg
CO2: 120 g/km