If you're feeling flush and fancy a luxury SUV then the new Volvo XC90 should definitely be on your list. Possibly at the top . . .
VOLVO have a knack of getting things right when it comes to styling these days. You only have to look at the simple, sweeping lines of their V40 family hatchback or the stunning new S90 saloon and V90 Estate to know that Volvo are at the top of their game and capable of taking on the German brands like never before.
Leading the way and right at the top of the Volvo price-list is the 2nd generation XC90 – a large, luxury SUV that appears to have swept all opposition aside in the last couple of years – even giving the mighty Range Rover Sport a run for its money and out-refining the very refined Audi Q7. It's list of awards and "Best in class" trophies since its introduction in 2014 is impressive and after living with one for a week and I can see why it is so well regarded.
Replacing the 1st generation XC90 that has been with us since 2002, this new model builds on the former's reputation for innovative safety features, user-friendliness, and unshakeable reliability.
From the outside it looks very smart indeed. Clean lines and uncluttered panels give way to those "Thor's Hammer" LED headlights at the front and the tall, scythe like rear light clusters that seem to stretch almost up to the roofline. Dual chrome exhausts give the rear a hint of sportiness and I like the way the wing mirrors are set quite far back on the doors to give better forward vision.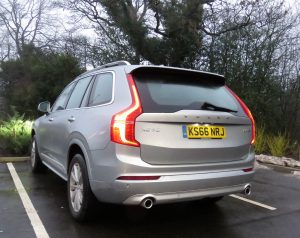 The 19in alloy wheels look very smart indeed and are standard across the range.
If the exterior can be classed as sophisticated minimalism, then the interior takes it to a new level where we find ourselves cooing in approval at the loveliness of what surrounds us.
Your eye is immediately drawn to the large, portrait infotainment screen (which Volvo call the Sensus Interface) in the middle of the dash. There is a single rotary control beneath it for controlling your media and that's about it for buttons – apart from a couple of others for defrosting the car.
Between the seats the centre console has a lovely, stubby gear-changer in front of the "jewelled" starter switch and drive-mode selector. It's a subtle piece of bling that perhaps only Volvo could get away with.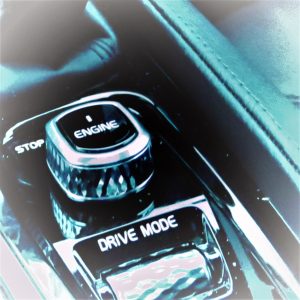 The interior is of exceptional quality as well as space and even the 2 seats in the third row would be comfortable for adults  on extended journeys as your knees aren't forced under your chin like in some rivals. Access to the third row is also very good as the rear seats fold and slide well out of the way.
Boot space, as you would expect, is cavernous at 451 litres with all the seats upright. With all seats down it reaches 1,951 litres – or small van size . . .
The list of standard equipment fitted to every XC90 is impressive and includes Sensus Connect  which allows you to access a range of web apps and browse the internet; Sensus Navigation – full European mapping with traffic information and lifetime map updates; Nine-inch centre console touch screen; Volvo On Call with app – available for your smartphone, smartwatch or iPad, this enables you to control various car functions remotely, and also acts as an emergency and tracking service; City Safety – includes pedestrian, cyclist and large animal detection, and front collision warning with fully automatic emergency braking, including at junctions (a world first).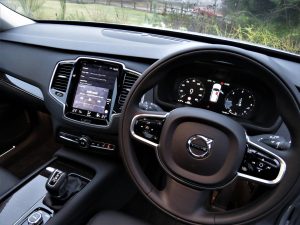 There is also Pilot Assist and Adaptive Cruise Control – this semi-autonomous drive technology takes care of the steering (up to 80mph), accelerator and brake inputs required to keep the car within lane markings and at the desired cruising speed; Run-off road protection – automatically tightens the front seatbelts should the car inadvertently leave the road, while front seat frames with a collapsible section (another world first) reduce vertical forces to help prevent spinal injuries; Eight-inch active TFT crystal driver's information display; Seven seats – three second-row individual folding and two third-row individual folding seats; Leather-faced upholstery; Heated front seats and 19-inch alloy wheels.
Now, with that lot on board you wouldn't think it possible to find futher options – but think again – my entry-level XC90 Momentum has a starting price of £47,350 but came with almost £9,000 of added options – including Park Assist Pilot, 360-degree camera, Panoramic sunroof, heated front screen, multi-colour theatre lighting, Apple CarPlay, retractable towbar and a premium metallic body colour.
The mid-spec R-Design starts at £50,950, while the top-spec Inscription starts at £52,050.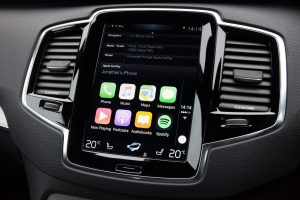 Choice of engines is limited to the excellent 2-litre, 4-cylinder D5 diesel  with 235bhp, the T6 2-litre petrol with 320bhp or the T8 Twin Engine which, as the name suggests adds a 87bhp electric motor to drive the rear wheels while the petrol engine drives the front wheels.  This is a plug-in hybrid that will give you around 25 miles on electric charge alone and has a lowly, tax-beating CO2 figure of just 49g/km.
Volvo have been brave in opting for powerful, 2-litre units instead of the 6-cylinder, larger units that many people considering an SUV of this size may expect. It's paid off though as I found the D5 diesel to be brisk and very quiet on the move – a 0-60mph time of just 7.4 seconds feels about right and cruising is a sedate affair as that 8-speed automatic gearbox (compulsory on all models) performs very well with no jerkiness even under heavy acceleration.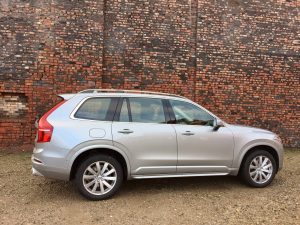 Imperfect road surfaces go virtually unnoticed in the XC90 and it also coped well with the recent snowy days we've had – getting me from the Peak District to Oldham without any drama where the heated seat and steering wheel came in very handy too!
The XC90 is well deserving of all its plaudits and even at this price stacks up well against similarly-specified rivals. Yes, it's a lot of money but if you're in the market for a luxury SUV that seats 7 in comfort then the XC90 needs to be the top of your list.
VERDICT: *****
AT A GLANCE: Volvo XC90 D5 Power Pulse Momentum
OTR Price: £47,350
Engine: 2.0 diesel
Power: 235 bhp
Transmission: 8-speed Automatic
0-62mph: 7.4 secs
Top Speed: 137 mph
Combined Economy: 49.6 mpg
CO2: 149 g/km