The Golf R-Line fits neatly between the Golf GT and the uber-quick Golf R – of which it does a pretty good impression – from the outside at least.
It may not have the horses under the bonnet or the quad pipes at the rear but the body kit and the R-Line badge on the front grill may be enough to fool most. The £995 you will pay extra over the Golf GT model gives you chunkier front and rear bumpers, a rear diffuser, side skirts, bigger air intake and, of course, a rear spoiler. 18in 'Serron' alloy wheels get you even closer to the look of the R.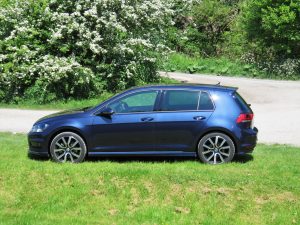 Available with just 2 engine choices – the 1.4 TSI petrol or the 2.0 TDI diesel – both put out 150 bhp. My 5-door TDI version also came with Volkswagen's excellent 6-speed DSG gearbox. Bizarrely, if you want the auto box you have no choice but to pay extra for the 5-door model. DSG is not available for the 3-door.
Driver Profile Selector is standard on the R-Line which offers 4 modes: Eco, Normal, Sport and Individual but my car also had the optional Dynamic Chassis Control fitted (£830) which offers a fifth option of 'Comfort' which softens up the suspension somewhat and works reasonably well on less than perfect surfaces – just don't expect exec levels of comfort as the R-Line is, after all, a sport model.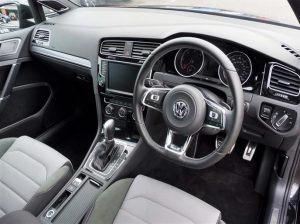 Inside it is typically Volkswagen with high quality everywhere you look, from the soft-touch textures to piano-black trim and alloy foot pedals. The "R" at the bottom of the leather and chrome-trimmed steering wheel reminds you that you driving something a bit special, as do the two-tone seats fitted with 'San Remo' microfibre outer trims.
'Climatic' semi-automatic air conditioning comes as standard but if you want dual-zone automatic climate control then you will have to pay extra – a little mean for a car that has a starting price, on the road, of £27,735. It does come with a host of other goodies though, including Adaptive Cruise Control including Front Assist, Driver Alert System, Panoramic sunroof and parking sensors front and rear.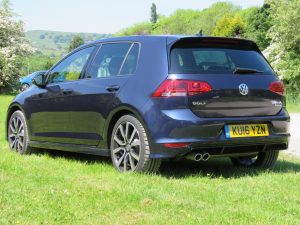 Also included is the Discover Navigation system with 5.8-inch colour touchscreen, preloaded European navigation data with three route options (fast, short, eco). DAB digital radio receiver, dash mounted CD player with eight speakers, SD card reader, aux-in socket for connection to an external multimedia source, MDI (Multi Device Interface) with iPod connection cable and, of course, Bluetooth telephone preparation.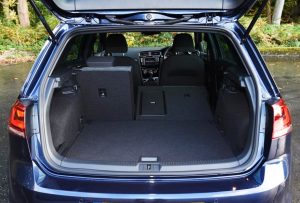 Rear passengers are well catered for space wise with plenty of headroom for those over 6ft and room enough to tuck your feet underneath the seat in front comfortably enough. A 380 litre boot should be more than adequate for most needs and the lip is quite low for easy loading.
On the road the Golf R-Line is typically, well . . . Golf. It feels taught whether motorway cruising or A-road storming with very good levels of grip on all but the most pock-marked of surfaces.
The Adaptive Cruise Control, mated to the DSG gearbox, proved to be a big bonus on a long trip to Luton and back – surprisingly being just as useful on fast A-roads as it is on the motorway, bringing you to a smooth halt at traffic lights (so long as you're not first in the queue!) and then pulling away steadily as the car in front moves off. Very relaxing, once you learn to trust it completely.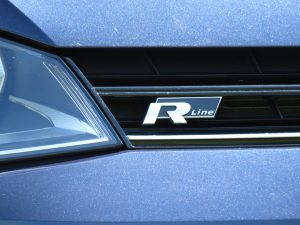 The smooth 2.0 TDI engine revved smoothly and was pretty quiet at anything above idle, it also proved very frugal as I averaged over 65 mpg over the week which took in all sorts of roads, not just motorway.
The Golf R-Line is a Golf with sporting credentials in the way it looks but not particularly in the way it performs. If you want out and out pace you need to pay substantially more for the Golf R or the new GTI Clubsport Edition 40. The GTD is a possibility but you would miss out on some styling and tech though. The R-Line appears to have most bases covered then and for those who fancy the styling of  the Golf R but not the tax and fuel bills, it appears to be bang on the mark.
VERDICT: *****
AT A GLANCE:
OTR Price: £27,735
Engine: 2.0 TDI
Power: 150 bhp
Transmission: 6-speed Auto DSG
0-62mph: 8.6 secs
Top Speed: 133 mph
Combined Economy: 61.4mpg
CO2: 119 g/km